NEW YORK -- Democratic presidential candidate Hillary Clinton said Monday she would promote naturalization by waiving fees for more immigrants eligible to become U.S. citizens.
Addressing the National Immigrant Integration Conference -- a three-day gathering of immigrant rights activists and policymakers -- the Democratic presidential front-runner also contrasted her increasingly liberal immigration platform with the hard-line positions of GOP opponents.
"We've got to do more to help people who are eligible for citizenship take that last step," Clinton said. "There are millions of people in America who could be naturalized, but for one reason or another, they're not. So let's help more of our neighbors claim their rights. It's so powerful, so precious to be a citizen of the United States -- to be able to vote in our elections, to have a voice in our future, and I want to take down the barriers that are holding people back."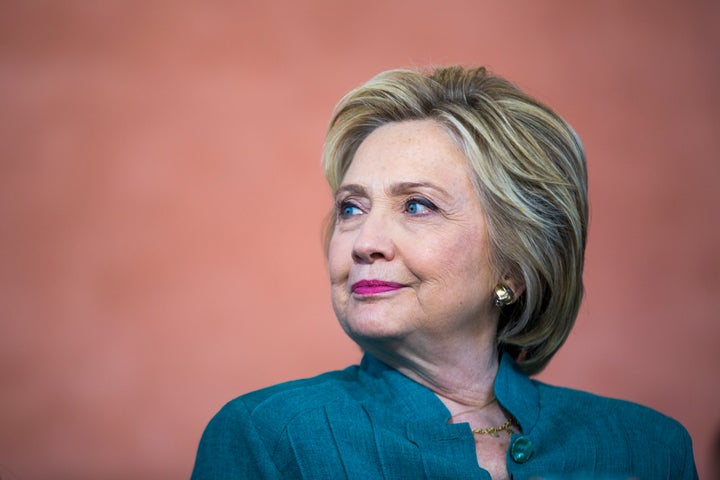 In addition to fee waivers, Clinton said she'd boost access to English courses and ramp up outreach so more people become aware of the process.
All three Democratic presidential candidates have adopted immigration platforms that are more liberal than President Barack Obama's, in their quest to appeal to the growing bloc of Hispanic voters, for whom support of immigration reform is often a key test of legitimacy. Clinton reiterated her previous calls to end family detention, expand Obama's executive actions and press Congress to pass comprehensive immigration reform with a pathway to citizenship.
Before the speech, Clinton met with a Long Island family of Honduran migrants who would be helped by Obama's Deferred Action for Parents of Americans and Lawful Permanent Residents, or DAPA, which has been blocked in the courts.
"They made the journey to the states years ago to get away from rising violence," Clinton said. "They work hard. They're a close and loving family and they deal with the harsh realities of a broken immigration system every day."
The meeting was part of a "DAPA Dinners" campaign by immigration advocacy groups, which invited every presidential candidate to sit down with a family that may be helped by Obama's program. So far, only Clinton and fellow Democratic candidates Sen. Bernie Sanders (I-Vt.) and former Maryland Gov. Martin O'Malley have participated.
Clinton used the appearance before hundreds of immigration activists and policymakers to show off a powerful endorsement from U.S. Rep. Luis Gutiérrez (D-Ill.), a prominent Democrat for whom immigration reform is a signature issue.
"We've made many gains," Gutierrez said, noting that Obama's executive actions now shield some 800,000 undocumented immigrants from deportation. "But we also need those people to protect and expand on the gains we have made."
Protesters interrupted Clinton three times. Some held a banner asking if she stands with the detained immigrants who launched a hunger strike on Thanksgiving. Others tried to shout over her that her increasingly open stance on immigration is dishonest. All were escorted out of the room.
The banner evoked a response from Clinton, who said the hunger strike should prompt Americans to look critically at immigrant detention and close private detention centers run as for-profit enterprises.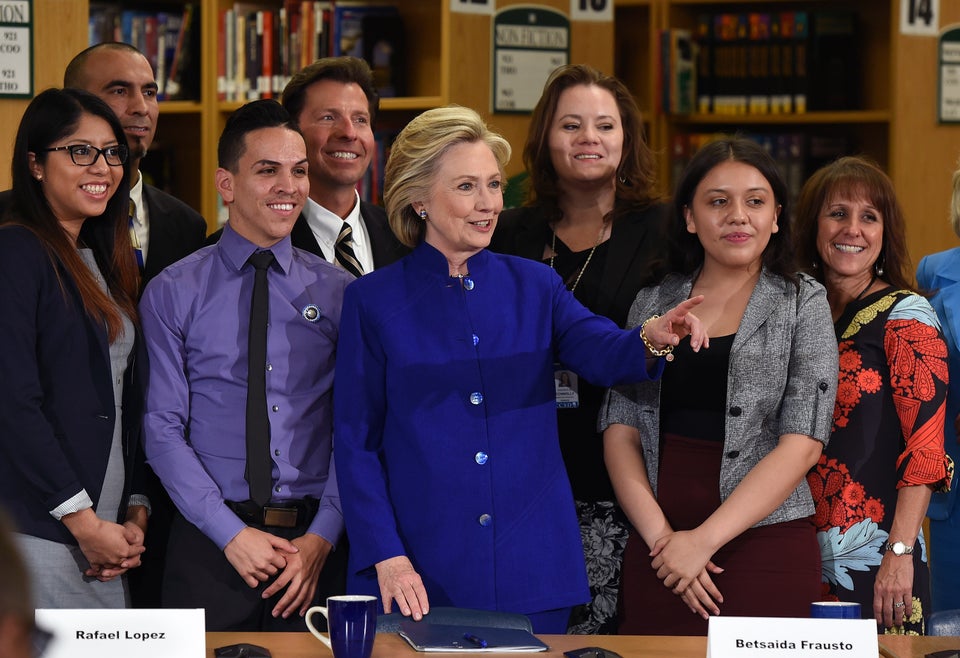 Where Democratic Candidates Stand On Immigration
Clinton's conservative critics say her current positions at times conflict with her tougher attitude in the past.
"No matter what Hillary Clinton says, her record on immigration will always be one of flip-flops and political convenience," Ruth Guerrea, the Republican National Committee director of Hispanic media, said in a statement.
The other Democratic candidates, Sanders and O'Malley, were slated to address the conference on Tuesday. Conference organizers said they invited the GOP presidential candidates to speak as well, but all declined.
To the immigration reform advocates who filled the room at Monday's conference, Clinton's changes were more of a welcome evolution than a flip-flop.
Caprice Taylor Mendez praised the direction of Clinton's campaign. Having arrived in the United States at age 4 and spent part of her childhood undocumented, Mendez said politicians should think about the way their platforms affect everyday people.
"She strengthened her position around immigration," Mendez told HuffPost ahead of Clinton's remarks, "which means looking at it through the lens of human beings. ... She still has room to improve upon what Obama's done. What will she do concretely? I'm still waiting to hear."
Others were less optimistic. Ignacio Acevedo, a 37-year-old grassroots organizer who works with farm laborers in upstate New York, approved of Clinton's more liberal stance on immigration, but remained skeptical.
"At least her words are not negative words," Acevedo told HuffPost. "I wish people would do what they say, but they're politicians. It's hard for me to believe that their promises will come true."
Popular in the Community