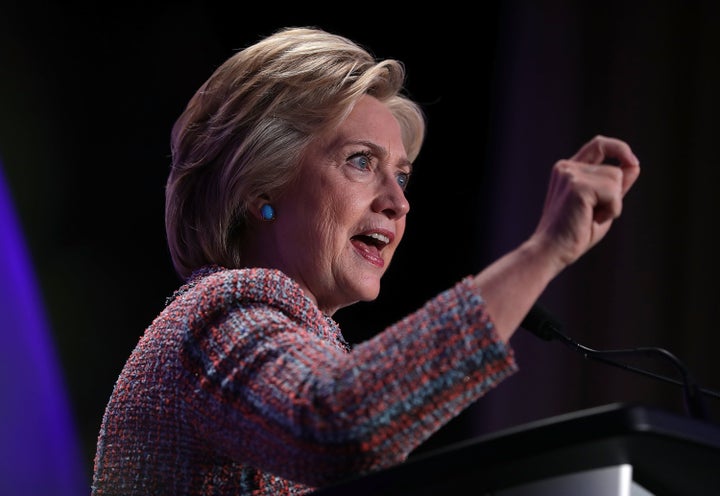 WASHINGTON ― The future of immigration reform and deportation relief hinges on this election, presumptive Democratic presidential nominee Hillary Clinton said Thursday in a speech promising swift action on both if she makes it to the White House.
Her vow to act on her own regarding immigration was particularly significant given the Supreme Court's recent ruling that left President Barack Obama's policies on deportation relief at a standstill. Clinton first said more than a year ago that she would go further than he did, and she said the Supreme Court's split decision hasn't changed that.
"I've said throughout this campaign that DAPA is squarely within the president's authority and I will keep saying that and fighting for it," she said in a speech to the League of United Latin American Citizens conference, referring to the Deferred Action for Parents of Americans and Lawful Permanent Residents program. "But there's more we can do."
Clinton said she would create "a simple, straight-forward system where people with sympathetic cases or who can show a history of service to their communities can make their case and be eligible for deferred action," similar to the one that allows victims of labor abuses to stay in the country. She also promised a bill within the first 100 days of her presidency that would address the issue comprehensively, including a path to citizenship for undocumented immigrants.
Her speech was an effort to solidify her support with Latino voters, a growing community that largely favors her over presumptive Republican nominee Donald Trump. She told the crowd that Latinos are the future of America and that they could decide the election, as long as they register and vote. 
We have got to say with one voice that Latinos are a vital part of the American community.

Hillary Clinton
That would include putting more politicians in Congress who support comprehensive immigration reform. Republicans appeared to be moving that way, or at least toward legal status for some undocumented immigrants, in 2013, when the Senate passed a reform bill co-authored by GOP senators. Even with a pro-mass-deportation candidate like Trump leading the party, Clinton argued, there's still potential to get back to some agreement on the matter.
"We do, in my opinion, have a consensus that something must be done," Clinton said of immigration. "Whether we get it done will depend on this election."
The Republican National Committee, unsurprisingly, did not seem to agree. Its Hispanic communications director, Helen Aguirre Ferré, called the speech "world-class pandering" in a statement and said Clinton's "support for President Obama's lawless executive overreach to fix our broken immigration system clearly shows that she has zero intention of working with Congress or respecting our Constitution in solving the issue."
Clinton's speech went beyond immigration: She also promised efforts to close the wage gap, expand education opportunities and boost employment through infrastructure spending that she said would particularly help Latinos because they make up a significant portion of the construction industry.
More broadly, she painted the election as a referendum on whether Americans want to celebrate the country's diversity or oppose it, citing Trump's attacks on Latinos, including an Indiana-born judge who the candidate said was biased against him due to the judge's Mexican heritage.
Clinton said Trump "is running the most divisive campaign of our lifetime" and telling people to be afraid of those with different ethnicities, religious faiths and places of birth.
"That's, my friends, no innuendo or dog whistle anymore. It's all out in the open now," she said. "So we've got to come back twice as strong and twice as clear. We have got to say with one voice that Latinos are a vital part of the American community."
Calling all HuffPost superfans!
Sign up for membership to become a founding member and help shape HuffPost's next chapter
BEFORE YOU GO