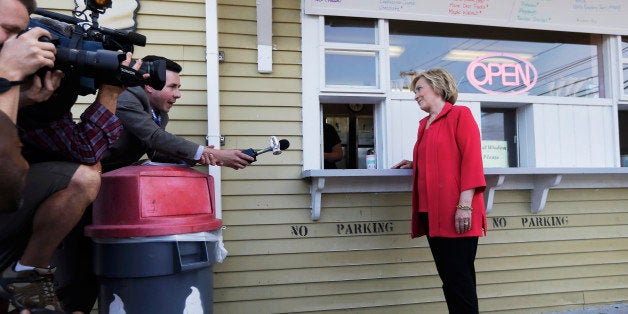 NEW YORK -- Hillary Clinton will soon start giving interviews to the national media, nearly three months into her presidential campaign and amid growing tensions with the press.
Clinton communications director Jennifer Palmieri told Fox News on Sunday night that Clinton, the former secretary of state who is seeking the Democratic nomination for president, will begin interviews in the coming week.
Word of a potential thaw in the strained relations between Clinton and the press came just a day after things seemed to reach a new low. On Saturday, journalists covering Clinton at a New Hampshire parade were corralled with rope. On Twitter, humiliating photos showed the campaign's strong-arm tactics with the media -- on Independence Day, no less.
There have been tensions for months between the campaign and reporters, who have leveled complaints about lack of access to Clinton on the trail. Last month, the campaign caused a minor uproar when it barred a designated pool reporter from an event in New Hampshire -- a move that the Clinton traveling press pool, which consists of reporters from 14 major news organizations, later called "unacceptable." The move was never fully explained.
There's also the long-running issue of Clinton rarely taking questions from the media since becoming a candidate, in stark contrast to the various Republican hopefuls and to her biggest challenger on the Democratic side, Sen. Bernie Sanders (I-Vt).
Clinton didn't give any interviews during her first two months as a candidate. In June, in the days after her first major rally, she spoke with local journalists in early voting states like Iowa, New Hampshire and South Carolina, but she has yet to do a national media interview. Journalists and bookers for every major TV network will almost certainly be racing to secure the first national sit-down.
Clinton's strained relationship with the press this election cycle hasn't quite reached the toxic levels of the 2008 race, when not only were reporters given little access to the candidate, they also had to deal with campaign aides yelling at them.
No one expected Clinton, who is said to dislike the media, to become especially chummy with reporters this time around. But during the lead-up to her presidential announcement, insiders had suggested that the 2016 campaign would try to avoid the mistakes of the 2008 team in terms of handling the press.
In a Monday interview on MSNBC's "Morning Joe," Palmieri said that press access "can't get in the way of [Clinton] being able to campaign." She acknowledged that the campaign does "pay a price" with the media when it forgoes interviews or chooses to stage smaller events that offer less press access. But that strategy, she said, is "part of our calculus" to last as a campaign.
Palmieri didn't attend Saturday's parade in New Hampshire, but she suggested the campaign could have taken alternative measures, such as having journalists set up at one particular spot along the route rather than following Clinton in a mobile corral.
When Palmieri noted the press' importance during the "Morning Joe" interview, co-host and former Rep. Joe Scarborough (R-Fla.) cut in, saying that the press is "not as important as they think they are."
"They're not as important as voters," Palmieri replied. "But they're an important part of the process."
Related
Popular in the Community