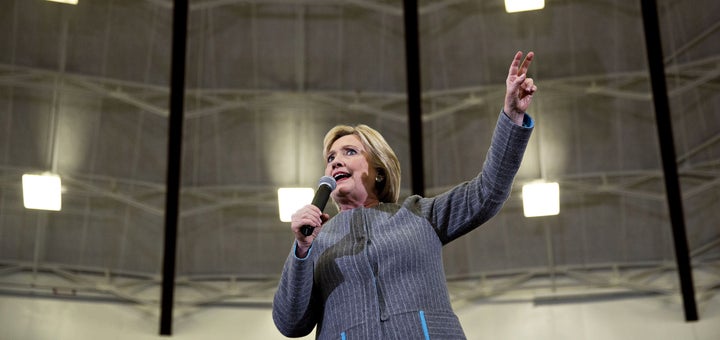 COUNCIL BLUFFS, Iowa -- What is it with Hillary Clinton and the Hawkeye State?
Eight years after her disappointing third-place finish in Iowa, Clinton again finds herself locked in a close race with a popular senator who is winning over the hearts of Democrats on the eve of the state's caucuses. And like then-Sen. Barack Obama, who ultimately defeated Clinton during the 2008 Democratic primary, Vermont Sen. Bernie Sanders is proving to be a surprisingly tenacious challenger to Clinton's long-running presidential aspirations.
If Sanders' surge in Iowa has Clinton and her campaign worried, they haven't shown it -- at least not publicly. But at least some of her supporters acknowledged the race has them on edge.
"I hope she does well. I might not have caucused, but since it got really close, I thought I'd better just get out there. I am worried, it's that close," said Herb Folsom, a teacher at Drake University in Des Moines, while waiting to see Clinton at a Sunday evening rally.
The former secretary of state has projected an air of confidence in the final stretch to the Iowa caucuses. Her rallies are remarkably well organized and are by design smaller and more intimate in order to bring the candidate down to earth -- sometimes turning away hundreds of people at the door due to safety concerns. Her campaign is quick to tout its ground game operation as being unmatched by that of any other presidential candidate, as well as being in place longer than that of Sanders, her chief rival. And she has the backing of a large segment of the Democratic establishment, including a good chunk of "superdelegates" who are crucial to locking up the party's nomination later this summer.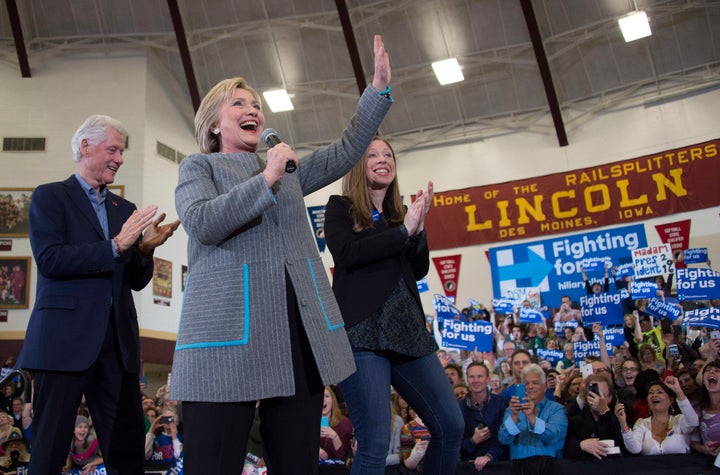 More than anything, Clinton has remained stubbornly on message while on the stump. Long gone are the panicky days before the 2008 caucuses, in which Clinton, shaken by the late surge of Obama, addressed massive crowds with speeches that seemed to change haphazardly from event to event. Also gone is the drama, which spilled out into the open in 2008 when feuding advisers routinely attacked and undermined each other over strategy. This go-around, Clinton has surrounded herself with former Obama hands known for running a tight ship.
As she barnstorms the state before Iowans head to caucus on Monday, Clinton has framed her candidacy as one of sensible pragmatism rather than that of radical change -- sometimes underwhelmingly so.
"I don't want to over-promise and under-deliver. I'd rather under-promise and over-deliver," she told a crowd of approximately 1,000 people in Council Bluffs, who gathered to see Clinton and her daughter, Chelsea, at a local high school. After the event, Chelsea Clinton stuck around to take photos with supporters for nearly a half hour, another way in which the campaign has strived to add a personal touch to its events.
Bringing her speech to a close, Clinton almost seemed to be pleading with the attendees to pick the familiar over the new and untested.
"Stick with me. Stick with the experience; I have a plan," she said, voice rising over a steady crescendo of applause from the audience.
The urgency of the moment was evident in Clinton's speeches on Sunday, wherein she attempted to convince undecided voters that they ought to choose an experienced and compassionate leader already tested by Republican naysayers. She touted the economic record of her husband's presidency, highlighted President Barack Obama's accomplishments and noted that she's secured endorsements from former Rep. Gabby Giffords and billionaire investor Warren Buffett on the issues of gun control and taxing wealthy interests, respectively. She also noted how she represented the state of New York in the Senate during the Sept. 11, 2001, terror attacks, her early championing of equal pay and women's rights, and how often she's been attacked by the industrialist Koch brothers and GOP strategist Karl Rove.
"She definitely dropped so many names today. Way more than I have heard in the past with her," said Mary Grudle, a teacher at Lincoln High School in Council Bluffs.
The point of all that name-dropping was to create a sharp contrast with Sanders, who, Clinton said, has a "different view, not a different goal" in his campaign for the White House.
The senator, she added, "wants to have contentious debate" on successes Democrats already notched during the Obama presidency, like health care. Clinton argued that rather than starting over on health care with a proposal like single payer, Democrats ought to "protect [Obamacare], preserve it, and make it better."
The 74-year-old senator and his populist message, however, have clearly resonated in Iowa. According to a highly respected Iowa poll released by the Des Moines Register on Saturday, Sanders trails Clinton by just three points, 45 percent to 42 percent, among likely caucus-goers. More troubling for Clinton, the poll showed her trailing badly among voters under 45, a data point made accutely evident by the crowds who turn up at Clinton's campaign rallies. In contrast, Sanders seems to be highly popular with college students, thousands of whom turned up at his rallies in the final weeks before the caucuses.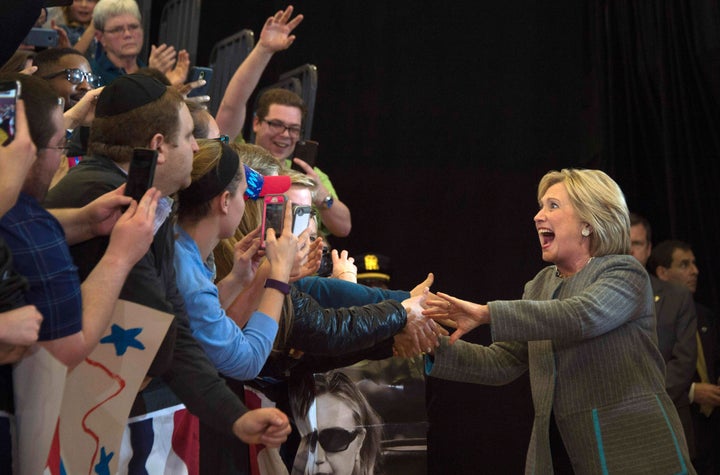 Clinton supporters who spoke with The Huffington Post at a pair of rallies on Saturday and Sunday seemed resigned to the fact that young people liked Sanders more than their preferred candidate. They agreed that the senator had good ideas, and said that they admired his passion. But they argued that young people backing Sanders were making a naive choice, one that would prove disastrous if he won the nomination. 
"I think he appeals on the issues," said Alan Lewis, a resident of Council Bluffs. "I think in a perfect world, you have a Congress who goes along with all his ideas, it would make sense. But just from a practical standpoint, I don't think that he would be able to do the things that he says that he wants to do."
Dianne Mears, a retiree who lives in Cedar Rapids, took issue with Sanders' education plan. She said young people liked the prospect of a free education, but that they were unaware of the costs associated with such a proposal.
"What they're not looking at is that he's going to tax the middle class, and they think that he's going to give free education, but you can't," she said. "I have kids that go to the university, and they're into him, but he wants to give it free. It's not going to happen. It's not going to happen."
Cornelia Schmidt, another attendee at Clinton's rally in Cedar Rapids, admitted that Sanders pulled at her heartstrings. But, she argued, the senator is "a little bit too liberal for the other part of America that's old enough to vote."
In an interview on Sunday, Sanders claimed his coalition was made up of more than just young people. He also argued that voter turnout would be the biggest determining factor in whether he comes out on top on Monday.
"I think we have a real shot to win this, if there is a large voter turnout. And it's not just young people. It is working-class people, it is middle-class people who are sick and tired of status-quo politics," he said.
At Clinton's final pre-caucus rally on Sunday night in Des Moines, excitement was high as the candidate rallied with her husband, daughter and former Iowa Sen. Tom Harkin. Clinton again asked attendees to caucus for her -- finally giving her the victory in a state that has shunned her in the past.
One supporter in the crowd, however, didn't quite feel the same urgency.
"I'm not worried. I think either Hillary or Bernie would be wonderful presidents," said Charles Richards, a resident of Des Moines. "However the caucus comes out, the candidates are going to go on to many other primaries and other caucuses, and it's a long ways from here to November. It's a long road. I want Hillary to win. She's my candidate. I'm for Hillary."
Samantha Jo-Roth contributed reporting.
PHOTO GALLERY
Hillary Clinton
REAL LIFE. REAL NEWS. REAL VOICES.
Help us tell more of the stories that matter from voices that too often remain unheard.