WASHINGTON -- Democratic presidential candidate Hillary Clinton laid out a plan on Wednesday discussing ways to counter Iran's regional influence once the nuclear accord is implemented. Her framework focuses on guaranteeing that Israel retains its qualitative military edge in the Middle East and working with allies in the Persian Gulf to crack down on Iran's sponsorship of terrorist organizations in the region.
Clinton came out early in support of the nuclear deal struck between Iran, the U.S. and five world powers in July, and helped pave the way for the negotiations herself while serving as secretary of state. But Wednesday's address at the Brookings Institution, which was, except for a few selected guests, viewable only via webcast, was her first substantive explanation of how she would manage "the day after" the nuclear agreement if she were to become commander-in-chief.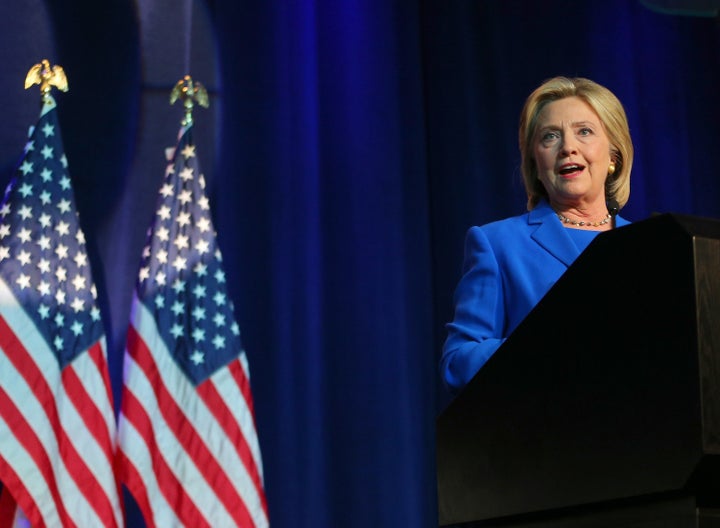 "By now, the outcome of the deal in Congress is no longer in much doubt," Clinton said. "So we've got to start looking ahead to what comes next: enforcing it, deterring Iran and its proxies, and strengthening our allies."
Clinton echoed the Obama administration's pledges that the U.S. will continue to ensure that Israel's military capabilities are superior to those of others in the region. She called for increased funding for Israel's rocket and missile defense systems, including the Iron Dome, which Israel says intercepted 90 percent of the rockets fired from Gaza into populated areas during last year's war with Hamas. She pushed to provide Israel with technology to detect tunnels used by Hamas to funnel fighters and weapons in and out of the blockaded Gaza strip. Clinton also announced that she supports selling the the F-35 to Israel, which would make it the only U.S. ally eligible for the new generation of fighter aircraft.
Clinton did not indicate whether she would support providing Israel with the massive ordnance penetrator, a 30,000-pound bunker-buster bomb that could theoretically be used against Iranian nuclear facilities if the agreement were to collapse. The Obama administration has quietly opposed the sale in the past, but a draft version of legislation authored by Sen. Ben Cardin (D-Md.) reportedly allows the Israelis access to the MOP. Sen. Cory Booker (D-N.J.) also publicly advocated for the weapons transfer when he came out in support of the nuclear accord last week.
With Democrats poised to save the nuclear deal from rejection on Capitol Hill and Republican presidential candidates threatening to tear up an accord they perceive as weak on their first day in office, Clinton's remarks are a clear effort to prove that her support for the agreement doesn't mean she will be soft on Iran's non-nuclear activities.
"We need to be clear-eyed about what we can expect from Iran," she said. "This isn't the start of some broader diplomatic opening. And we shouldn't expect that this deal will lead to a broader change in their behavior."
In addition to boosting aid to Israel, Clinton called for increased cooperation with U.S. allies in the Gulf to counter Iran's ability to back militant proxy groups in Lebanon, Syria, Yemen and the occupied Palestinian territories. Critics and cautious supporters of the nuclear accord have both warned that at least some of the cash bound for Iran as a result of sanctions relief will go to arming its proxies.
Clinton zeroed in on cutting off Iran's ability to fund and arm Hezbollah, the proxy in Lebanon that has been fighting alongside President Bashar al Assad in Syria. Her speech also called on U.S. allies to block Iranian planes from entering Syria. In addition, she recommended increasing the U.S. military presence in the Middle East as part of a broader effort to ensure that the Strait of Hormuz, a main passageway for the flow of international oil off the coast of Iran, remains open.
Clinton's calls for putting more troops in the Middle East and blocking Iran's efforts to prop up Assad signal that her approach to Syria would be hawkish compared to the cautious path taken by the Obama administration. Although President Barack Obama's official position is that Assad has lost legitimacy as the leader of Syria, he balked at military action there in 2013 and has more recently acknowledged that Iran will need to play a role in any negotiated solution to the four-year-long civil war.
Popular in the Community