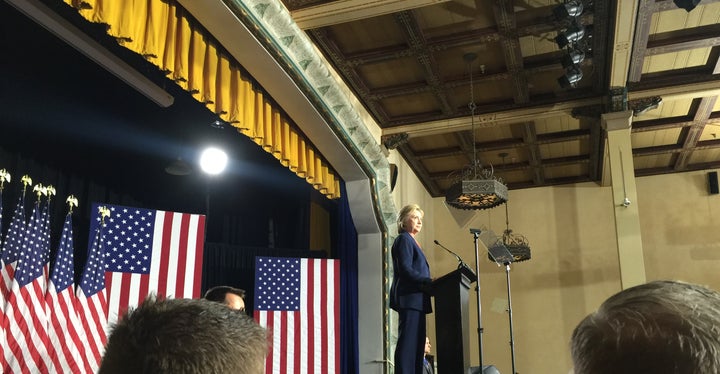 Perseverance. Resilience. Determination. Hard work. Humility. Grace. Grit. Generosity.
These are the character traits I hope to instill in my 8-½ year old daughter. I have written these words before, as part of what our little family has dealt with since my cancer diagnosis and successful treatment. I've shared with Huffington Post readers the importance of teaching my daughter about the full memory of my father, a military veteran who was wounded in ways we could not see. I've written about the lessons I hoped my daughter would learn from my campaign for elected office, about how I believed I could make a difference even if my candidacy was a longshot. I hope my daughter can say when she grows up, "My mom taught me to never ever quit."
"My mom taught me to never ever quit. ... What does that mean? When you're knocked down, what matters is whether you get up again."
My daughter wanted to know more. "When did Hillary get knocked down?" I didn't know where to begin or who in my circle to call to get a copy of the "Hillary Oppo File for Kids." Hillary has been scrutinized by the public eye since before I was born. There are countless examples to give my daughter of the innumerable times that Hillary has gotten knocked down. Should I start with when she was a new lawyer and was ordered to defend a child rapist? Or perhaps even before then with her father who suffered PTSD from war-related trauma? Or maybe something more current, when Hillary had to defend her role as in the Whitewater controversy while first lady of Arkansas and then First Lady of the United States? Was it time to talk about male Presidents and their inclination towards marital indiscretions? Or maybe I should tell her about Benghazi or the newest email "revelations"?
Instead I decided to tell her why all of these examples together make Hillary my real world hero. Merriam-Webster defines a hero as "an illustrious warrior" or "one who shows great courage." My daughter is familiar with superheroes, especially since it is Halloween season. I decided to get a Wonder Woman tattoo to commemorate my 40th birthday. And yes, we are big fans of the CW's Supergirl at our home. My daughter has watched Supergirl work her way through an extraterrestrial invasion, professional humiliation, and even a broken heart. Superheroes have superpowers like mind-reading and superhuman strength and use their powers to make the world a better place, kind of like real world heroes do.
So on our drive home, I asked my daughter "Who are your heroes?" People who are warriors and have courage. We agreed that heroes can be people we see and know every day, like teachers and firefighters and doctors. She said our friend Kristen was her hero because she was in the military and when my car had a flat tire, Kristen and her wife let us borrow their car. She talked about her uncle who currently serves in the military and had to miss his own twin daughters' birthday because he is on a ship protecting our country. She also talked about her other uncle whom she was named after but never met; he was killed on 9/11 at the World Trade Center while making sure his coworkers made it out safe.
"What about you, Mom? Who are your heroes?"
"Hillary Clinton. She is my Real World Hero."
Hillary Clinton shows great courage because she has gotten knocked down more times than any modern political hero I know and she keeps getting back up to keep fighting. Some of these knockdowns were direct attacks on Hillary but many were collateral damage from other people's fights. But she got back up. She kept on fighting. And she continues to fight for what she believes in: gender equality, quality early childhood education, economic prosperity, and a strong, progressive national security policy.
Hillary loves imperfect people. People disappoint her, disrespect her, undermine her, and underestimate her. She has been disparagingly photoshopped out of monumental events; her leadership role literally cut out of history. But she has moved past that; there is more important work to be done. No matter what happens, she remains stoic and focused.
She is imperfect. When she makes a mistake, she admits it and shares what she learned with the American public. She is human and a person of faith, living her motto to, "Do as much good as you can for as many people as you can for as long as you can." This is the behavior of a leader, a United States President, and that of a hero.
Hillary has displayed perseverance and repeated victories on a multitude of levels throughout her lifetime in politics. She has single handedly redefined what leadership looks and acts like and is what I think of when I hear the phrase "Real World Hero." Today's college graduates view glass ceilings as a thing of the past, and we have Hillary to thank for that. It's up to all of us, men and women alike, to ensure this ceiling never goes up again. Regardless of what anyone says or chooses to believe about her, she is an undeniable hero who I've admired for years as a lawyer, politician, and leader, and she is who I want to see leading this country. Hillary Clinton is my Real World Hero.