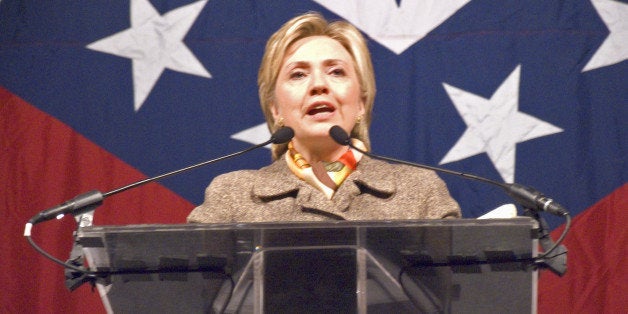 Hillary Clinton just won the Democratic primary and made history in her run for the White House. Yes, she is campaigning to be the first female President of the United States. But she is also the most pro-equality presidential candidate in our country's history. While hyperbole hits a precarious high during presidential elections, this statement is backed up by a decades-long record of accomplishments and support for the lesbian, gay, bisexual, transgender, and queer (LGBTQ) community in the U.S. and globally.
Hillary has had a queer fan base for some time now. I admit that I wasn't always part of it. As the former New York State LGBTQ organizing director when Hillary was Senator Clinton, I wanted her to come out for marriage equality sooner, just as I wanted other candidates to do the same. I was openly criticized for not supporting her when collecting signatures to put Barack Obama on the New York ballot in 2008. "Candidate Clinton" was far from perfect.
But then I witnessed the impact that she had on our global LGBTQ community as Secretary of State. She changed policies to recognize our relationships and our gender identities, directed the diplomatic corps to explicitly advocate for LGBTQ equality, and changed the world forever by declaring, "gay rights are human rights, and human rights are gay rights."
Five years after that historic speech, Hillary has earned a title that may come as a surprise to some of her critics: the most LGBTQ-supportive presidential candidate in our country's history.
As Whitney said, "show me the receipts." Here are your receipts:
In addition to her historic speech in 2011 as Secretary of State, Hillary launched the Global Equality Fund to strengthen the global fight for LGBTQ equality and led the effort to pass the first-ever global U.N. resolution on LGBTQ people.
She championed substantive federal policy changes including allowing transgender Americans to have passports that reflect their true gender, extending equal benefits and protections to same-sex partners of diplomats, and implementing LGBTQ-friendly workplace policies at the State Department.
She also enacted a provision to take into account a country's LGBTQ human rights record when deciding the amount of foreign aid it received. When Uganda passed its hateful Anti-Homosexuality Law, the U.S. was able to redirect aid away from homophobic groups and enforce travel bans on the worst human rights abusers. That, in turn, made other homophobic elected leaders hesitant to follow in Uganda's footsteps with similar anti-LGBTQ legislation.
As first-lady, Senator, and Secretary of State, Hillary Clinton has always been a global leader in the fight against HIV and AIDS. Last month, Hillary released a video for the HIV Is Not a Crime conference, committing to bring about "an AIDS-free generation" by "increasing research, expanding access to medications like PrEP, and fighting to bring down the cost of prescription drugs." Acknowledging that the epidemic disproportionately impacts communities of color, transgender people, and young gay and bi men, she has outlined her plan that is very "Hillary" - comprehensive, strategic, and nuanced.
Hillary would continue - and build upon - President Obama's LGBTQ equality executive actions and ensuring that protections against "sex discrimination" are inclusive of sexual orientation and gender identity. In addition, she would reclassify the service records of those veterans dismissed due to their sexual orientation and work to allow transgender military personnel to serve openly.
She repeats a line that is at the core of her approach to transgender equality, saying that no one should be "held back from fully participating in our society because of their gender identity." Last year, she called for more to be done (including training and data collection) to address the national crisis of violence against transgender people. Citing the number of transgender women, primarily women of color, who were murdered in 2015, she said: "And nobody knows how much violence goes unreported or ignored. And we need to say, with one voice, that transgender people are valued, they are loved, they are us, they desire to be treated fairly and equally."
Hillary has called for the end of so-called "conversion therapy," and has pledged to increase funding to end youth homelessness and to make schools and shelters safer for LGBTQ youth. In addition, she has pledged to work to pass the Safe Schools Improvement Act and the Student Non-Discrimination Act.
Hillary not only has committed to signing the Equality Act, but she would work with leaders in Congress to get it to her desk in the Oval Office. She is a tactical leader who will use the power and bully pulpit of the White House to amend the Civil Rights Act of 1964 to include protections based on sex, sexual orientation, and gender identity.
And lest we think just in terms of "LGBTQ policies," Hillary has committed to work tirelessly to take on some of the biggest issues of our day - from immigration reform and gun safety to strengthening our economy and expand access to quality, affordable health care.
Over the weekend, Hillary published an op-ed marking the start of Pride month - a practice that I hope becomes tradition in every future presidential campaign. She applauded the progress we've made over the last few years, committed to continuing that momentum, and spelled out what's at stake in this election:
[Republican presidential candidate Donald] Trump has said he would sign the First Amendment Defense Act, which would permit taxpayer-funded discrimination by those who cite religion as a reason to deny services to LGBT people nationwide.

He's also pledged to repeal many of President Barack Obama's executive orders immediately -- which could include an order protecting LGBT employees in the federal government from discrimination.

And he recently released a list of 11 judges he would consider nominating to the Supreme Court, including a judge who equated same-sex relations to "bestiality," "pedophilia" and "necrophilia."

But that wasn't a one-off piece to pander to the LGBTQ community. Hillary fully includes us in her message to America - as she did in the video that announced her presidential campaign. She mentions our community's accomplishments and struggles in major speeches, and before small and large audiences alike. I applaud each tweet decrying North Carolina's hateful HB2 and each mention of same-sex prom kings and queens. It was only a few years ago that LGBTQ people would celebrate candidates for saying the "g word" or supporting our freedom to marry.
Hillary has raised the bar on what we should expect from those running for higher office. We are no longer a talking point in an enumerated list or a box to be checked. We are a fully integrated part of her vision for America.
And we must continue to support, challenge, and hold accountable Hillary and all candidates that ask for our vote. With Hillary, as Jamie Citron and Gautam Raghavan wrote in a joint op-ed last fall, "we'll be pushing a friend who considers the LGBTQ community a priority, not a political liability."
The LGBTQ community knows a thing or two about making history. If we each do our part - volunteer, donate, talk with family, vote - we will make history once again in November. And we must because the stakes are too high. The only way we can continue our progress is by working as if our lives depended on it to elect Hillary Clinton as the 45th President of the United States.
Popular in the Community