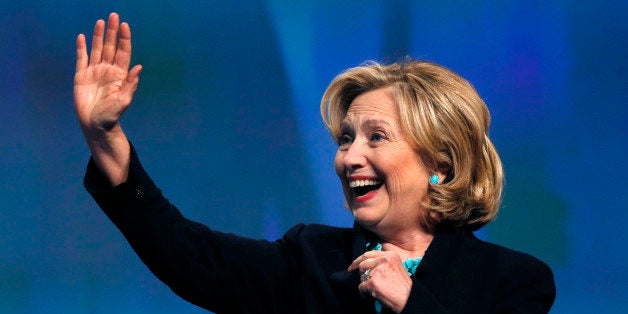 WASHINGTON -- Former Secretary of State Hillary Clinton presented herself as both a staunch defender of Israel's security and a supporter of continued negotiations with Iran over its nuclear program in a wide-ranging conversation about foreign policy Friday.
"The relationship between the United States and Israel is solid, and will remain solid, and will be part of our foreign policy and our domestic concerns, our values, ideals, forever," Clinton said in response to a question about the sometimes fractious relationship between President Barack Obama and Israeli Prime Minister Benjamin Netanyahu. She called the relationship between the two countries "mature" and said differences between the two leaders were "honest."
Clinton spoke at an intimate dinner at the eleventh annual Saban Forum, with billionaire Israeli-American media and entertainment mogul Haim Saban. His forum, in partnership with the Brookings Institution, brings together government officials, policymakers and business leaders each year. Clinton and her husband, former President Bill Clinton, have made regular appearances at the Saban Forum, which isn't surprising given that the billionaire has donated millions to the Clintons' philanthropic foundation and was a key player in her first presidential campaign.
As Clinton inches closer to a possible bid for the 2016 Democratic presidential nomination, her sit-down with Saban allowed her to stress her support for Israel in front of a crowd filled with members of Netanyahu's now-dissolving coalition government, as well as leaders of the opposition parties.
Saban has said that he is willing to give "as much as needed" to get Clinton elected and that he would "pitch in with full might" because her presidency is a "big dream" of his. Yet Clinton's conversation with Saban avoided directly addressing the 2016 question, as the two coyly danced around the subject by talking about her new grandchild.
The billionaire, who was born in Israel and calls himself a "one-issue guy" when it comes to his politics, has said that he considers a nuclear Iran "an existential danger" to Israel. He is, however, less conservative than one of his billionaire political donor counterparts, casino magnate Sheldon Adelson, and has voiced his support for a Palestinian state.
Clinton, who received flack at 2012's Saban forum for saying that Israel had displayed a "lack of generosity" and a "lack of empathy" toward Palestinians, reiterated her support for a two-state solution to the conflict, but avoided chastising Israel for West Bank settlement construction, as she has in the past.
"There is a necessary imperative to continue to try to achieve a resolution between Israel and the Palestinians," she said. "The two state solution … remains an important and, I would argue, essential concept to bring people together around."
Israel's government will go to elections next year in an especially fraught period for the stalled peace process. Clinton acknowledged those tensions for those in the room, and beyond, who maintain that Israel cannot relinquish its occupation of the West Bank for security reasons.
"Now I'm well aware of everything going on and the increasing tensions in the region, in Israel, in the West Bank to say nothing of the continuing aggressive behavior from Hamas coming out of Gaza," she said. "But the absence of negotiations leaves a vacuum that gets filled by problems, bad actors, threats, other kinds of behavior that are not good for Israel and not good for the Palestinians."
In November, Saban said President Barack Obama had "shown too many carrots and a very small stick" in his administration's dealings with Iran, and voiced support for legislation that would require Obama to gain congressional approval for any nuclear deal.
Over the last year, Clinton has begun to strike a more cautious tone in her discussions of nuclear negotiations. Though she asked the Senate not to impose new sanctions on Iran in February, she said in May that she was "personally skeptical that the Iranians would follow through and deliver" on a nuclear deal and that "every other option does remain on the table" if negotiations fall apart. Now that the negotiations have been extended for another seven months, Clinton said they should be allowed to continue.
"I think its a very important effort to continue to pursue and to see if we can reach an agreement that's in line with our requirements," she said, after she explained, as she has in the past, that the United States must be "clear in any deal of what the consequences would be of any violation, and that would include, as we say, keeping all options on the table."
Clinton said the nuclear program isn't "the only problem we have with Iran."
"Iran's sponsorship of terrorism, Iran's support for [Syrian President Bashar] Assad and the havoc that that has wreaked, support for Hezbollah, the continuing pressure on providing arms to Hamas and so much else that it engages in in the region that causes great concern to Israel, our Arab partners in the gulf, that's all part of the ongoing challenge that Iran poses," she said.
Despite the tensions, Clinton invoked the words of the former British Prime Minister Winston Churchill to make her case that it was worth staying the diplomatic course.
"Better to jaw-jaw than to war-war," she said, paraphrasing Churchill.
Calling all HuffPost superfans!
Sign up for membership to become a founding member and help shape HuffPost's next chapter
BEFORE YOU GO
PHOTO GALLERY
Hillary Clinton