This column originally appeared in Emily Peck's newsletter, a weekly email that looks at the convergence of women, economics, business and politics. /news.huffingtonpost.com/h/t/E78AB6DF86C0CEAC","lnid":"Sign up here"}}" data-beacon-parsed="true">Sign up here. 
Girl, we know. Ambitious women face hostility, criticism and unreal expectations. This is not something unique to Hillary Clinton. Yet, the idea that we're biased against women who seek power is not widely accepted or understood.
Clinton noted that when she was secretary of state, people liked her. When she had the audacity to run for the top job ...  "Oh my gosh, by the time they finished with me, I was Typhoid Mary," she told Nicholas Kristof at the Women in the World conference. She said she's planning on writing more in an upcoming book. 
The reasons she lost the election are complicated. Russian hacking certainly had a lot to do it with it, she said.
But of course, you cannot ignore her gender. "It is fair to say that certainly misogyny played a role. That just has to be admitted," she said.
Ivanka's Secret Meeting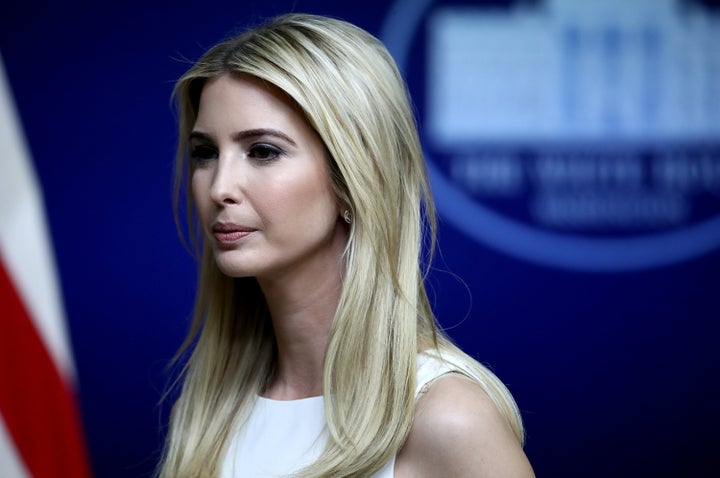 It's clear now. Ivanka Trump will not save women. She will take secret meetings with progressives and feminists. She will whisper things to her father. He will ignore her. That will be that.
On Thursday, Politico reported that Ivanka held a secret meeting with Planned Parenthood President Cecile Richards, who used the time to explain to the first daughter what the family planning organization does.
It didn't matter. Since then, Ivanka has played a big role in an administration hell-bent on screwing women over: Her father has reinstated the global gag rule, tried to kill regulations around women's health, and curtailed workplace protections around discrimination and harassment. He hasn't even hired that many women. The people running the federal government right now are overwhelmingly men.
I thought about putting a photo of them in this newsletter, but I'm tired of seeing So. Many. Dudes. In the news.
"Anyone who works in this White House is responsible for addressing why women are in the crosshairs of basically every single policy we've seen in this administration," Richards said Wednesday at the Women in the World conference in New York.
And that's the thing. Ivanka can be all hopped up for women's rights and say nice things to Canadian Prime Minister Justin Trudeau and German Chancellor Angela Merkel, but she's clearly outnumbered and muted.
She told Gayle King in an interview earlier this week that she will give her father her candid opinions, but emphasized that she'll do so in private, as passively as you could imagine. 
"I think most of the impact I have, over time most people will not actually know about," she said. I wrote about that here.
What The Fox?
Are Bill O'Reilly's days numbered at Fox News? The New York Times published a detailed story last weekend about previously unreported payments that O'Reilly made to women who accused him of sexual harassment. Then this week, at least 15 advertisers said they wouldn't stick with his primetime show. And another woman sued him for harassment and retaliation.
He's weathered this kind of storm before though, as HuffPost's Michael Calderone points out. Still, Fox really has run out of excuses on sexual harassment. Getting rid of former CEO and Chairman Roger Ailes, who was under a cloud of sexual harassment allegations himself, clearly wasn't enough.
O'Reilly's popularity also shows no sign of abating: His book debuted this week at No. 1 on The New York Times best seller list and includes a passage about how "no means no."
Pepsi's Challenge: Not Offending Anyone
Lookit. The concept that a super-sugary beverage brings people together isn't particularly controversial. Coke nailed it 45 years ago with its "I'd Like to Buy the World a Coke" hilltop commercial. Pepsi did not nail it. Wow. Really not.
Fun fact: There are almost no black women working in advertising. Out of more than 8,734 executives working in advertising and public relations firms with more than 100 employees, just 93 are black, according to federal data.
Pepsi used in-house employees to come up with this ad ― where Kendall Jenner solves police brutality with a can of soda and a pretty smile. And the company didn't respond to questions about whether any women, or minority women, worked on it.
Even though we can't know that a lack of diversity led to this utter fail, it's worth raising the issue. Also, for God's sake, why didn't anyone inside the company speak up about this? Perspective was needed.
Anyway, the company eventually apologized. 
Want more like this? You can subscribe to Emily Peck's newsletter here. 
Calling all HuffPost superfans!
Sign up for membership to become a founding member and help shape HuffPost's next chapter