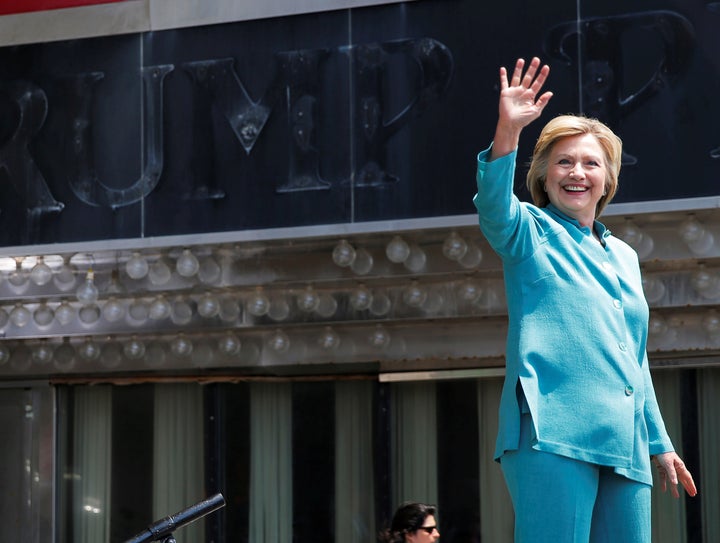 WASHINGTON ― There's plenty that FBI Director James Comey said to give Hillary Clinton heartburn when he laid out the non-case against her over her use of a private email system Tuesday.
But one string of his facts in particular appears to be causing the indigestion because it's wrong in one instance and overstated in another.
Comey's assertion was that Clinton used several servers and numerous mobile devices while she was secretary of state. The point is important because Clinton argued in the first place that she set up the email system because she did not want to carry multiple phones.
The idea that she did carry multiple phones and that she was so invested in the system that she went through multiple servers would suggest she lied outright when she said in May that she only used one phone. Indeed, numerous commentators have seized on that point.
But sources familiar with Clinton's set-up have told The Huffington Post that Comey is just plain wrong.
According the sources, who spoke on the condition of anonymity, Clinton had just one server while she was at the Department of State. That one server was set up in Clinton's Chappaqua, N.Y., home in March 2009, and it was the server she used until June 2013. At that point, the data was migrated to an external service run by a company called Platte River Networks. Platte River may well have used many servers, but that was well after Clinton had departed the State Department.
"The server that got turned over to the FBI is the one server that was in Chappaqua," one source said.
On top of that, Comey said that Clinton used numerous mobile devices. According to the sources, that also is a stretch, with the secretary using just one phone at a time.
"In the normal wear and tear, you get a new phone," one source said. "It's just the normal wear and tear, and there was a small number of phones but never more than one at the same time."
The only device that Clinton had concurrently with any phone was an iPad that she has mentioned that she got in 2010, purportedly for reading and photos, not so much for email.
The Clinton campaign declined to comment on the revelations, although they somewhat mitigate the scathing tone of Comey's statement on the investigation into Clinton's email.
Besides saying she used multiple servers and phones, Comey also said Clinton was extremely careless, and that there was evidence she may have broken laws by sending or receiving 110 emails with classified information, although he did not think a reasonable prosecutor would bring a case based on the evidence.
An FBI spokeswoman said the bureau has no additional details to provide at this time beyond what Comey said in his statement.
Comey is set to testify Thursday on Capitol Hill. While Republicans are planning to hammer him for not recommending a prosecution, Democrats may focus on some of the more mitigating circumstances around the unusual set-up.
This article has been updated with the response from the FBI spokeswoman.
Popular in the Community