Hillary Clinton says the emails she sent on the private server she used during her time at the State Department are "boring." 
The 2016 presidential candidate stopped by NBC's "The Tonight Show" Wednesday, where she discussed her emails with host Jimmy Fallon.
After chatting with Clinton about GOP frontrunner Donald Trump and telling the former secretary of state she's "like if Ronda Rousey shopped at Ann Taylor Loft," Fallon approached the topic that's been a source of controversy for months.
"What is in the emails?" Fallon asked. "Can you just say what's in the emails? That's all we want to know."
"They're boring," Clinton said. "They're kind of, what are we doing, how do we do it." 
According to Clinton, the "most significant one that has come to light" was an email regarding Gefilte fish.
"The stuff that's in [the emails], I think is really boring people, which kind of hurts my feelings," she added.
Clinton has apologized for her use of the email server, acknowledging it "clearly wasn't the best choice" to forgo a government email address. Meanwhile, officials are reviewing the emails to determine whether Clinton sent or received classified information on the private server.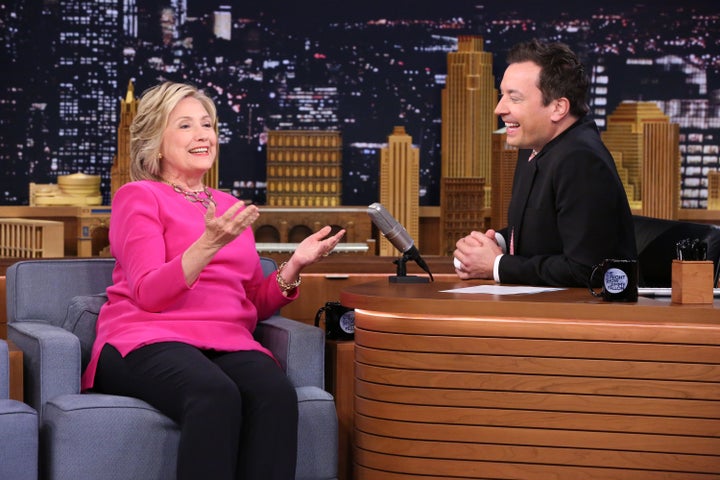 Fallon and Clinton also discussed her recent meeting with Kim Kardashian. 
"She and her husband, Kanye, came to one of my fundraisers in LA," Clinton said. "I didn't know they were coming. They were just delightful. I really enjoyed meeting with them and talking to them. And she's a pro about the selfie deal."
PHOTO GALLERY
Hillary Clinton
Calling all HuffPost superfans!
Sign up for membership to become a founding member and help shape HuffPost's next chapter