In the early state of the 2016 presidential race, there are no Republican primary frontrunners, and two well-known Democrats have an edge in the general election, according to newly released polling data.
In a Quinnipiac poll released Wednesday, there was no clear winner for the Republican nomination. Sen. Marco Rubio (R-Fla.) took first place, with 19 percent among Republican voters. He was closely followed by Rep. Paul Ryan (R-Wis.) at 17 percent, Sen. Rand Paul (R-Ky.) at 15 percent, and New Jersey Gov. Chris Christie at 14 percent. Former Florida Gov. Jeb Bush took 10 percent, while Wisconsin Gov. Scott Walker, Louisiana Gov. Bobby Jindal and Virginia Gov. Bob McDonnell all failed to crack double digits.
Other surveys have shown Rubio, Ryan and Paul among the top tier of candidates.
In a separate McClatchy-Marist poll released Wednesday, Democrats Hillary Clinton and Joe Biden had the edge over most of their hypothetical Republican rivals.
Clinton took more than 50 percent of the vote against Rubio (52 percent to 40 percent), Paul (52 to 41), and Bush (54 to 38), while Biden had slightly narrower leads against each of the three men. The exception to the rule was Christie, who beat Biden by 3 points and only lost to Clinton by 3 points.
Since the election is still far away, the numbers may say less about electoral prospects than name recognition -- Clinton and Biden are almost universal household names, while many of the Republicans remain lesser-known.
But the Quinnipiac poll, which surveyed 1,711 registered voters by phone between March 26 and April 1, shows other signs of potential trouble for the GOP.
Only 19 percent of voters said they approve of Republicans in Congress, and just a third of Republicans said they support their party's representatives, according to the poll. Democrats in Congress had a relatively healthy 34 percent approval rate, and 68 percent of Democrats said their party's representatives are doing a good job. The Republican Party overall had a favorable rating of 28 percent in the poll.
Before You Go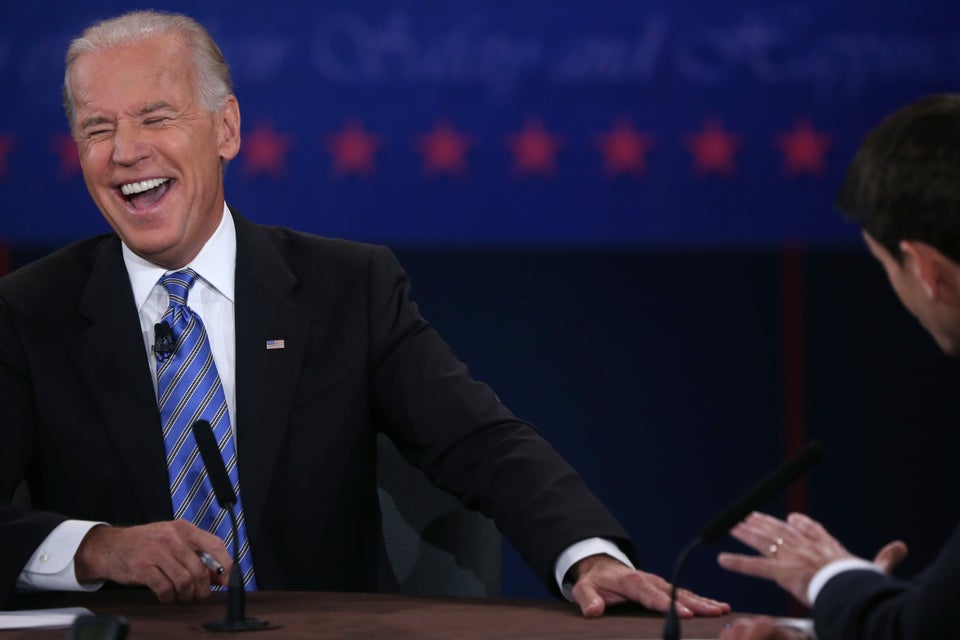 Joe Biden Makes Faces At VP Debate
Popular in the Community