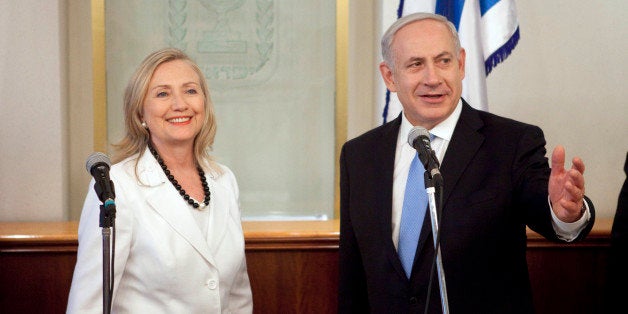 NEW YORK –- Hillary Clinton on Sunday offered a "vociferous defense" of Israeli Prime Minister Benjamin Netanyahu following four weeks of war in Gaza that have left more than 1,900 Palestinians dead.
In an interview with The Atlantic's Jeffrey Goldberg, Clinton also echoed Netanyahu's recent claims that journalists didn't tell the full story while reporting in Gaza, an allegation that numerous journalists have disputed.
On Wednesday, Netanyahu said reporters withheld information because of "restrictions and intimidation" from Hamas, the militant faction that controls Gaza and has fired thousands of rockets into Israel. On Thursday, Netanyahu told Fox News' Sean Hannity that he hoped journalists who have left Gaza can now "report the truth."
Clinton told Goldberg that "what you see on TV is so effectively stage-managed by Hamas, and always has been."
"What you see is largely what Hamas invites and permits Western journalists to report on from Gaza," Clinton continued. "It's the old PR problem that Israel has. Yes, there are substantive, deep levels of antagonism or anti-Semitism towards Israel, because it's a powerful state, a really effective military. And Hamas paints itself as the defender of the rights of the Palestinians to have their own state. So the PR battle is one that is historically tilted against Israel."
A Clinton spokesman declined to comment further on Clinton's remarks about Gaza coverage.
Some commentators recently suggested Israel was losing the media war, or PR war, that runs alongside the actual one. The reasons they pinpointed weren't anti-Semitism or historical antagonism toward Israel, but that journalists' real-time coverage of devastation and civilian deaths -- including those of hundreds of Palestinian children -- offered a new perspective on the long-running Israeli-Palestinian conflict.
The Israeli foreign ministry recently highlighted some journalists' allegations of Hamas intimidation, but those journalists appear to be in the minority. Haaretz, a left-leaning Israel paper, reported Friday that there have been "only a handful" of such allegations, despite 710 foreign journalists recently reporting inside Gaza.
Several journalists, many of whom spoke anonymously to Haaretz, flatly rejected the claim that Hamas intimidated them into not reporting events they witnessed.
One reporter who spent three weeks in Gaza told Haaretz "it's a phony controversy" and an attempt by Israel to claim media bias. "I didn't see a rocket at point of launch," a European photographer said. An American reporter said "you couldn't tell exactly where a rocket was being launched from." Another reporter: "How could there be Hamas censorship if there was no Hamas to be seen?"
Anne Barnard, who spent two weeks reporting from Gaza for the New York Times, told Haaretz that her team mentioned Hamas firing rockets in its coverage, but was never close enough to capture one being assembled. "[I] never saw a rocket crew; for obvious reasons, to avoid getting a hit by Israeli strikes, they try not to be seen," she said.
Tyler Hicks, a Times colleague and Pulitzer Prize-winning photographer, told his own paper that the war is "fought largely behind the scenes."
"Hamas fighters are not able to expose themselves," Hicks said. "If they were to even step a foot on the street they would be spotted by an Israeli drone and immediately blown up."
"If we had access to them, we would be photographing them," Hicks added. "I never saw a single device for launching the rockets to Israel. It's as if they don't exist."
One journalist did see a rocket device being assembled and landed a major exclusive by filming it.
Sreenivasan Jain, a correspondent with India's NDTV, captured video of a Hamas rocket team assembling a rocket in a civilian area on the day before his team was scheduled to leave Gaza. In a post on the response to NDTV's video, Jain acknowledged that his crew considered both "fear of reprisals from Hamas against us and those who worked with us" and "fear of inviting an Israeli response on the spot."
Another reason to withhold immediately reporting on the tent was simply journalistic: Jain said he "needed to be 100% sure that this was a rocket launch site." As Jain's crew was preparing to leave Gaza the next day, a rocket was launched from the site, and NDTV published the exclusive footage online a few hours later.
Related
Popular in the Community