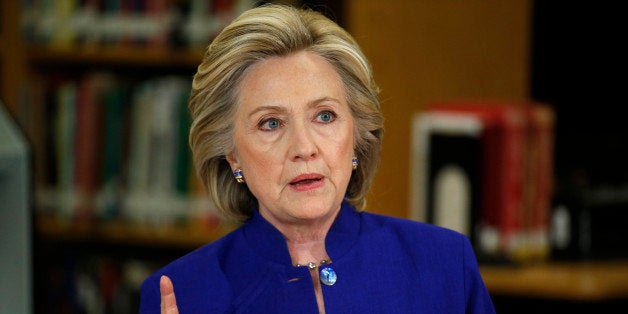 NEW YORK –- In the months leading up to the 2008 Iowa caucus, reporters covering Hillary Clinton's presidential campaign grew increasingly frustrated by their lack of access to the Democratic frontrunner. Such complaints make for easy Twitter fodder these days, but two election cycles ago, journalist grumbling was still largely confined to the back of the press bus.
Now, as the front-running Clinton again dodges the press, reporters are more than willing to publicly acknowledge the snub. A flurry of recent articles suggest they hope to nudge the press-averse candidate into engaging with them by highlighting how infrequently she does.
Clinton has taken questions from members of the public in controlled settings, but has only answered nine questions from the press in the month since she declared her campaign. She's avoided serious challenges from journalists on her policy positions and on recent controversies involving her exclusive use of a private email account while at the State Department and foreign donations to the Clinton Foundation.
"The focus of our ramp-up period is to hear from voters about the issues they care about," Clinton campaign press secretary Brian Fallon said in a statement. "She's enjoyed engaging in hours of public question and answer sessions and, as the campaign progresses, looks forward to more engagement with voters and press as well."
Meanwhile, Republican candidates like Sens. Marco Rubio (Fla.), Ted Cruz (Texas), and Rand Paul (Ky.), and likely candidate Jeb Bush, have done numerous interviews as Clinton has remained silent. Paul even joked in an interview with a New York Times reporter on Monday about how Clinton won't speak to the paper.
So political reporters, starved for answers from Clinton, have resorted to covering their lack of access to her instead
National Journal highlighted Clinton's lack of accessibility last month in a post aptly titled, "Here Are All Eight Media Questions Hillary Clinton Has Answered During Her Campaign."
Amy Chozick, who has been on the Clinton beat for The New York Times since the summer of 2013, launched a recurring post last week featuring questions the Times would've asked the candidate "had we had the opportunity."
On Monday, The Washington Post Chris Cillizza published a post titled, "Hillary Clinton hasn't answered a question from the media in 20 days."
And ABC News followed up Tuesday morning with, "Hillary Clinton Hasn't Answered a Press Question in 21 Days (And Her Opponents Are Taking Notice)."
Later on Tuesday, The Washington Post took the shaming up a notch by unveiling a countdown clock that tracks the time that has elapsed since Clinton last answered a question. (Fox News tried something similar in 2008 in hopes of getting then-candidate Barack Obama to appear on the network).
Clinton's 2016 campaign surely has its reasons for keeping the press at arm's length, and it may end up being a savvy move. But such a controlled media strategy could also lead to an uneasy relationship between reporters and a candidate they never really get to know, something Politico's Glenn Thrush described in a recent piece about the 2008 campaign.
"I was there, on the eve of the Iowa caucuses, when Clinton boarded the press bus for the very first time to offer a bag of Dunkin Donuts bagels as a peace offering after months of giving us the stiff arm," Thrush wrote. "The candidate was smiling, but her eyes said something different—and so did her feet, which never budged past the white line that separates bus driver from passenger. It is the only time I can ever recall a group of reporters happy to see a major newsmaker depart."
This article was updated after publication with a comment from the Clinton campaign.
Related
Popular in the Community