KEOTA, Iowa -- Three high school students in a small Iowa town launched a successful social media campaign to persuade Hillary Clinton to visit their school, which they hope will spark a national conversation about the challenges rural schools face.
Keota is tucked away in America's heartland, about 40 miles southwest of Iowa City. The town's population has been dwindling over the years, and now hovers around 1,000 residents.
"It's a small town in the middle of nowhere," said Megan Adam, a senior at Keota High School. "You look around and you see hog buildings, corn fields and bean fields, and that's about it."
Education funding is scarce, a common struggle for other rural schools across the country. Rural communities struggle especially with the cost of transportation, which takes a large portion of the budget and leaves less money for teachers and instruction.
"There's not a lot of jobs in Keota because it's mostly small businesses and farming," said Abby Schulte, another senior at the school. "We don't have a lot of things pulling people into our town besides our school."
 Schulte, who is one of 18 members of the class of 2016, said budget cuts have hurt the quality of her education because many classes are only available online.
"Spanish 3 and 4 are online totally. You can't take it with a teacher because we only have a part-time Spanish teacher," she said. "Our chemistry, anatomy, physics -- all of that is online."
With an 80-member student body, the high school is in jeopardy of closing, especially after a late-summer veto from Gov. Terry Branstad (R) that would have given Iowa schools $55.7 million in additional funding for the upcoming year. 
"One of the biggest hurdles is the funding," said sociology teacher Schuyler Snakenberg. "We get funding per student and with lowering enrollment, we don't have as many dollars coming in the door."
Snakenberg said the current low funding levels could result in the school's closure, which in turn would hurt the town.
"A school is largely considered to be the heart of a community," Snakenberg said. "If they lose that school, the community dies."
So Snakenberg challenged the three students in his sociology class to find a way to improve the community, the state and the nation. The students decided to capitalize on the upcoming Iowa caucuses, which have presidential hopefuls criss-crossing the state and visiting its 99 counties. 
Schulte and Adam, along with junior Kylea Tinneas, launched a Twitter account and corresponding hashtag in September called Keota Hopes For Hillary. They first encouraged their classmates to follow the account and use the hashtag, and then were able to connect with two campaign operatives with Hillary for Iowa.
The Keota Hopes For Hillary account had over 1,300 followers as of Tuesday morning, and the students got Clinton's attention after they traveled to a campaign event in Coralville on Nov. 3.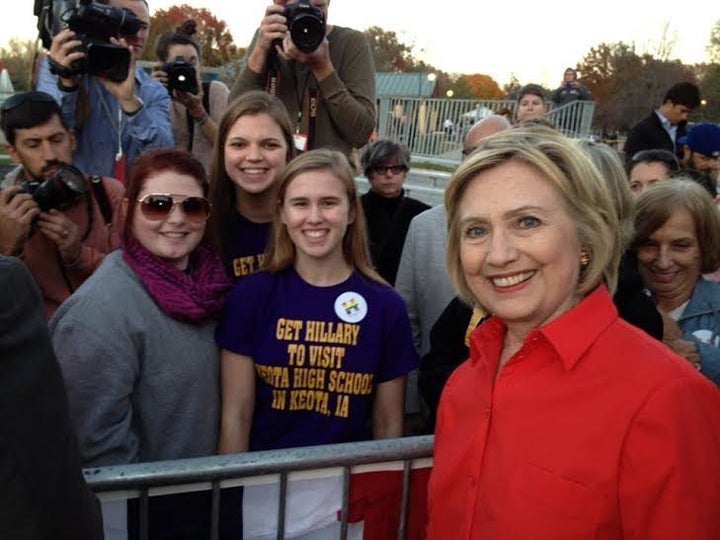 "What are your plans to help other rural schools in our same situation?" Adam asked Clinton during a question-and-answer session.
In her response, the candidate said she would visit Keota High School.
"There was tears of joy, there was laughter," Tinneas said. "It was an amazing experience for the three of us I'd say."
The group is expecting Clinton to visit the school next month, and hope she will address topics that affect rural communities like Keota.
The students say their hours of work will pay off when Clinton arrives for a town hall-style event in their small community. 
"I think it really demonstrates the democratic process," Schulte said. "Such a huge political figure is coming to a school where there are only 80 kids in the high school to talk about her plans for improving society, answer our questions about the issues important to us."
"Most people have gone to this school since preschool," Adam added. "It's just really important to keep the school in the community."
PHOTO GALLERY
Hillary Clinton
Calling all HuffPost superfans!
Sign up for membership to become a founding member and help shape HuffPost's next chapter