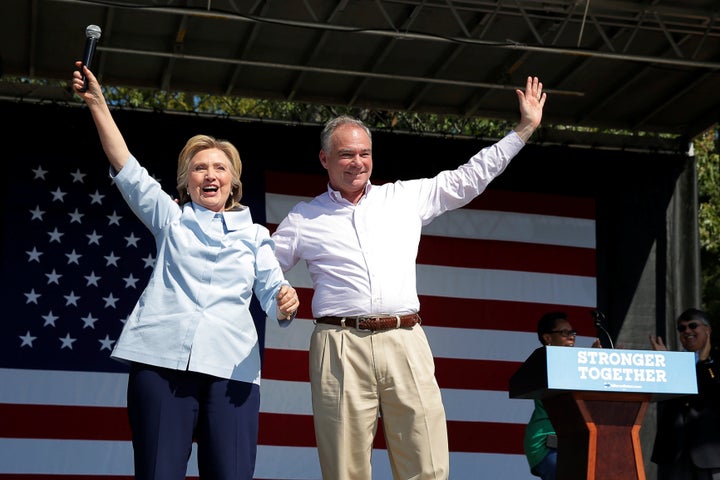 It's looking more likely that Hillary Clinton could win in Virginia, long considered a battleground state, in November's general election. 
Clinton has a 14-point lead over Donald Trump among registered voters in the state, according to a new Washington Post poll. Aggregated polls for the state reflect a similar trend: The HuffPost Pollster model shows a widening gap between the two candidates, with Clinton pulling ahead by 7 points.
The latest Cook Political Report electoral ratings recently recategorized Virginia from "lean Democrat" to "likely Democrat." The state was a tossup in 2012 and leaned Democrat in 2008, according to Cook.
Barack Obama won Virginia in 2008 and 2012, but the Old Dominion state previously had a long history of being reliably red. The last time Virginia had swung blue was in 1964, when Democrat Lyndon B. Johnson ran against Republican Barry Goldwater.
The state is positioned to be a key player in influencing electoral outcomes. FiveThirtyEight's "tipping point model" estimates that only three states ― Florida, Ohio and Pennsylvania ― have a better chance of providing the decisive vote in the electoral college.
Clinton's lead is less surprising when considered within a broader demographic context. Trump is struggling to attract minority voters and voters with a bachelor's degree or higher ― two groups that are well-represented in Virginia. According to the Washington Post poll, black voters make up one-fifth of the electorate in the state, and only 4 percent of them support the Republican nominee. Virginia has the country's seventh highest population of people with at least a bachelor's degree, and only 3 in 10 of those voters support Trump. 
The poll also shows how candidates are performing in each region of the state. Trump leads in the southwest by 10 points, but Clinton is ahead in every other region.
"The results suggest how difficult it could be for the GOP nominee to win what has been considered a crucial swing state," The Washington Post reports. "With its changing demographics, especially in the fast-growing suburbs around Washington, the state may not even be competitive for Trump."
Virginia is just one example of many other swing states where Clinton is currently leading. She surpasses Trump by margins ranging from an average of 7 to 13 points in Pennsylvania, New Hampshire, Colorado, Wisconsin and Michigan. She narrowly edges past the GOP nominee in the key swing states of Ohio and Iowa. 
The Washington Post/ABC poll was conducted Aug. 11-14 among a random sample of 1,002 Virginia adults interviewed on cellular and landline phones. The margin of sampling error is plus or minus 4 percentage points among the sample of 888 registered voters; the error margin is 4.5 percentage points among the sample of 707 likely voters.
CORRECTION: An earlier version of this story referred to the poll as a Washington Post/ABC poll. In fact, it was just conducted by The Washington Post.
REAL LIFE. REAL NEWS. REAL VOICES.
Help us tell more of the stories that matter from voices that too often remain unheard.