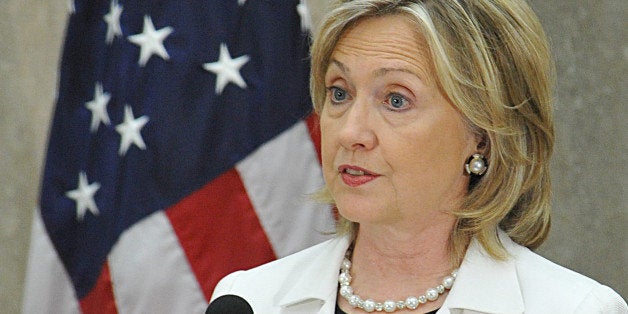 WASHINGTON -- In May 2009, just months into her new position as secretary of State, Hillary Clinton took a major step toward changing the way the agency treats its employees: She announced that gay diplomats would receive benefits similar to those received by their heterosexual counterparts, which they had previously been denied.
Over her next four years at the State Department, Clinton continued to push for lesbian, gay, bisexual and transgender equality both in Foggy Bottom and around the world. Her emails, some of which were released this week by the State Department, show that she and her top advisers were looking for ways to move forward on the issue -- and watching the discontent between LGBT groups and President Barack Obama.
"I think the emails speak for themselves -- they show someone deeply committed to preventing human rights abuse of LGBT people on the global stage," said Richard Socarides, who served as President Bill Clinton's top adviser on LGBT issues.
Clinton's most notable moment on LGBT issues perhaps came on Dec. 6, 2011, when she gave a historic speech in Switzerland in which she declared, "Like being a woman, like being a racial, religious, tribal, or ethnic minority, being LGBT does not make you less human. And that is why gay rights are human rights, and human rights are gay rights."
"Until that time, there had been, historically, very little focus on the serious human rights abuses directed toward LGBT people globally, even among some of our allies," said Socarides. "She was the first person to say that this is an important thing and that we should focus on it."
The rise of anti-gay initiatives globally had been on Clinton's radar for some time, and emails show that she and her team were looking for ways to address them.
On July 6, 2009, Socarides sent a BBC News article to Cheryl Mills, Clinton's chief of staff, about how some gay Iraqis preferred life under Saddam Hussein compared to the violence they currently faced. Mills sent it to Clinton.
"So sad and terrible," Clinton replied. "We should ask Chris Hill [U.S. ambassador to Iraq] to raise this w govt. If we ever get [Michael] Posner confirmed [as assistant secretary of State for democracy, human rights and labor] we should emphasize LGBT human rights."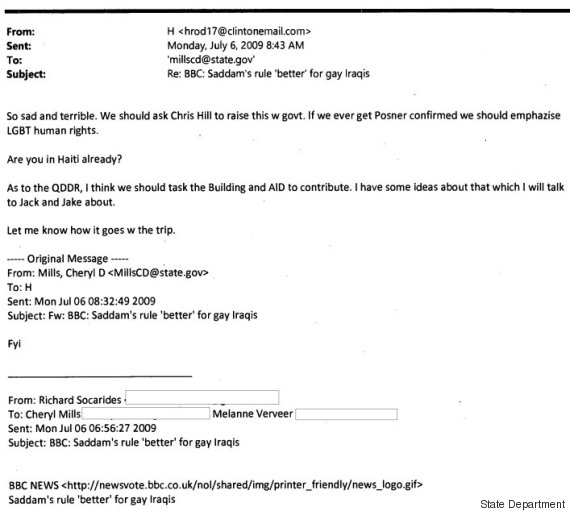 On Dec. 22, Socarides sent another clip to Mills, this one about the influence of U.S. evangelical leaders in pushing anti-gay laws in Africa. He suggested that they should put someone at the State Department in charge of LGBT human rights issues.
Mills told Clinton she thought it was a good idea and suggested they find someone high-profile who could really push the issue as a priority.
"Not sure how I got to be the person pushing all things in this area -- think from the earlier efforts on family benefits but as general matter -- we have a reactive mechanism right now (to others, to me sending emails re Uganda (and now Rwanda is doing same kind of anti-gay law)) etc. This would be someone who's portfolio would be an affirmative agenda," wrote Mills.
"Let's discuss," replied Clinton.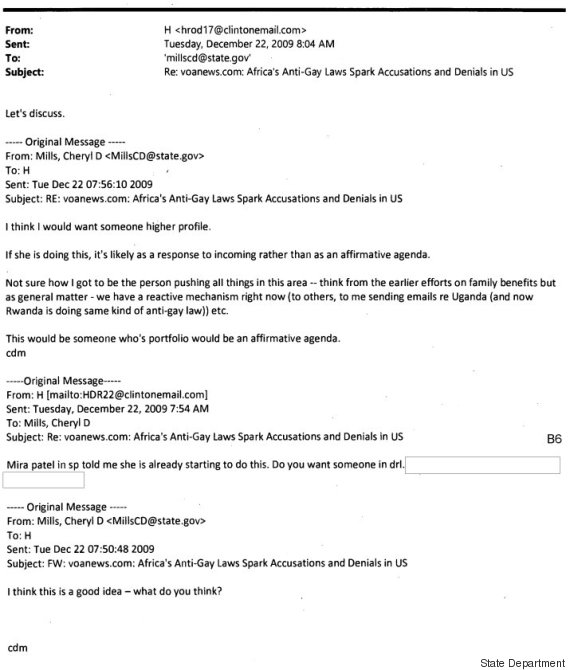 That same day, Eric Goosby, who led administration efforts on HIV/AIDS, suggested to Mills that they put together a small group to think through a proactive strategy that would include defining "human rights challenges around gay communities in many of our partner countries."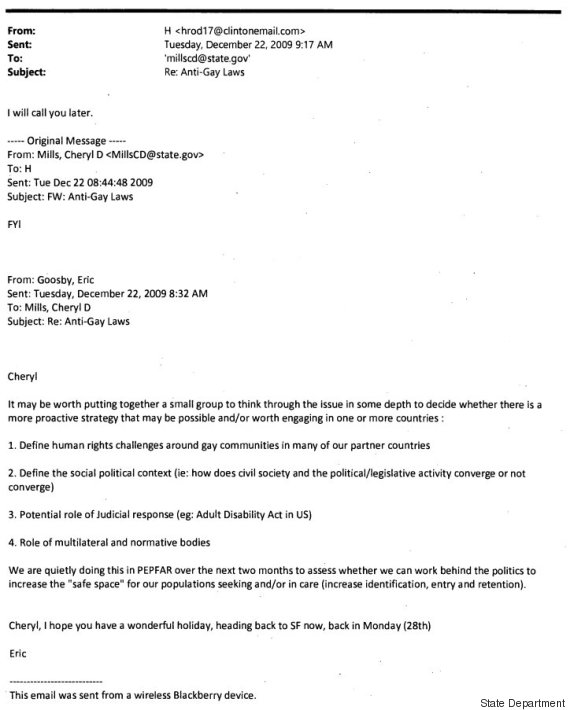 Mills also emailed Johnnie Carson, the assistant secretary of State for African affairs, and asked, "What is the best way to have a systematic assessment of what countries in Africa have laws proceeding or on the books re: anti-gay measures similar to the Uganda bill?"
The portfolio of international LGBT issues was eventually overseen by Dan Baer, who is openly gay, and served as deputy assistant secretary for the bureau of democracy, human rights and labor. In 2013, he became ambassador to the Organization for Security and Co-operation in Europe.
Clinton's team was also closely monitoring what was happening domestically with LGBT rights, and highlighting activists' increasing frustration that Obama wasn't doing enough on equality. Aides passed around clips that underscored this point -- and cheered when there were news stories praising Clinton's work on the issue.
Want more updates from Amanda? Sign up for her newsletter, Piping Hot Truth.
Before You Go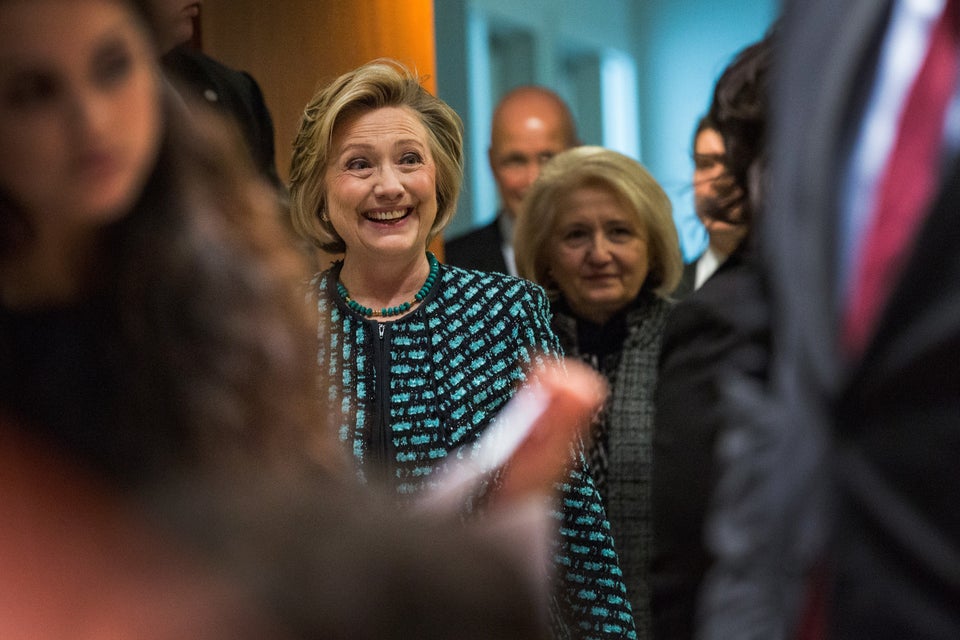 Hillary Clinton
Popular in the Community