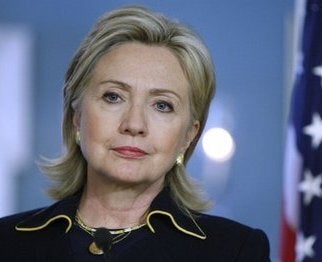 It's been a tumultuous time lately for the Obama Administration in geopolitics, and Secretary of State Hillary Clinton is more prominent than ever. The polls are strong for her, but the reality is more problematic.
It makes sense for Clinton to be so prominent now. Even when people believed in the economic recovery, President Barack Obama's extensive early foreign travel had quickly diminishing returns in PR terms. And Hillary brings the Clinton clout which she and Bill have built over many years.
But, aside from Libya, to which she paid a happy visit on October 18 having championed the limited U.S. intervention policy over opposition from then Defense Secretary Bob Gates, she's been busy spinning up some unsuccessful/highly unconvincing stuff.
Secretary of State Hillary Clinton, now on a PR offensive, again blamed Pakistan for any problems while touting success in the Afghan War during Thursday testimony on Capitol Hill.
Clinton, in the midst of a PR offensive on her diplomatic approach complete with a Time magazine cover, testified Thursday on Capitol Hill, saying that Afghan President Hamid Karzai was "taken out of context" when, just two days after her visit to Kabul, he said that he would side with Pakistan in any conflict with the U.S.
That wasn't long after Clinton wrapped up a two-day trip to Pakistan, where she tried again to get Pakistani leaders to move against the Taliban and to improve cooperation with the U.S. following the breach in relations after the Osama bin Laden raid.
Clinton was accompanied by new CIA Director David Petraeus and General Martin Dempsey, the new chairman of the Joint Chiefs of Staff. It's not clear yet what, if anything, was decided.
Before that, Clinton was in Afghanistan, trying to get Afghan leaders to renew peace contacts with the Taliban. These ended after last month's dramatic assassination, in his supposedly highly secure Kabul home, of the former Afghan president in charge of the peace process.
The Obama strategy in Afghanistan was, in my term for it, escalate to negotiate. The escalation happened, but the negotiation has languished as the Taliban found they could withstand the military pressure from the U.S. and its allies and thoroughly disrupt the nascent Afghan government.
Before her surprise trip to Libya, Clinton played a big role in trying to sell the story of the alleged Iranian plot to assassinate the Saudi ambassador in Washington. The American news media mostly bought it uncritically, replete with some breathless coverage. But the international coverage I've seen has been far more skeptical.
Clinton and other Obama Administration representatives worked to gain international support for their report of a bizarre Iranian conspiracy to assassinate the Saudi ambassador to the U.S. masterminded by an alcoholic used car salesman in Texas. But it's been tough going.
Delegations were dispatched to Moscow and a few other capitals to press the case against Iran. But since then Clinton and the rest of the administration have been quiet. It doesn't seem to be going very well. How could it not? I mean, who wouldn't buy a conspiracy centering on a Texas used car salesman-as-mastermind whose plan was to reach out to a DEA informant masquerading as Mexican drug cartel player as the contractor on the hit? (A mastermind whose reported nickname, incidentally, was "Jack," as in Jack Daniels whiskey.)
Clinton has also been enlisted to put the best face on Iraq, where Iran has gained, not surprisingly, great sway in the wake of the ouster of Saddam Hussein. The Iraqi parliament refused to grant U.S. troops immunity from prosecution, which made the withdrawal of even a long-contemplated small residual force necessary, predictable bleatings from the far right notwithstanding.
Even though Clinton is in the midst of a lot of dubious spin, the fact that she has the credibility to put these things out there speaks to a major recovery of her credibility from early this year. (It also speaks to the devolution of the news media, but that's another matter, if not exactly unrelated.)
As I discussed here on The Huffington Post in February, Clinton was one of the foremost figures in the Obama Administration who were demonstrably not getting it with regard to the then emerging Arab awakening.
Clinton, who had just finished praising the great reformers of the Bahraini monarchy, was slow to grasp that Egypt's Hosni Mubarak was yesterday's man, not to mention slow to grasp that installing his spymaster as the country's new leader wasn't a really great idea.
Since then, she's recovered, to the point where she's now able with a straight face to talk about success in Afghanistan, well, except for all the embarrassing attacks made possible by Pakistan's sometime backing for the Taliban. (News flash: Pakistan helped create the Taliban in 1996 to bring order to an Afghanistan wracked by civil war between the mujahideen who fought the Soviets. This is not a new factor.)
Who says there's no progress in the world?
Calling all HuffPost superfans!
Sign up for membership to become a founding member and help shape HuffPost's next chapter