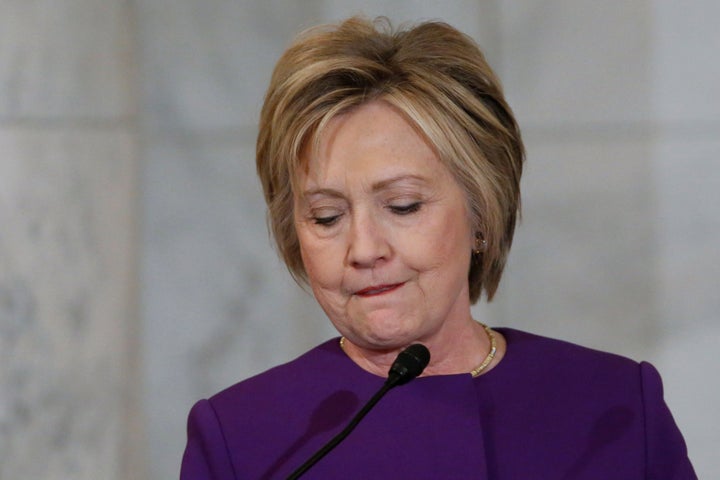 Hillary Clinton acknowledged on a call with her campaign staff and volunteers on Friday that her election loss had taken an emotional toll. But she encouraged those listening to stay engaged in the political process once the despair of Tuesday passed.
"I'm not going to sugarcoat it: These have been very, very tough days," Clinton said. "This is a tough time for our country. I think we have seen how people have been reacting to the events of this election and I know we have got to be reaching out to each other to keep it clear in our own minds that what we did is so important. It looks like we are on the path to winning the popular vote, and that says volumes about the importance of your work and the lasting impact it will have."
Clinton's comments are the first she's offered since her concession speech to Donald Trump on Wednesday morning. Then and now, she kept a calm demeanor, not casting blame for the outcome but instead encouraging those listening to move forward constructively. Friday's call, which The Huffington Post was able to dial into, lasted roughly 15 minutes, interrupted for a few minutes by a tech snafu.
Clinton thanked her backers for the work they put in, calling the campaign "one of the greatest honors of my life." And she encouraged them to remain politically engaged in the future.
"This is a hard loss for all of us because we know what was at stake in this election and we have to do everything we can to continue to support the causes we believe in," she said. "When you're ready, I hope you will get up and back in there and keep fighting."
Clinton was photographed Thursday taking a hike with her dog at a hill near her New York home, the first image of her since Wednesday morning. She encouraged those depressed over the loss to regroup and find their own therapeutic remedy. "Take your dogs for a walk," she said, "if you have dogs." 
Calling all HuffPost superfans!
Sign up for membership to become a founding member and help shape HuffPost's next chapter