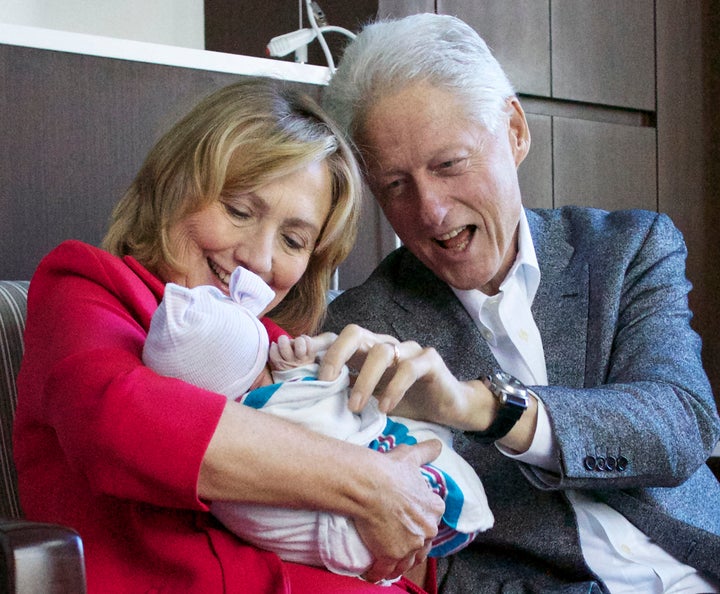 Proud new grandpa Bill Clinton has gushed about how his first granddaughter, Charlotte Clinton Mezvinsky, is "the greatest thing since sliced bread," and it seems grandma Hillary Clinton is just as in love with the little girl. 
Chelsea Clinton, the couple's daughter, says in a new interview that the presidential hopeful always makes baby Charlotte a priority, despite her busy schedule.
"My husband Marc [Mezvinsky] and I were at a dinner for a friend who recently got a new job, and my dad was out with friends, so my mom babysat, which was really nice," Chelsea told People Magazine. 
The former Secretary of State is a hands-on grandma, helping with everything from diapers, feeding, storytelling and even teething.
Baby Charlotte will celebrate her birthday later this month and has her seventh tooth coming in -- but grandma knows just the thing to soothe the discomfort: singing. 
"When Charlotte has challenges teething, 'The Wheels on the Bus' song can go on for hours," Chelsea said. Like, everything gets on the bus — every animal from Old MacDonald's farm gets on the bus, everybody we know gets on the bus, everybody in our family, all of our nieces and nephews and cousins, everybody and everything is on the bus. So my mom is very sweet when she's singing 'The Wheels on the Bus'."
Grandma Hillary also sings "Twinkle, Twinkle, Little Star" and baby Charlotte has even learned to open and close her hands to the song, mimicking the twinkling -- something she learned from grandma.
Chelsea says both grandma and grandpa are very involved, often stopping by to visit with their granddaughter. "They are so interested in everything about her — getting to know her and being part of her life and part of her daily routine — so it's not just checking in once in a while, but checking in every day to see how she's doing. 'What are her newest achievements? How's she eating? How's she sleeping? How many teeth does she have?'" Chelsea said.
As for what Charlotte will call grandma and grandpa once she starts talking -- grandma had a suggestion. "Grandma's fine. Madame President's fine. Whatever she chooses," Hillary Clinton joked in a recent interview with ABC News. 
Here's wishing Charlotte a happy 1st birthday!
Calling all HuffPost superfans!
Sign up for membership to become a founding member and help shape HuffPost's next chapter