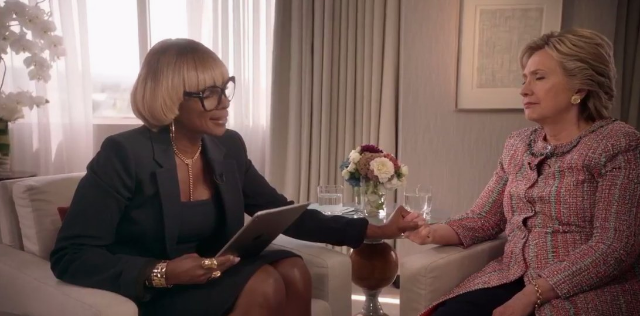 Mary J. Blige's full interview with Hillary Clinton for her show "The 411" is finally available on Apple Music.
Before she began her interview, Blige said when she met Clinton and performed at the 2016 Democratic National Convention, she said she was inspired to interview the secretary for the debut episode of her new show. 
"I wanted this to be my first interview for the show because I represented, for so long in my music career, a movement of women who are trying to stay strong... and represent leadership," said Blige, who told Billboard that she's a singer before she's a journalist. "I want to move people. The way I move them in my music, I want to move them in my TV show as well."
During the interview, the two discussed womanhood, police brutality against, gun violence and Clinton's plans for making change in the White House.
The meat of the interview begins at about 18 minutes in when Blige starts singing her emotional rendition of "American Skin (41 Shots)" ―  the segment featured in the promo which many people didn't take seriously. In the video, Clinton advised Blige that she should sing in every interview she does. 
More pressing than the song, however, was the artist's question about how the country should handle violence against black people. "Where do we go from here?" she asked the candidate with teary eyes.
"We have to put ourselves in each other's shoes, feel the pain that a mother and a father feel when their son and daughter can go out the door and they don't know what's gonna happen to them," Clinton responded. "I particularly want white people to understand what that's like and to feel that they must be part of the solution."
She noted that law enforcement needs training to remove implicit bias and to learn how to deescalate tension in a more effective way. Clinton also said she plans on finding a solution to gun violence within communities.
"I have pledged that I'm going to do everything I can to bring our country together, to take on this violence, to work with our police, to take change mindsets... and to do what we can to take on the gun lobby," she told Blige. "To get the guns out of our neighborhoods that are being used to kill so many children and young people. So I hope that we will make progress on this."
Blige asked Hillary if she was worried about her initiatives being blocked in Congress because she's a woman, especially since many believe President Obama faced this issue due to his race.
"I know how hard it is to get anything done because I watched my husband, I watched president Obama. But I know it's possible because I watched both of them break through the opposition to achieve important goals for our country," Clinton said. "I'm going to get up every day and work hard. I'm not going to take anything or anybody for granted and I'm going to try to build relationships to find common ground."
Awkward moment aside, Blige and Clinton touched on some serious issues. But there wasn't much new information revealed (despite the fact that Hillary and Mary are now on first name basis). However, Blige's new platform may have bridged the gap between her fans and Clinton's message.
In the interview, Clinton toyed with the idea of doing a follow up interview in four years, if she's elected, to talk about what she's accomplished. Given that Clinton sat down with the Queen of Hip-Hop Soul in the first place, it's not too far fetched.
Calling all HuffPost superfans!
Sign up for membership to become a founding member and help shape HuffPost's next chapter
BEFORE YOU GO
PHOTO GALLERY
Protests Break Out In Charlotte After Police Shooting