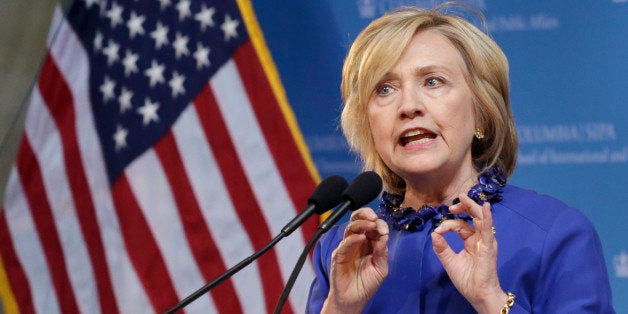 I'm delighted, of course, by Hillary Clinton's speech this morning. The fact that the Democratic Party's presumptive nominee for president chose the subject of mass incarceration as the focus of her first major policy address since she announced her candidacy is of great significance politically. So is the fact that all of the other Democratic candidates and most of the Republican ones agree that something needs to be done to reduce incarceration in our country. An issue once regarded as the third rail of American politics has now become the principal arena of bipartisan accord and potential for meaningful legislative and administrative reform.
But even as I rejoice at this outbreak of bipartisanship on a cause to which I've devoted my life, I must admit it also brings up feelings of anger and disappointment at the failure of Hillary Clinton, and other candidates, and so many other ostensible leaders to acknowledge that they were willing and even eager proponents of the very policies that produced America's records-breaking rates of incarceration. The laws and policies we embraced back in the 1980s and 1990s, they're all saying in one way or another, were the right thing at the time -- but now we just need to roll them back now that times have changed.
But the drug war policies of that era were never justifiable, and the evidence overwhelmingly indicates that they did far greater harm than good. No policy that results in the highest rate of incarceration in the world, and the highest in the history of democratic nations, is justifiable. And no policy that generated such devastating consequences for African American citizens and communities can or should ever be excused as a necessary response to the drug and crime problems a generation ago.
So, yes, it's great that Democrats and Republicans all say they want to do something now about mass incarceration -- and even better that some real policy reforms are beginning to happen at the state and federal level. But I'm waiting, albeit not with baited breath, for the apology -- for the candidate honest and honorable enough to say what needs to be said: that the policies embraced so eagerly a generation and less ago were an abomination upon this nation, and especially upon a minority of our fellow citizens who deserved, and are owed, something fundamentally different.
Much of what worries me, too, is the absence of any call for a re-thinking of how we deal with illegal drugs in our society -- apart from marijuana. Crack cocaine provided the spark that ignited the drug wars of the late 1980s and 1990s -- and the mass hysteria of those years explains much of how and why the United States embarked on our failed experiment in mass incarceration (and also why we failed to respond appropriately to the spread of HIV/AIDS by and among injecting drug users, at a cost of tens, perhaps hundreds, of thousands of lives). But one has to ask: do we now know enough to avoid responding to the next "drug crisis" in the ways we responded back then? I fear not - which is why that's the other speech this country needs to hear from either the President of the United States or those who aspire to fill his shoes.
Ethan Nadelmann is the Executive Director of Drug Policy Action.
Popular in the Community