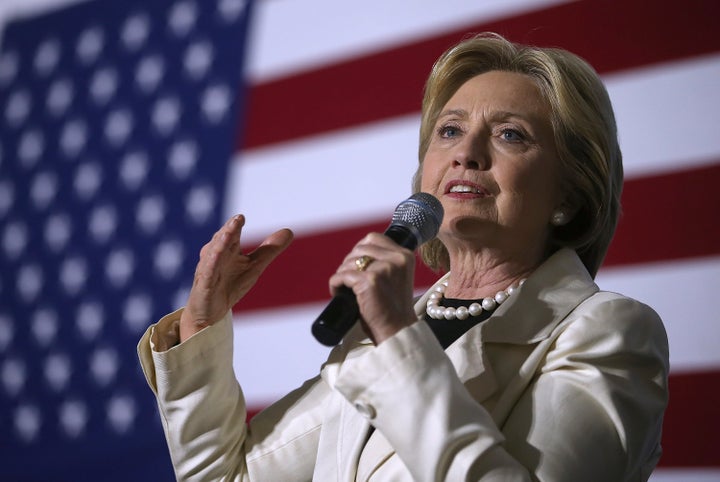 WASHINGTON -- Are you still trying to figure out where Hillary Clinton stands on a $15 minimum wage? Don't feel bad. Apparently, her campaign is still trying to figure it out, too.
During Thursday night's presidential debate on CNN, moderator Wolf Blitzer asked the front-runner for the Democratic nomination if she would sign a $15 minimum wage bill if Congress put it on her desk. She confirmed that she would. In doing so, she subverted her own economic argument on the issue.
For months now, Clinton has insisted that she supports the Fight for $15 -- a national labor campaign calling for $15 per hour and union rights for all workers -- but backs a more modest federal minimum wage hike, proposed by many Democrats, to $12 from the current $7.25. (As for how those two positions can be compatible, we'll get to that later.)
Clinton has said she's concerned that areas with lower costs of living, such as pockets of Upstate New York, can't absorb a dramatic boost to $15 the way, say, New York City could. Plenty of economists share that worry, given that such a large nationwide hike would be unprecedented.
But on Thursday, Clinton started to crack on the issue. Standing across from her opponent, Sen. Bernie Sanders (I-Vt.), who unequivocally supports a $15 federal minimum, she ended up shifting from an economic argument against $15 to a political one.
"I think setting the goal to get to $12 is the way to go, encouraging others [cities and states] to get to $15," Clinton said. "But, of course, if we have a Democratic Congress, we will go to $15." In other words, if she thought $15 was politically possible in Washington, she would get on board with it -- never mind that she's been trying to make a nuanced case against it for months.
To be clear, a $15 federal minimum wage would phase in $15 as the bare minimum throughout the land, from Washington, D.C., to small-town Kansas. Depending on the schedule of raises laid out in such a plan, it would probably bring a mandated wage hike to just about every state, except California and parts of New York, which recently passed their own $15 measures. In the case of New York, the wage floor won't be universal; some areas will only hit $12.50 before the effects of the law are re-evaluated -- a more cautious approach that Clinton has championed.
After the debate, HuffPost's Sam Stein asked John Podesta, Clinton's campaign chair, why she would sign a federal $15 measure when she's said in the past that such an across-the-board hike could hurt a lot of areas.
"If she is presented with a bill that is passed by the Congress, she would not veto a $15 bill. She would sign it," Podesta said. "She has been in favor of the Fight for $15. ... She's tried to go to places that have pushed and have the economies that support the $15. ... [In] upstate [New York], the bill only goes to $12.50 until the economic conditions would support a higher minimum wage. And I think that's consistent with what she's been saying."
It isn't clear who Clinton pleased by trying to split the difference between $12 and $15 on Thursday. Some fiery progressives in the crowd booed her when she reminded them that she's stood alongside Fight for $15 workers, which she indeed has. Conversely, Vox's Timothy B. Lee took her to task for saying she would sign the theoretical $15 wage bill, arguing that her "first position was the right one."
Politically speaking, a $12 minimum wage is a great position to stake out for a general election. Not so much when you're locked in a surprisingly competitive primary with a self-described democratic socialist. Hobbled from the start by her less-progressive stance on this issue, Clinton has been trying to back the Fight for $15 without backing the number at the core of the Fight for $15's demands. As HuffPost's Ryan Grim put it, her statement Thursday that she would sign a theoretical $15 measure "epitomizes what Clinton opponents dislike about Clinton's brand of politics."
The confusion doesn't reflect well on union politics, either.
The Fight for $15 has been organized and bankrolled by the Service Employees International Union, which has 2 million members working in the service industries. The campaign has been a smashing success for the union, leading to a wave of state and local minimum-wage hikes around the country, while shaming the likes of McDonald's and Burger King. It's not too much to say that the workers leading the Fight for $15 -- and, behind them, the organizing heft of SEIU -- has completely rewired the discussion about low-wage work in the U.S.
Yet SEIU was one of the first major labor unions to endorse Clinton -- back in November, nearly a year before the general election. The early endorsement came despite Clinton's support then for a $12 wage bill, and Sanders' standing as the Senate's most vocal backer of Fight for $15. Sanders introduced a $15 minimum wage bill in the Senate last summer. (As far as the political realities go, the Republicans who control Congress won't even bring a $10.10 proposal up for a vote, let alone $12 or $15.)
Plenty of Sanders supporters within organized labor have carped about their respective unions' backing of Clinton -- she has locked down far more major labor endorsements than he has -- but few can so justifiably grumble as those who've carried the $15 banner in SEIU-organized protests.
In February, HuffPost asked SEIU's president, Mary Kay Henry, if the union wouldn't prefer a candidate who backs a $15 federal minimum wage, given that the union has been the prime driver behind the Fight for $15.
"We actually think she has indicated support for $15 and a union," Henry said of Clinton. "We felt like she gets us, and gets our issues. ... We feel incredibly proud to have endorsed her and we're using every ounce of this union's energy to make sure she wins in the primary and in the general election."
For the union, supporting Clinton on this issue requires the same logic that Clinton herself has relied on -- that one can back the Fight for $15 without necessarily backing $15 as a federal minimum wage. But the Fight for $15 hasn't drawn a distinction between workers in expensive cities and workers in cheaper areas. It's the fight for $15 -- not the fight for sensible minimum wages according to the local cost of living. Whether on strike in Manhattan or in Buffalo, the workers' demands have been the same: $15 and a union.
Before You Go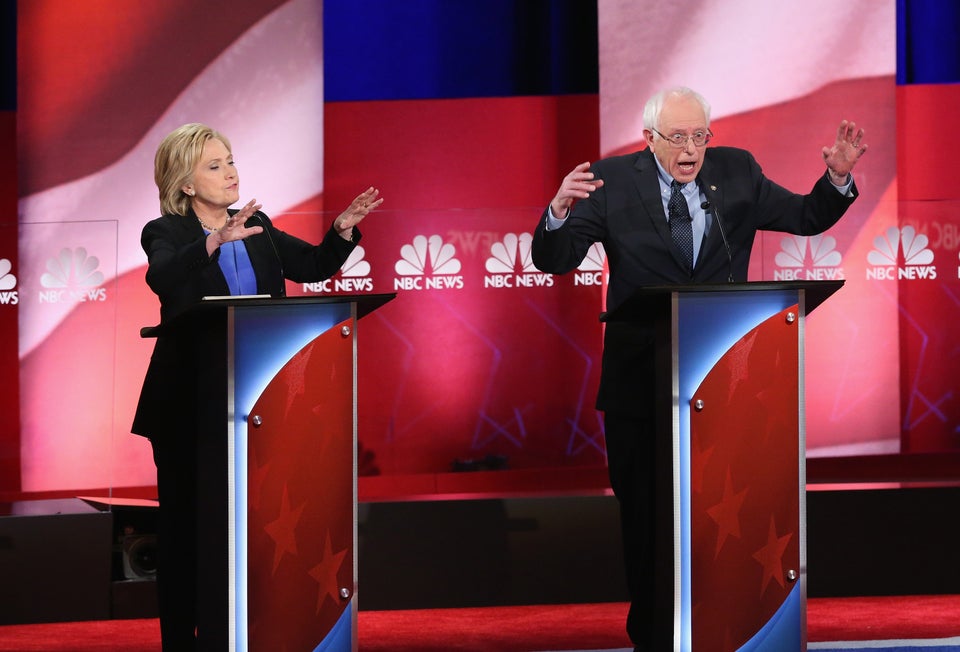 Bernie Sanders And Hillary Clinton Face Off
Popular in the Community