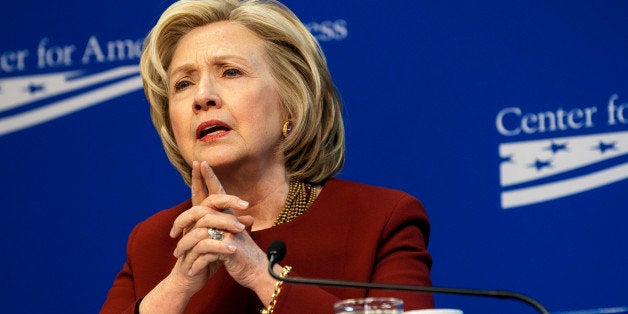 Presumptive Democratic presidential candidate Hillary Clinton was a featured guest Monday at the Center for American Progress' "Expanding Opportunity in America's Urban Areas" conference in Washington. According to the liberal think tank's website, the event "[brought] together a small group of public, private, philanthropic, and nonprofit leaders to discuss challenges that our metropolitan regions face, as well as emerging solutions, laying the foundation for a vision of a thriving urban America that supports national prosperity."
Clinton's participation in the event offers a hint as to what her own economic policy priorities might be, and to whom she might turn for help in crafting a presidential platform. As Bloomberg's Melinda Henneberger put it: "For the many progressives who wonder where exactly Clinton stands on a number of issues, including trade, Wall Street reform and how she'd address income inequality, inspiring the feeling that they are being heard as she's still sketching out the policy particulars of her expected presidential run is no small thing."
Except it was a small thing, at least to Henneberger, who used the better part of her word count to inform readers that Clinton successfully made gestures and said some things, including fairly uncontroversial remarks about how the middle class is good and kids should be able to go to school and stuff. Per Henneberger, Clinton "nodded vigorously" and "took copious notes" and did so "with great enthusiasm." And like, you also had to listen to the notes she wasn't playing: "In a way, the message [Clinton's] body language sent was perfect: I'm here. I'm listening more than I'm talking. And I am even willing to go to school."
Yes, in a way. In another way, there was this whole policy conversation going on about how to improve urban economies. Henneberger caught snatches of this conversation and arranged them in a pastiche. Here's a taste:
When [Clinton] did speak on Monday, she talked about investing in infrastructure, including human infrastructure. Among the most pressing questions, she said, are, "What do we do to better equip our people to be able to take the jobs? And how do we keep middle-class families in cities where they want to stay? They don't want to leave, but they're being priced out."
Several unconnected instances of Clinton dialogue follow. In a way, the message that Henneberg's report sends is perfect: "I was here. I listened more than I talked. And I did the bare minimum to prove that to my credulous editor."
Clinton's remarks accounted for just a few minutes of the hourlong session, in which multiple politicians, advocates and policymakers offered their thoughts on how to address the (very important, and very daunting!) problems that face American cities. One of the more interesting points, and one that came up again and again, was that many of the assembled experts see urban economic renewal as something that begins at the local level -- something conceived among community stakeholders, municipal and regional governments, and private or philanthropic investors. In other words, Monday's roundtable was no festival of top-down, let-the-federal-government-take-the-lead policy ideas. So one might wonder: How, exactly, would Hillary Clinton, or any other president, facilitate this sort of change from the Oval Office?
I mean, when I say "one" might wonder, it's shorthand for "one substantively invested in a presidential election." But probably what most people want out of their political coverage is an Instagram video of Hillary Clinton nodding her head. Good news, then, because that's what The New York Times' official Hillary Clinton chronicler, Amy Chozick, got out of the session.
Calling all HuffPost superfans!
Sign up for membership to become a founding member and help shape HuffPost's next chapter
BEFORE YOU GO
PHOTO GALLERY
Potential 2016 Presidential Contenders