TOLEDO, Ohio ― Farooq Mitha has racked up a lot of miles in his job as Muslim outreach director for Hillary Clinton's presidential campaign. He's met with Muslim communities in Florida, Michigan, Pennsylvania, Virginia and Ohio to convince them to vote for Clinton in November.
Mitha's job is unique: He is the first sustained Muslim outreach director employed by a major party's general election campaign. In a year when Republican presidential nominee Donald Trump has demonized Muslims and stoked Islamophobic fears of an internal threat, Clinton's campaign is investing energy and resources into organizing Muslim voters to help her win key swing states.
"Reaching out to Muslim-Americans is not a numbers-driven game for the campaign," Mitha said. "Muslim-Americans have been part of this country for centuries and have a long history here, and have been contributors to the United States across many fields ― entrepreneurs, job creators, teachers, firemen, police officers. It's a community that's very important."
Muslims make up approximately 1 percent of the U.S. population, or about 3.3 million people. According to the Council on American-Islamic Relations, which is undertaking a large voter registration drive, there were 824,000 Muslims registered to vote in June 2016. In states like Florida, Michigan and Virginia, Muslims are a large enough group that they can sway a close election.
The Clinton campaign also hopes that organizing in Muslim communities will help them in states like Ohio. In July, the campaign opened an office in Toledo, where Mohamed Gula leads organizing efforts for the Muslim community.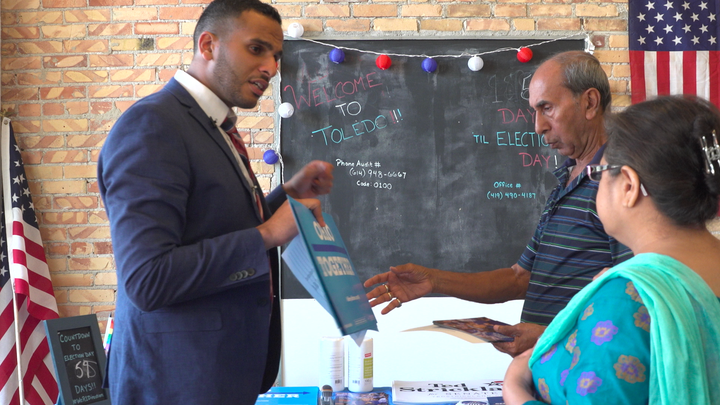 "I've made it my personal objective to ensure that this election is not going to be about Muslims without Muslims. It's no longer going to be without us, or about us without us," Gula said. "That's one of the main reasons I felt the need to really be a part of the campaign."
The outreach conducted by Gula, a native of Dayton, Ohio, whose parents immigrated from Libya, includes the traditional door-knocking, phone-banking and canvassing. It also includes more targeted efforts at mosques and Muslim community centers.
Gula and the campaign hosted an iftar dinner during this year's Ramadan. They registered voters during the holiday of Eid and held registration drives after Friday night prayers. As Gula explains, much of his work involves listening to members of the diverse Muslim community to understand their concerns.
"Being able to be present, and really listen to what concerns the community has had, has been extremely important, I think, to anybody," he said.
Zara Rahim, the communications lead for Clinton's Muslim outreach team, also emphasizes the importance of listening to build bonds and trust that can lead to a more politically engaged community.
"This campaign understands that the community isn't monolithic, and part of that is just identifying that and making sure that we're talking to people about the issues they care about," Rahim said. "A lot of that means listening sessions. It means figuring out... what issues are most important to them, and how do we apply that to our ground game."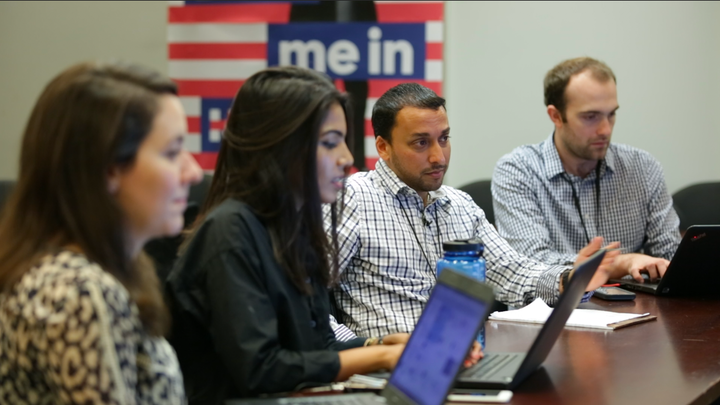 In recent elections Muslims have voted overwhelmingly for Democrats. That hasn't always been the case. In 2000, Muslims voted in large majorities for George W. Bush. His call for an end to racial profiling of Arab-Americans in a debate helped bring Muslims to his side. Bush heavily courted the Muslim vote in Florida, and their turnout helped tip the state and the election in his favor.
But Muslim support for Republicans receded after Sept. 11, the ensuing wars in Afghanistan and Iraq and the advent of controversial torture, spying and profiling programs. The rise of Islamophobic politicians in the Republican Party during the past decade has accelerated the trend of Muslims moving toward the Democrats.
In 2008, Barack Obama hired Mazen Asbahi, a lawyer at the firm Schiff Hardin, as his Muslim outreach director. However, Asbahi stepped down after a few weeks when conservative news sites attacked him for serving on the board of the Dow Jones Islamic Index Fund with an imam who was named as an unindicted co-conspirator in a racketeering trial against individuals accused of sending money to Hamas.
Unsurprisingly, the open Islamophobia of the Trump campaign is the biggest issue Clinton's Muslim outreach team has heard about in their listening sessions.
"The number one thing people are really saying to me right now is that they're scared for the future of the community in this country," Mitha said. "They're scared for their kids to go to school. The rhetoric they hear in our political and civic space is at a level that they've never experienced before."
"What the Trump campaign has done is, it has created a platform for hate rhetoric," Gula said. "It has given people the confidence to be able to speak out openly about how they feel about Muslims. And that's why I say that it has actually gotten worse. I've had more hate rhetoric now than I did post-9/11."
Gula described incidents where he has encountered such hate. "I have direct encounters with Islamophobia on a weekly basis," he said. "I've had individuals approach me at gas stations telling me ― well, cussing at me and telling me to go back home. I've had people cussing at me and telling me, saying that they're supportive of Trump and going on and going forth. I've had individuals cuss the religion itself."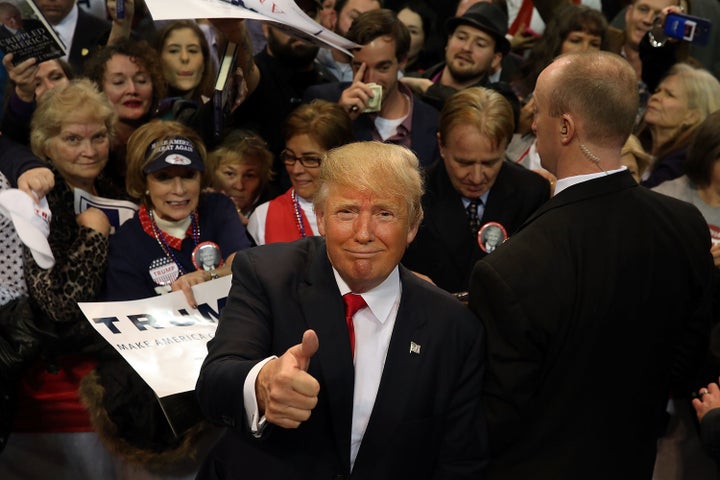 Hate crimes against Muslims jumped by 78 percent during Trump's rise in 2015, according to a report from the Center for the Study of Hate and Extremism at California State University, San Bernardino. There were 260 anti-Muslim hate crimes last year, the greatest number of any year since 2001.
For Rahim, Trump's proposal to ban Muslims from entering the United States inspired her to leave her job at a technology company and go to work for the Clinton campaign to organize Muslim voters.
"Under the proposed ban that Donald Trump is calling for, the total, complete shutdown of Muslims entering the country, I wouldn't be having this conversation," Rahim said. "I wouldn't be in this job, I wouldn't be talking to the people that I talk to every day about why this campaign is so important. My parents came to this country in 1980 believing in the American dream."
At the second presidential debate, Gorbah Hamed, an undecided Muslim voter, asked Trump about Islamophobia and what he would do to help combat its rise. Trump initially responded by calling Islamophobia "a shame," but quickly shifted the blame to Muslims.
"There is a problem," he said. "We have to be sure that Muslims come in and report when they see something going on. When they see hatred going on, they have to report it."
Trump wasn't talking about reporting instances of Islamophobia. Rather, he was arguing, the problem is that Muslims don't monitor each other for criminal or extremist behavior.
"If they don't do that, it's a very difficult situation for our country," he said.
The Huffington Post attempted multiple times to contact the Trump campaign about its outreach to Muslims, but did not receive a response.
Of course, fear of Trump and his supporters isn't the only issue animating Muslim voters this year. The country's immigration system, for example, is in need of revision, since it can keep some recent immigrants or asylum seekers from traveling for years. And like all Americans, Muslim voters are concerned about jobs, health care and college affordability.
In the Democratic primary, Muslims strongly supported Clinton's principal challenger, Sen. Bernie Sanders (I-Vt.). Their support likely helped propel Sanders to an upset victory over Clinton in Michigan. Clinton's campaign has since deployed Rep. Keith Ellison (D-Minn.), a former Sanders backer who is one of two Muslims in Congress.
"Reaching out and being engaged from the get-go was really important, and we've been building on that," Mitha said.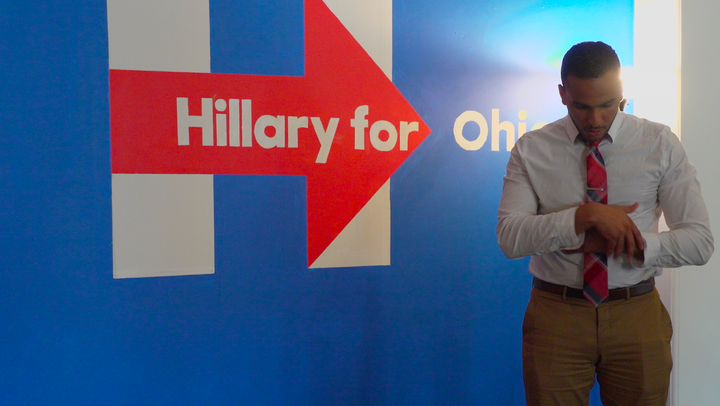 The campaign's outreach is not only focused on getting Muslims to help organize other Muslims. It's also about Muslims engaging in the election like every other group ― calling voters and knocking on doors. Gula hopes that this simple engagement, this act of being present, will empower Muslim voters and help them build connections with communities that may be distrustful of them.
"I want... an everyday Joe to be able to hear 'Hello, this is Mohamed, how are you doing today?'" Gula said. "I think that's more powerful than anything. I think that's more powerful than Mohamed calling Mohamed ... For [Muslims] to be able to hear some of what people have to say is key."
Oumeima Djema, a Toledo high school sophomore, is one of Gula's volunteers doing just this.
"I think, Muslim or not, it's very important to, like, know what's going on in the community and what's going on in the country. Because if you take away that Muslim title, I'm still a member of the community and I'm a citizen of the United States," she said. "I want someone good to lead our country and bring it to greatness."
Sharaf Mowjood contributed reporting.
The Huffington Post is documenting the rising wave of anti-Muslim bigotry and violence in America. Take a stand against hate.
Calling all HuffPost superfans!
Sign up for membership to become a founding member and help shape HuffPost's next chapter
BEFORE YOU GO
PHOTO GALLERY
Faces of Islam