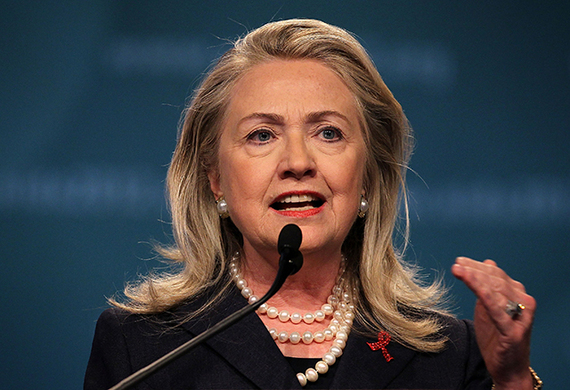 Before last week's big announcement, everyone knew Hillary "Little Engine That Could" Clinton, was running (again) for President of the United States.
She'd stepped down from her role as Secretary of State, written a tome on her time between leaving the White House as First Lady and leaving President Barack Obama's administration, gotten more pantsuits, become a meme, spoken at feminist foundation Emily's List conference and been pitted against Republican hopefuls in polls.
Some are touting Hillary's 2016 bid as the one that will finally get her the Iron Throne -- um -- White House. But while her supporters are proclaiming Hillary as Daenerys Targaryen, blacks, and more specifically, gay blacks, are wondering how much sincerity and concern she actually has for us. In order for Hillary Clinton to receive my vote, she's going to have to articulate her views on same-sex marriage, how she's going to continue President Obama's efforts around public health policy around HIV and AIDS, and issues black gay men face on a daily basis from merely existing.
In the past three years, we've heard different accounts of President Obama's evolution on gay marriage. After Vice President Joe Biden's backing of gay marriage, outlets said President Obama was "forced" to agree with his number two. In his own speech, President Obama said it was interaction with the friends' parents of his daughters that his views changed. And recently, a former aide said the President has always been pro-gay marriage, but tempered his views during his first presidential election bid.
Regardless of when President Obama realized gay marriage, gay rights are human rights, not many in the gay community felt the president was just pandering for votes. In admitting that he used to believe one thing, and after meeting people, parents (taxpayers, neighbors, potential voters) like him and his wife, he grew to understand them. It's the same argument Dr. Martin Luther King, Jr. and others from the Civil Rights Movement cried, "Just get to know us, we're human too." In that, the president's conversion seemed genuine. In order to keep the momentum going in changing the fabric of this country to allow basic civil rights for the LGBT community, we're going to need a candidate who comes in knowing where they stand on the issues.
The charge has been lobbied against Hillary that she's too convenient, too middle-of-the-road to really stand for most vulnerable in society, and I am inclined to agree. When Hillary Clinton was asked when had she changed her mind on gay rights, she claimed she'd always been on the right side of history.
Perhaps she'd forgotten February 28, 1994 when her husband, then President Bill Clinton signed "Don't Ask, Don't Tell" (DADT), the country's policy on banning discrimination against gay and lesbian military service people while also banning gays and lesbians from active service.
Yeah, let that sit for a minute.
Fast forward to 2012's presidential election. On September 22, 2011, a solider in Iraq asked Republican candidates about the repeal of DADT. He was booed. None of the candidates stood up for the soldier by telling the crowd to chill.
Days later President Obama responded to the event by saying, "You want to be commander in chief? You can start by standing up for the men and women who wear the uniform of the United States, even when it's not politically convenient."
While the overall rate of U.S. HIV infections has decreased by two thirds, new infections among men who sleep with men -- particularly young men between the ages of 13-24 -- have increased at an alarming rate. Unfortunately, this story is not the same for black gay men. Black gay men are disproportionately impacted by HIV and accounted for the highest number of new HIV infections among all gay and bisexual men in 2010. We can no longer pretend this isn't a critical issue our federal leaders shouldn't respond to. Data has even predicted that by the end of this decade, more than 60 percent of black gay men will be HIV-positive. With unsettling statistics like this, we cannot afford for the next president to not to continue and develop more policies around President Obama's National HIV and AIDS Strategy, where he blatantly called the need to respond for our black brothers.
As a black gay man, I know too well that these issues are complex and include socioeconomic determinants such as health care access, income, education and housing. Like the DADT law was wrong, the Clinton's silence on admitting the bill was passed due to homophobia was wrong. This paradigm plays into the psychosocial influences like stigma, shame and discrimination that continue to play a major role in ending this epidemic.
Outside of the antics and countless debates that are soon to ensue between Democratic and Republican presidential hopefuls, somehow the issues facing the black community go unmentioned. As a black gay man, I cannot separate my identities of being black, male and gay. On the same token, many of these intersections operate from a deficit. With the unemployment rate being the highest among blacks, HIV and AIDS incidence rate steadily increasing for young black gay men, and open season on black bodies without policies in place to affirm the necessity of valuing black lives and the experiences associated, all of these intersections matter to me. These issues (and much, much more) are critical in improving the lives of young black men and are very important to me as a voter. Like any other candidate, Clinton will have to earn my support -- even as a front runner.
If Hillary doesn't want to be the Blockbuster to another plucky, media savvy Netflix storyline, she is going to have to be open, honest and straight with her answers. Of course this is information any candidate can use when developing their outreach strategies. If Hillary Clinton becomes our first female president, I'll be more than happy to call her Madam President, having a woman president, especially one who's made no bones about her feminists leanings would be good for a country where women still make 78 cents to the dollar. However, my vote shouldn't have to come begrudgingly. In the decades she has been in politics, I expect her to know by the now voters value authenticity and truth.
REAL LIFE. REAL NEWS. REAL VOICES.
Help us tell more of the stories that matter from voices that too often remain unheard.