UPDATE : Clinton tweeted the following apology just hours after making her comment. On Saturday night she published a longer apology on Medium.com. The original story appears below Clinton's tweet.
PREVIOUSLY: Hillary Clinton seems to need some reminding about what happened in the early days of the AIDS epidemic.
The Democratic presidential candidate made polarizing, inaccurate -- not to mention offensive -- comments on Friday about the role that the Reagans, specifically Nancy Reagan, played in combatting the AIDS epidemic in the 1980s.
"It may be hard for your viewers to remember how difficult it was for people to talk about HIV/AIDS back in the 1980s. And because of both President and Mrs. Reagan -- in particular Mrs. Reagan -- we started a national conversation. When before nobody would talk about it, nobody wanted to do anything about it, and that too is something that I really appreciate with her very effective, low key advocacy but it penetrated the public conscious and people began to say, 'Hey, we have to do something about this too.'"
Yet, as Teen Vogue wrote this week, Reagan actually turned her back on thousands of people, many of whom identified as lesbian, gay, bisexual and transgender (LGBT), as they died from the virus during her time as first lady.
Similarly, The Guardian reported last year that the former first lady withheld help from close friend Rock Hudson when he reached out to the White House while dying of complications related to AIDS in 1985.
The Associated Press also points to a 2011 PBS documentary in which historian Adilla Black credited (with a caveat) Nancy Reagan's friendship with Hudson and attorney Roy Cohn, who also died from complications related to the disease, for inspiring her to "encourage her husband to seek more funding for AIDS research."
"I think she deserves credit for opening up the AIDS money," Black told PBS. "But I could never say that without saying they never would have waited this long if it was redheaded sixth graders."
"In the history of the AIDS epidemic, President Reagan's legacy is one of silence," said Michael Cover, former associate executive director for public affairs at Whitman-Walker Clinic, in 2003. "It is the silence of tens of thousands who died alone and unacknowledged, stigmatized by our government under his administration."
So, Hillary, let's stick to the facts and avoid romanticizing the memory of the Reagan's role in fighting against HIV/AIDS, shall we?
Support HuffPost
Every Voice Matters
Before You Go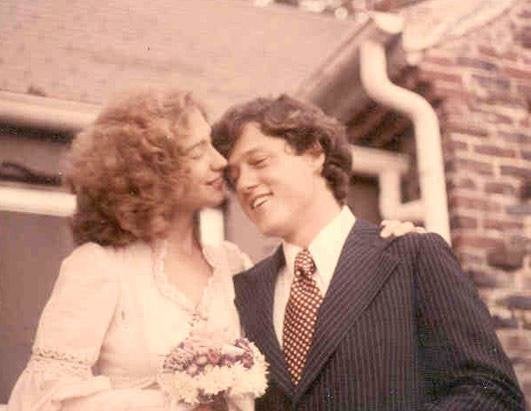 Hillary And Bill Through The Years
Popular in the Community