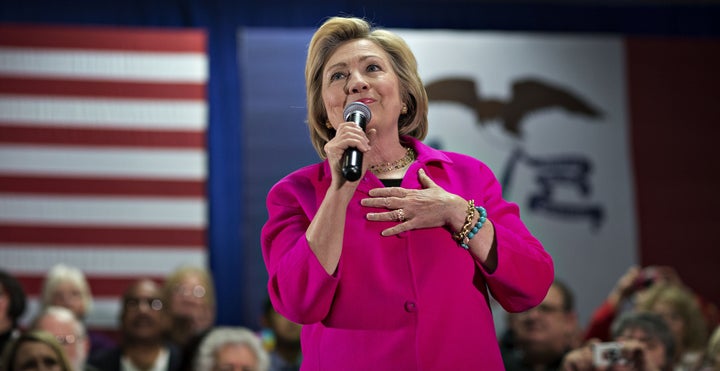 WASHINGTON -- NARAL Pro-Choice America endorsed Democratic presidential candidate Hillary Clinton on Tuesday, calling her "a champion with a demonstrated record of fighting for reproductive freedom and economic justice."
The reproductive rights group said Clinton has "spent her entire life leading on equal opportunity for women and families."
"Hillary has what it takes to fight Republican attacks on women's reproductive rights, and has the vision and experience to ensure women and families thrive," NARAL President Ilyse Hogue said in a statement. "The stakes this election could not be higher: combating virulent anti-choice rhetoric from the GOP, the opportunity to appoint a Supreme Court justice in the next term who could preserve our rights and freedoms, and the ability to influence a myriad of state and federal laws that impose extreme ideology on Americans' personal decisions about when and how to grow our families."
NARAL said it would mobilize its field operation in Iowa, which holds the election's first nominating event on Feb. 1, on behalf of the Clinton campaign. It also said it would run print and online ads in support of Clinton in the state.
Clinton is leading her main rival for the nomination, Sen. Bernie Sanders (I-Vt.), in Iowa, but narrowly trailing him in New Hampshire, which holds its primary on Feb. 9.
NARAL's relatively early Clinton endorsement is significant because the group backed then-Sen. Barack Obama of Illinois in 2008, nearly a month before Clinton dropped out of the primary. The Obama endorsement was controversial within the reproductive rights committee. NARAL's president at the time, Nancy Keenan, was forced to justify the group's endorsement after some of NARAL's state affiliates distanced themselves from the decision and NARAL members criticized the move.
The group's endorsement may placate Clinton supporters this time around. In a blog post on Medium, Hogue argued that while the other Democratic presidential candidates -- Sanders and former Maryland Gov. Martin O'Malley -- are allies, the reproductive rights community needs "more than an ally."
Though moderators of the first three Democratic primary debates haven't asked the candidates about abortion or reproductive rights, Clinton has repeatedly mentioned Republican attacks on Planned Parenthood in her remarks.
"Among the Democrats, we are happy to report that all three candidates for president have perfect voting records on reproductive rights. In an ordinary year, that would be enough to wait to endorse until the general," Hogue wrote. "But the bottom line is that 2016 is no ordinary year. Women's reproductive rights and, by proxy, our freedom and equality, are under attack like never before in my lifetime."
In a statement, Clinton referred to the Texas abortion case set to be heard by the Supreme Court on March 2, which threatens to close clinics across the nation, and Republican attempts to repeal the Affordable Care Act to argue that "the stakes could not be higher in this election" when it comes to reproductive rights.
"We cannot afford to elect a Republican who will rip away the progress women have made," she said. "We need to protect and advance reproductive rights, not allow politicians to interfere in women's personal health decisions."