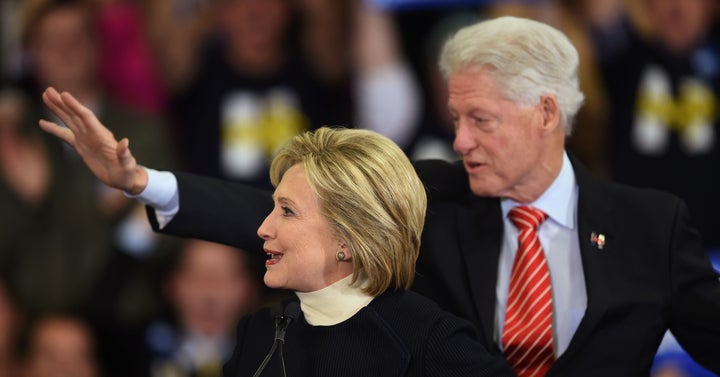 Hillary Clinton gave the best speech of her 2016 campaign on Tuesday night, delivering a sharp, concise and forceful vision of a progressive future -- a clear thematic shift away from her recent attacks on her opponent, Sen. Bernie Sanders (I-Vt.).
The clarity and power of the speech were remarkable under the circumstances. Clinton, who defeated then-Sen. Barack Obama in New Hampshire in 2008, lost the Granite State on Tuesday to a self-described Democratic socialist by more than 20 percentage points. She lost the under-30 vote to a 74-year-old by 67 points, and lost women by 11 points. The drubbing came despite having dedicated a significant portion of campaign resources to the state, including dozens of paid staffers, thousands of volunteers and a strong pool of high-profile surrogates.
But her concession speech Tuesday proved an unexpected high point. Unapologetically fiery (gasp -- she yelled!), Clinton made an assertive case for a host of progressive policies. The speech eschewed her typical critique of Sanders as a candidate too left-wing and impractical to be president in favor of a shared vision of a more liberal future.
"Here's how I see it: A president has to do all parts of the job for all Americans to make sure nothing holds you back," Clinton said. "Not debt, not discrimination, not a deck that's always stacked for those at the top."
"When people anywhere in America are held back by injustice, that demands action," she continued. "That is why I believe so strongly that we have to keep up with every fiber of our being the argument for, the campaign for human rights. Human rights as women's rights, human rights as gay rights, human rights as worker rights, human rights as voting rights, human rights across the board for every single American. Now, that is who I am. That is what I've always done."
Clinton spent most of last year ignoring Sanders in her speeches, instead pitching to voters her resume and experience -- a strategy that proved ineffective during an election in which voters from both parties have expressed deep unrest with the political and economic status quo. But in January, Clinton began attacking Sanders, claiming he took a "hands-off" approach to financial reform and blasting his single-payer health care reform plan. She painted Sanders not merely as an impractical idealist, but as a policy lightweight calling for things that cannot work. 
The attacks failed. Clinton started the year up 5.6 percent in Iowa and down 7.6 percent in New Hampshire, according to HuffPost Pollster's combined average of polling data. She won Iowa by just 0.3 percent and lost New Hampshire by well over 20 points.
By hammering Sanders' agenda, Clinton distanced herself from the Democratic Party's liberal base -- which, in turns out, really likes Sanders' policy platform. Sanders, meanwhile, spent the past month pointing to the millions of dollars Clinton received for paid speeches on Wall Street. It was a progressive double whammy: Not only did Clinton repudiate policies that liberals like, she was forced to defend herself against accusations of being a corporate stooge.
And her defenses didn't resonate. Clinton devoted a portion of Tuesday night's speech to blasting the Supreme Court's Citizens United decision. She needed to publicly reiterate her opposition to the widely reviled 2010 ruling, after unleashing an argument in a debate last week that undercut a longstanding Democratic Party consensus for campaign finance reform. During the debate, Clinton called it a "smear" to suggest that the huge sums of corporate money that have fueled her political career have influenced her thinking and decision-making. But if corporate money doesn't influence politicians, of course, why bother overturning Citizens United? Her words Tuesday night reunited her with the Democratic Party on campaign finance reform.
Throughout the speech, Clinton directed her fighting spirit not at pie-in-the-sky liberals, but at a political and economic system that she repeatedly condemned for failing ordinary Americans. She convincingly borrowed a page from the Sanders playbook by calling to "crack down on corporations that game the system" and "stop other countries from taking advantage of us with unfair trade practices." And she delivered a powerful call to take on the myriad bigotries that dominate American life.
"African-American parents shouldn't have to worry that their children will be harassed, humiliated, even shot because of the color of their skin," Clinton said. "Immigrant families shouldn't have to lie awake at night listening for a knock on the door. LGBT Americans shouldn't be fired from their jobs because of who they are or who they love. And let's finally deliver something long overdue: equal pay for women in this economy."
Iowa and New Hampshire have been hard on Clinton, but she maintains a lead in national polls. She's ahead of Sanders by a wide margin among black voters, an essential demographic for Democrats in Southern primary states, and a narrower lead among Latinos, a critical demographic in the southwest. Her concession speech Tuesday night doesn't guarantee she will hold onto those advantages. But if she keeps a fighting focus on that progressive vision, her road to the nomination will be far less uncertain.
Zach Carter is a co-host of the HuffPost Politics podcast "So, That Happened." Subscribe here or listen to the latest episode below:
REAL LIFE. REAL NEWS. REAL VOICES.
Help us tell more of the stories that matter from voices that too often remain unheard.