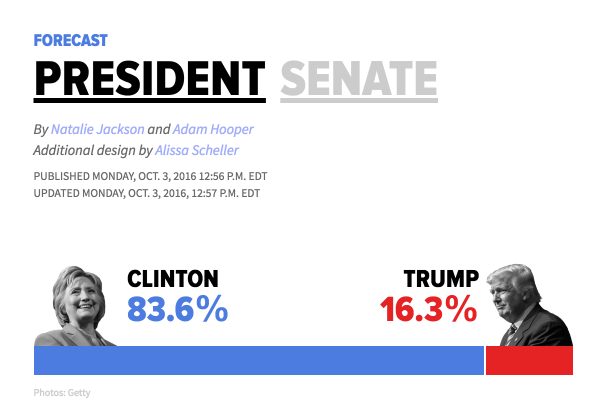 The poll-based model indicates that Clinton is likely to get over 300 electoral votes. The model currently shows her with 323, which includes all of the typically Democratic states plus Wisconsin, Michigan, Florida, North Carolina and Nevada. She can safely lose Florida, North Carolina and Nevada ― the states she's winning with the narrowest margin of victory in the model ― and still win 273 electoral votes and the presidency.
Trump has a much more difficult path to 270. The model gives him only 215 electoral votes, and that includes close races in Nevada and Ohio. Trump would need to hold all of those states plus overtake Clinton in Florida, North Carolina, Nevada and one more state to win.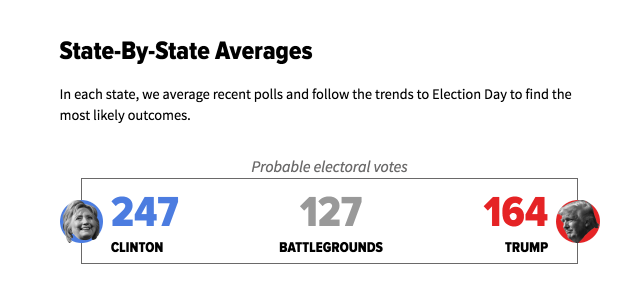 But the 16.3 percent likelihood of Trump winning means it could happen ― Florida, North Carolina and Nevada are very close races. Clinton leads by less than 2 percentage points in the Sunshine State and by less than 1 point in the other two states.
Getting one additional state beyond those three appears difficult right now, but some individual polls have shown Trump within striking distance in Wisconsin, Michigan, Colorado and Pennsylvania in the last couple of weeks. Flipping any one of those states, along with Florida, North Carolina and Nevada, would shift the race to a Trump win.
The model utilizes polls in the HuffPost Pollster database to calculate the likelihood of each candidate winning the election. Unlike other forecast models, it doesn't include historical or economic data, nor does it adjust the polls in any way. Because of this, it's a bit more certain of Clinton's win in some of the states and overall than other forecast models.
The Upshot's model currently gives Clinton a 77 percent chance of winning, close to the same as the Daily Kos' 72 percent chance. Our model is closest in value (although not in methodology) to the Princeton Election Consortium model, which shows Clinton with an 86 percent chance of winning. And we're farthest from FiveThirtyEight, which shows Clinton with a 65 percent to 75 percent chance of winning across its three models.  
We average the state polls and high-quality national polls to generate the probability of a candidate winning in each state, then simulate the Electoral College vote using the methodology described here.
The model will update as new polls become available from now until Election Day.  
Sign up for the HuffPost Must Reads newsletter. Each Sunday, we will bring you the best original reporting, longform writing and breaking news from The Huffington Post and around the web, plus behind-the-scenes looks at how it's all made. Click here to sign up!
Calling all HuffPost superfans!
Sign up for membership to become a founding member and help shape HuffPost's next chapter