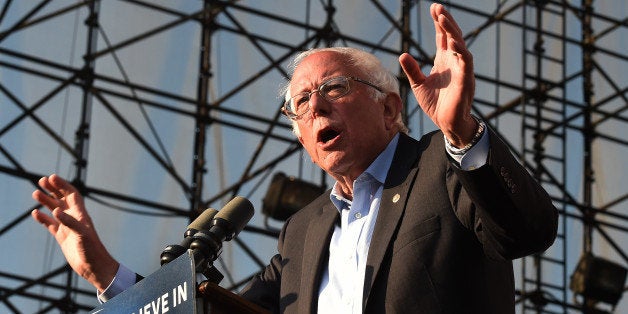 RCP Average 5/6 - 5/19
Sanders + 10.8
NBC News/Wall St. 5/15 - 5/19 -
Sanders +15
CBS News/NY Times 5/13 - 5/17 -
Sanders +13
FOX News 5/14 - 5/17 -
Sanders +4
PPP (D) 5/6 - 5/9 -
Sanders +11
Bernie Sanders, in an average of four national polls for the month of May, defeats Trump by 10.8 points. Vermont's Senator is victorious in every general election matchup.
In contrast, Hillary Clinton according to Real Clear Politics now loses to Donald Trump by .2 points:
RCP Average5/13 - 5/19 -
Trump +0.2
ABC News/Wash Post5/16 - 5/19 -
Trump +2
NBC News/Wall St. Jrnl 5/15 - 5/19 -
Clinton +3
Rasmussen Reports 5/17 - 5/18 -
Trump +5
FOX News 5/14 - 5/17 -
Trump +3
CBS News/NY Times 5/13 - 5/17 -
Clinton +6
Donald Trump, the man viewed to be the reincarnation of Hitler by some people, beats Hillary Clinton in three out of five national polls. The former Secretary of State is now losing to Donald Trump, in an average of polls, by .2 points.
Although a bit more optimistic, HuffPost Pollster shows Clinton only up by 1.6 points over Trump. On April 15, 2016 Hillary Clinton was up by around 10 points, and on June 24th of last year, Trump trailed Clinton by about 20 points. The big issue with Clinton is that she doesn't keep polling leads, and Election Day is over five months away.
In contrast, HuffPost Pollster shows Bernie Sanders defeating Trump in a general election by 10.2 points.

Do you want to see a Trump White House?
If Democrats truly fear a Trump presidency, then superdelegates should make certain Bernie Sanders wins the contested Democratic convention. Bernie Sanders is obviously the best chance for a Democrat in the White House, primarily because he defeats Donald Trump, without the litany of scandals or question marks possessed by Clinton.
First, the FBI investigation is nearing an end, and Clinton likely faces criminal indictments. I explain why the FBI will recommend indictments very soon in my latest YouTube segment. Every legal defense pertaining to Clinton's email setup rests upon the notion that her use of a private server was merely out of convenience; an innocent, yet improbably reality considering Hillary Clinton is known for secrecy. Her excuse, quoted in a CNN piece shortly after the story broke in 2015, makes little sense:
"I opted for convenience to use my personal email account, which was allowed by the State Department, because I thought it would be easier to carry just one device for my work and for my personal emails instead of two," she said. "Looking back, it would have been better if I'd simply used a second email account and carried a second phone, but at the time, this didn't seem like an issue.

...The former secretary of state defended her process in choosing which emails to turn over to the State Department, telling reporters that she and her staff "err[ed] on the side of providing anything that could be possibly viewed as work-related."

"I trust the American people to make their decisions about political and public matters and I feel like I've taken unprecedented steps for these emails to be in the public domain," Clinton said. "I went above and beyond what I was requested to do."
Looking back at this excuse, after knowing that one person has been granted immunity, and Top Secret emails were stored on her server, points to the obvious reality that there must have been another motive.
Again, every legal defense evaporates if Clinton had a motive other than convenience. If she intended to hide information from the government or the American public, Clinton faces criminal charges.
Also, the FBI will soon interview Hillary Clinton, and CNN writes "One of the final and most anticipated steps in the probe is an interview of the former secretary of state." During this interview, the FBI will ask Hillary Clinton what motivated her to own a private server outside U.S. government networks.
Will her answer one again be convenience?
If Clinton speaks to the FBI in the manner she's communicated with the American people, there will certainly be legal consequences. Under the Espionage Act, "gross negligence" is enough to indict anyone who mishandles information regarding national security. The issue of gross negligence applies to a Fortune piece titled For 3 months Hillary Clinton's email access was unencrypted, vulnerable to spies:
Security firm Venafi has found that Clinton's email server may have been open to foreign intelligence snoops when traveling abroad...

Venafi, a Salt Lake City computer security firm, has conducted an analysis of clintonemail.com and determined that "for the first three months of Secretary Clinton's term, access to the server was not encrypted or authenticated with a digital certificate."

In other words: For three months, Clinton's server lay vulnerable to snooping, hacking, and spoofing.

"Without a certificate you have no assurances that a website you're attached to or an email server you go to is the one you're actually going to," said Kevin Bocek, vice president of security strategy and threat intelligence at Venafi. "There could easily be a 'man in the middle' who could easily intercept communications because they're not being encrypted."

"Longterm access is probably ultimately the worst consequence here," Bocek said, raising the possibility that hackers could have obtained Clinton's compromised credentials and used them to continue accessing her email archive even after a digital certificate was added in late March.

The most likely threat though, Bocek added, is spying. "If the Department of State had been eavesdropped on while on diplomatic mission that could have jeopardized a whole variety of activities."
There were thousands of classified emails, and a number of Top Secret files on Clinton's computer. For a certain time, as Fortune states, the computer was "open to spies." In addition, "long term access" is a consequences of the three months without security.
Once again, "gross negligence" overshadows intent. Even if Clinton was naïve enough to own a private server for convenience, this behavior was more than just careless. Using a server that also contained Top Secret data without encryption defines "gross negligence." If you've had enough of the emails, get ready for the upcoming media frenzy.
Bernie Sanders defeats Trump by over ten points, while Clinton loses (or barely beats) the reality show star because Vermont's Senator can type an email without scandal. Bernie has the highest favorability ratings in 2016, in large part because he no problem disclosing the contents of a speech. If anything, he wants people to know his philosophy on Wall Street, and every other issue. In addition, while Bernie Sanders inspires millions, and is widely popular among independent voters, Clinton is constantly on the defensive.
Perpetual scandal, including the FBI's criminal investigation regrading Clinton's email server, is one of the biggest reasons the former Secretary of State is losing to Donald Trump in the polls. If anything, Clinton hasn't been vetted enough regarding the emails, because her supporters simply can't imagine indictments, and I explain this phenomenon in the following YouTube segment.
If Democrats want to win, they'll nominate Bernie Sanders, especially since the FBI hasn't yet disclosed the findings if its investigation; not "security review." Clinton's terrible poll numbers against Trump, before the FBI recommends indictments or explains the ramifications of its investigation, will only suffer from the email issue.
Finally, if Clinton beat Trump by 10.2 points, and Bernie Sanders lost to Trump in an average of polls, imagine what the Clinton campaign would be saying at this moment. During my latest MSNBC appearance, I explained that supredelgates exist to ensure the most electable candidate is nominated. If Clinton's poll numbers continue to sink, and if Bernie continues to defeat Trump in the polls, Democratic superdelegates have only one choice at the convention. It's obvious to anyone paying attention, and to people who aren't beholden to the Clinton name, that Bernie Sanders is the best Democratic candidate. Very soon, the FBI will confirm this sentiment, as I explain in this segment.
ROUGH CUT (NO REPORTER NARRATION) STORY: U.S. Democratic presidential candidate Bernie Sanders on Sunday (May 22) told supporters in California his campaign "is the campaign that will defeat Trump, and defeat him badly", as he continued to push forward toward the Democratic National Convention in July. "Today there was, I think today, a poll came out from the NBC in the Wall Street Journal. It said that Hillary Clinton was ahead of Donald Trump by three points. We were ahead by 15 points," Sanders said at the rally in Vista. He added, "And that is why our campaign is the campaign that will defeat Trump, and defeat him badly." Sanders has clashed with the Democratic establishment and said it favors his rival Hillary Clinton. While the Democratic primary now hits a two-week lull before the final set of major nominating contests scheduled for June 7, Sanders said the challenge now was securing as many delegates as possible. "If we can win big here, we're going to have the momentum taking us into the Democratic convention to win the nomination. And if we win the nomination, I assure you, Donald Trump will not become president," he told cheering supporters. Democratic voters in California head to the polls on June 7, where 475 delegates are at stake.
Popular in the Community