When asked point-blank on Thursday whether she'd stick with Merrick Garland, whom Obama selected in March, if she's elected, the Democratic presidential nominee suggested she'd get to make her own high court choices ― with all due respect to the one that's now one the table. 
"I think we should stick with one president at a time," Clinton said during a segment on the syndicated "Tom Joyner Morning Show," which is taped in Texas. "We happen to have a very good one, in my opinion, and he has nominated someone." Not once did she mention this "someone" by name.
Back on the trail after a bout of pneumonia, Clinton's radio interview was wide-ranging, but her comments about Garland and the future of the high court stood out because she clearly distinguished between Obama's choice and her own possible nominations.
"I'm going to let this president serve out his term with distinction and make the decision that he thinks is right for the country," Clinton said, suggesting she'd be open to a Garland confirmation during Congress' lame-duck session. "I think he's got a pretty good track record," she said of Obama, "and he's earned that right."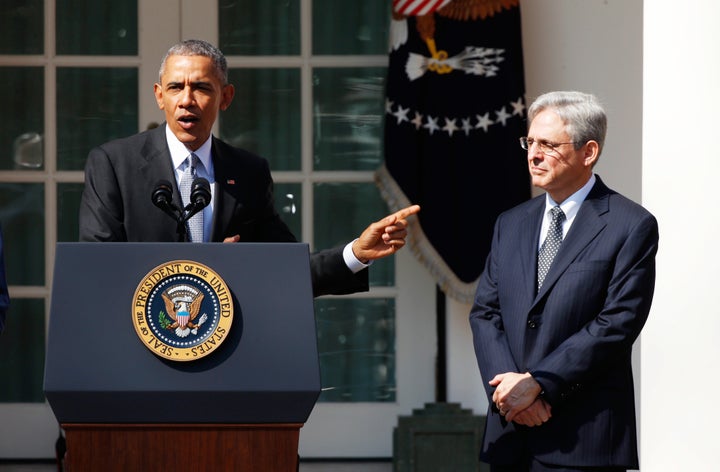 "If I have the opportunity to make any Supreme Court appointments, I'm going to look broadly and widely for people who represent the diversity of our country, who bring some common-sense, real-world experience," she said.
Garland is one of the most qualified judges in the country, and Democrats and progressive groups have fallen behind Obama's choice. But he's not exactly a household name or someone to rally the base ― he's white, older, a judicial moderate and relatively pro-prosecution on criminal justice issues.
That context is key to understanding Clinton's remarks ― delivered during a nationally syndicated radio show reaching a predominantly African-American audience.
That's why we need a Supreme Court that actually represents the people of this country and our more fundamental values.

Hillary Clinton
"You know, I'm still absolutely outraged by what the Supreme Court did to the Voting Rights Act," she went on, referring to the court's 2013 decision to strike down a part of the landmark law. "I was in the Senate. I voted to reauthorize it, as did 98 of my colleagues ― Republicans and Democrats alike. George W. Bush signed it. And then this Supreme Court, with this conservative majority at the time, said, 'Oh, we don't need the Voting Rights Act anymore."
"What a charade," she continued. "And you can see what's happening. I see it everyday. There's a concerted effort to try to shrink the franchise. Make it difficult for people to vote. Stop them at the polls. And the only way to fix that is for a lot of people to turn out and just say, 'We're not going to stand for this.'"
Then came Clinton's pitch.
"That's why we need a Supreme Court that actually represents the people of this country and our more fundamental values."
Whether that means Garland's chances are slim to none if a President Clinton takes office, no one knows. But that seems to be where things are headed, and even the White House is dancing around that possibility.
White House Press Secretary Josh Earnest ducked a question Thursday about the prospect of Clinton not re-nominating Garland. 
"If Senate Republicans are willing to do their job, it's not going to come to that," Earnest said in his daily briefing. "If Senate Republicans do their job, Merrick Garland is going to be serving a lifetime appointment on the United States Supreme Court. And I know that's an outcome that Secretary Clinton has indicated she strongly supports."
Jen Bendery contributed reporting.
Calling all HuffPost superfans!
Sign up for membership to become a founding member and help shape HuffPost's next chapter
BEFORE YOU GO
PHOTO GALLERY
Hillary Clinton accepts nomination