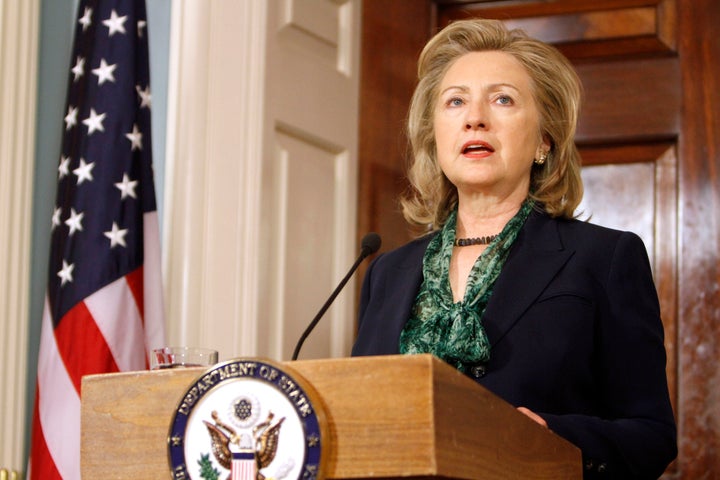 WASHINGTON — Secretary of State Hillary Rodham Clinton said Monday the killing of al-Qaida leader Osama bin Laden is not the end of the war on terrorism and warned the network's members that the United States would be relentless in its pursuit of them.
Clinton said bin Laden's death at the hands of U.S. forces in Pakistan nearly a decade after the Sept. 11, 2001 terrorist attacks proved the United States was committed to tracking down the perpetrators of extremist violence and bringing them to justice.
"Even as we mark this milestone, we should not forget that the battle to stop al-Qaida and its syndicate of terror will not end with the death of bin Laden," she said.
Turning to deliver a direct message to bin Laden's followers, she vowed: "You cannot wait us out. You cannot defeat us but you can make the choice to abandon al-Qaida and participate in a peaceful political process."
Clinton's message comes as the U.S. and its partners in Afghanistan are trying to convince Taliban militants to renounce ties with al-Qaida and join Afghan society as part of Afghan President Hamid Karzai's reconciliation program.
She said the U.S. would continue to boost counterterrorism cooperation with other nations, including Pakistan.
Clinton also said the U.S. was committed to supporting the people and government of Pakistan and defending their people and democracy from violent extremism. She said that bin Laden had also declared war on Pakistan and had ordered the killing of Pakistani men, women and children.
Clinton said that history would record that bin Laden's death had come at a time when people in the Middle East and North Africa were rejecting the "extremist narrative" and were standing up for freedom and democracy. She said there was "no better rebuke to al-Qaida and its heinous ideology."
Shortly after President Barack Obama announced bin Laden's death, the State Department issued a worldwide travel alert, warning U.S. citizens traveling or living overseas of the heightened risk of anti-American violence in the wake of the operation.
It did not specify individual countries of concern, but on Monday the U.S. embassy in Islamabad, as well as the U.S. consulates in Karachi, Lahore and Peshawar were closed for all but emergency services.
The embassy in Islamabad released a notice advising Americans "of the possibility of violent protests and demonstrations in major cities of Pakistan," specifically near the U.S diplomatic missions. "Spontaneous protests in reaction to the recent events could erupt at any time at locations perceived as Western, including restaurants and areas where foreigners are known to congregate and may turn violent," it said.
Popular in the Community