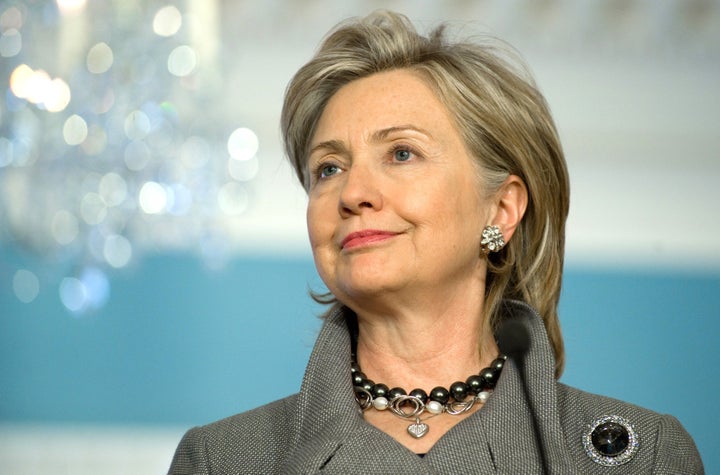 WASHINGTON -- The Obama administration shocked reproductive rights groups this week when it struck down a recommendation by government scientists to make Plan B emergency contraception available to women of all ages without a prescription. Although President Obama said the decision was made solely by Health and Human Services Secretary Kathleen Sebelius, he presented a united front Thursday and told reporters he agreed with her decision.
But within the highest ranks of the Obama administration is one of Plan B's greatest advocates: Secretary of State Hillary Clinton, who has not publicly commented on Sebelius' decision.
Before joining Obama's team, Clinton used her perch as the junior senator from New York to push for women to have wider access to the morning-after pill.
Clinton, along with Sens. Patty Murray (D-Wash.) and Barbara Mikulski (D-Md.), were "champions for science driving FDA-decision making," said Susan Wood, an associate professor at the George Washington University School of Public Health and Health Services. In 2005, Wood resigned as a top official at the Food and Drug Administration (FDA) when the Bush administration delayed a decision on Plan B access, accusing officials of undue political interference.
"They were very careful never to try to direct the FDA what to do, but they knew that FDA, if it were making its decision based on science and medicine, would be the best decision for women and women's health," Wood said about Clinton, Murray and Mikulski. "They were tireless, and they were there for us."
In April 2005, Clinton and Murray announced they were blocking the nomination of Lester Crawford, President George W. Bush's choice to head the FDA, until the agency made a decision about whether to make Plan B available over the counter, without a prescription.
"We appreciate Dr. Crawford coming in to meet with us today, but the bottom line is that the FDA has had the Plan B application for years and the American people simply need an answer yes or no. Science should never take a back seat to politics and ideology," Clinton said.
"As senator, Hillary Clinton was instrumental in getting a decision from the Bush FDA about Plan B," said Jessica Arons, director of the Women's Health and Rights Program at the Center for American Progress. "She and Senator Murray had to put a hold on two FDA Commissioner nominees before the FDA finally agreed to make Plan B available without a prescription for adult women."
In a Jan. 24, 2005 speech to the New York State Family Planning Providers, Clinton was even more explicit in her views on Plan B.
"Another form of family planning that should be widely available to women is 'Plan B,' Emergency Contraception," said Clinton. "I agree with the scientists on the Food and Drug Administration's Advisory Panel who voted overwhelmingly that Plan B is safe and effective for over the counter use. And I worked to launch a GAO investigation into the process of denying Barr Laboratories' application because I believe the decision was influenced more by ideology than evidence."
"I am hopeful that the FDA will come to its senses and announce a new policy making Plan B available," she continued. "Information about Plan B should be available over the counter, which is exactly what the FDA's Advisory Committee recommended. It should also be made available -- automatically -- to women who are victims of sexual assault and rape."
The FDA Advisory Panel concluded that Plan B was safe to be sold to women over the counter -- a conclusion Clinton said she agreed with.
"The original FDA Advisory committee that recommended approval for Plan B, was virtually unanimous in its recommendation, and didn't find reason to draw a line at 18 or 17 or any age," Dr. Paula Hillard, professor of obstetrics and gynecology at Stanford University School of Medicine, told ABC News.
A Clinton spokesman did not return a request for comment, and it's unlikely that the Secretary of State would come out and publicly disagree with both the president and her fellow Cabinet member even if she didn't support their decision. But Wood stressed that in the past, Clinton has always backed the FDA's scientists and reviewers.
"I think Secretary Clinton would always depend on FDA to make decisions based on science and the evidence," said Wood. "I think Secretary Clinton would always put the science and the evidence first when it comes to a decision the FDA should be making. And that's what this is. This is a decision the FDA should be making without interference."
"I'm very disappointed that Secretary Sebelius has chosen to override the careful scientific analysis of the FDA by blocking further access to emergency contraception," she said in a statement. "In this case, both the FDA and the Center for Drug Evaluation and Research did careful analysis and determined that Plan B is safe and effective for over-the-counter use by more women. That analysis included a thorough review of whether young women understood usage restrictions."
In her statement rejecting the FDA's recommendation to make Plan B available over the counter to everyone, Sebelius argued that there had not been enough research done on the effect it would have on young girls.
Popular in the Community