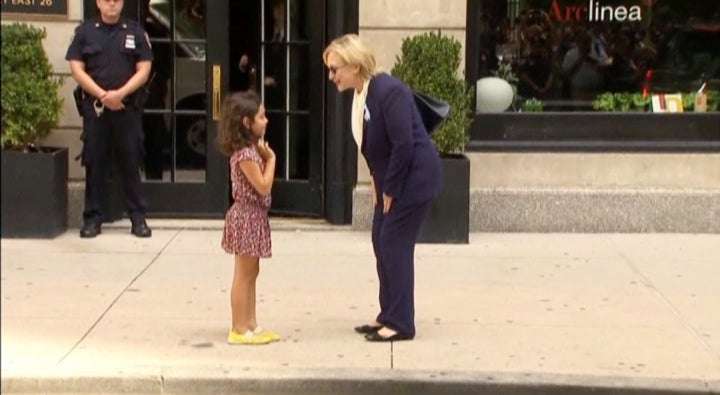 Footage that showed Clinton needing to be helped to her car as she departed the service for a brief rest at her daughter's apartment fueled speculation about medical conspiracies and "raised questions" about the state of her health and fitness to run for president.
But the truth is that pneumonia is a common and highly treatable illness for which people Clinton's age, 68, are at high risk. With proper treatment, the symptoms will likely disappear without Clinton feeling anything more than a lingering fatigue. Here are five things to know about pneumonia:
1. Pneumonia presents different risks to different age groups.
People aged 65 and older are at an increased risk for developing pneumonia, and because of this the U.S. Centers for Disease Control and Prevention recommend two vaccines for this age group: the pneumococcal conjugate vaccine (PCV13) and then the pneumococcal polysaccharide vaccine (PPSV23).
Smokers and people who already have asthma, diabetes and heart disease are also at increased risk of developing pneumonia.
2. Pneumonia is contagious, but not like you think.
Most cases of pneumonia are contagious, but it's not common for people with pneumonia to give it to other people. Instead, the initial bacterial, viral or fungal infection may be passed from one person to another, causing some people to go on to develop pneumonia. And within 24 to 48 hours of treatment with antibiotics or another appropriate medicine, a person's risk for passing the initial infection on to others goes down greatly or is even eliminated, according to Dr. David Beuther, a pulmonologist at National Jewish Health hospital in Denver.
"If someone takes antibiotics, they're perfectly fine to be walking around in the community in a day or two," he said. "People diagnosed with walking pneumonia might not even be infectious."
Walking pneumonia, caused by the bacterial microorganism Mycoplasma pneumoniae, is so mild that can present as a cold. If someone decides to finally see a doctor about it, the contagious period may be long past.
3. There's no single prognosis for pneumonia.
Pneumonia's severity can range from mild to life-threatening. This year, an estimated one million Americans will be hospitalized because of these symptoms, and about 50,000 people are expected to die from the disease.
Clinton's doctor, Dr. Lisa Bardack, did not indicate how severe her infection was. But a few hours after resting at her daughter's apartment, Clinton appeared in public and posed for pictures with a fan, reported The New York Times.
"It's quite common for an older person to have unusual symptoms not specific to pneumonia. They might be dehydrated, they might be weak, or they might show up with a fall."
4. Clinton's symptoms looked scarier than they were.
Beuther did not treat Clinton, and there's no way to know what kind of pneumonia she had from the footage of her behavior at the 9/11 memorial service. But he did explain that her behavior was consistent with the way older adults may present with pneumonia: instead of a high fever or shortness of breath, people over age 65 show symptoms not specific to the disease.
"It's quite common for an older person to have unusual symptoms not specific to pneumonia. They might be dehydrated, they might be weak, or they might show up with a fall," said Beuther. "What has played out fits perfectly into what we might see in older adults, particularly when it's a milder pneumonia like this."
Treatment depends on which kind of initial infection a person has. While Clinton's doctor did not explain the initial cause of her pneumonia, she did say that Clinton was being treated with antibiotics, which may indicate some kind of bacterial infection. Pneumonia caused by viruses would be treated with antivirals, while fungal infections can be treated with antifungal compounds.
5. Let this be a lesson: Get vaccinated.
Thankfully, individual vaccines can prevent some of the most deadly causes of pneumonia, including flu, measles, pertussis (or whooping cough), chicken pox and Pneumococcus.
In addition to vaccines, the best way to prevent developing pneumonia is to stay away from other sick people, wash your hands often, and clean surfaces and objects that others touch regularly ― no easy feats for a political candidate who's on the go, and regularly called to "press the flesh" with handshakes and hugs.
"This is a common thing for healthy people to experience, although if you're not healthy your risk goes up," Beuther concluded. "To have a public official develop pneumonia is not in and of itself a concern to us in the medical profession."