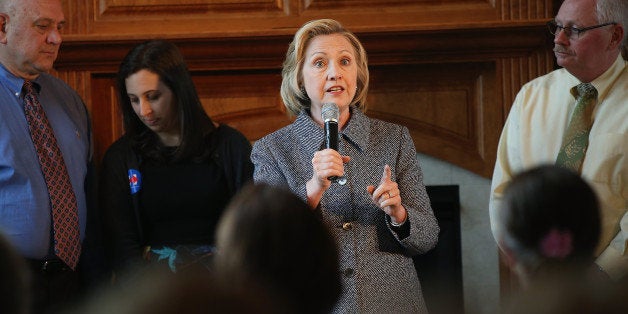 WASHINGTON -- President Barack Obama's executive order banning the federal government from transferring certain types of military-style equipment to police forces would remain in place if Hillary Clinton wins the presidency in 2016.
Clinton is "supportive of the recommendations and of the need for reform," a spokesperson for the Democratic candidate said Monday after Obama announced in Camden, New Jersey, that the transfer of certain military gear to police would be sharply curtailed.
Clinton last month slammed police militarization in a major speech on criminal justice issues. "We can start by making sure that federal funds for state and local law enforcement are used to bolster best practices, rather than to buy weapons of war that have no place on our streets," she said in the speech, which followed the death of Baltimore's Freddie Gray at the hands of police. "President Obama's task force on policing gives us a good place to start. Its recommendations offer a roadmap for reform, from training to technology, guided by more and better data."
Obama's announcement flowed from the task force recommendations that Clinton cited. Under the president's plan, bayonets, camouflaged uniforms, grenade launchers, certain types of armored vehicles, firearms of .50-caliber or larger and weaponized vehicles would no longer be transferred to law enforcement agencies. Other military equipment would be on a controlled list that would require law enforcement organizations to demonstrate need.
Clinton, in her speech, called for every police department to have body cameras for officers, and highlighted the need for community policing. "We should listen to law enforcement leaders who are calling for a renewed focus on working with communities to prevent crime, rather than measuring success just by the number of arrests or convictions," she said. "As your senator from New York, I supported a greater emphasis on community policing, along with putting more officers on the street to get to know those communities."
Obama on Monday said militarized gear "can sometimes give people the feeling like there's an occupying force as opposed to a force that's part of the community."
The Justice Department's Office of Community Oriented Policing Services is preparing after-action report looking at mistakes by the St. Louis County Police Department in handling protests in Ferguson, Missouri, related to the police killing of teenager Michael Brown in August. Photos of the police department's heavily armed officers and military-style gear made world news.
Calling all HuffPost superfans!
Sign up for membership to become a founding member and help shape HuffPost's next chapter
BEFORE YOU GO
PHOTO GALLERY
Two Ferguson Officers Shot During Protest