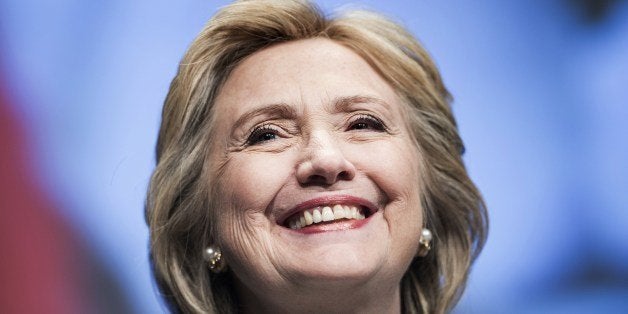 WASHINGTON -- Based on everything Hillary Clinton has done and said since she left the Obama administration last year, her 2016 campaign strategy is as clear as it is simple. The idea is to not run against another Barack Obama.
In 2008, Clinton thought that it was her time, that she had the right (that is, methodical) plan, and that nobody could out-think or outwork her. Instead, a man she regarded as undeserving rode a wave of disgust with war and Washington to a history-making victory.
This time, she hopes, voters will not be distracted, will reward her diligent, earnest toughness, and will see the logic and justice in helping her to break the Final Glass Ceiling.
At least it's hard to find another explanation for the book that goes on sale Tuesday.
Hard Choices is a 2.4-pound, 656-page, team-written campaign document designed, as with all things Hillarian, to armor up against political attacks, tout her policy accomplishments, position her with exquisite tactical precision, and provide her fans with carefully polished vignettes of her private life as a wife, mother and soon-to-be grandma.
Unless you are a huge Hillary fan -- and there are, in fact, millions of them -- or a GOP opposition researcher, the book is about as riveting as yesterday's Federal Register.
It lacks detail about where she wants to take the country, how she proposes to do so, or why the person she is at 66 is suited to be the president she wants to be -- whoever that is. The absence of these elements is itself a political calculation. Too much of that kind of talk would make the book tantamount to a declaration of candidacy -- which, of course, it is, no matter how much the gatekeepers, spinners and Friends of Hillary protest to the contrary.
Clinton is a hardheaded realist, yet also someone who yearns to impose her reformist sense of order on everything, from her husband to health care to a presidential campaign.
Behind the scenes, she can be a very gracious, charming and warm person, but Private Hillary is kept out of view of the hated press by Political Hillary. She and her handlers don't even like positive coverage of Private Hillary if it was created without their input or permission.
Her campaign in 2008 had everything figured out in advance except what it was for, besides getting her elected.
Nothing in Hard Choices indicates that this time around anything will be different -- except, perhaps, the result.
Democrats, especially self-described liberal ones, say they would like to see a real contest for the 2016 nomination, but Clinton is lapping the field in the early Democratic polls. The former secretary of state is a hawk who hangs out with campaign cash bundlers and folks from Goldman Sachs, so she is theoretically vulnerable, especially from her left. But it's not clear who will step up.
Vice President Joe Biden, who has done absolutely nothing to prepare any groundwork for a 2016 run -- and who is widely assumed by his own close associates not to be running -- finishes so far behind Clinton in polls as to be invisible.
Massachusetts Sen. Elizabeth Warren, who mixes faculty lounge charm with populist instincts and a Boston ward leader's sense of when to pounce, says that she isn't going to run if Clinton does -- even though Warren is obviously aching to do so.
There may be an Obama-esque generational wave lurking in the likes of Maryland Gov. Martin O'Malley, but it's hard to sense it.
Independent Sen. Bernie Sanders may be in, and the 72-year-old semi-socialist from Brooklyn by way of the University of Chicago and Vermont has a certain gravelly retro appeal. But he's probably not another Barack Obama.
As for the Republicans, Clinton for now leads them all by double digits, and Texas Sen. Ted Cruz may have the wherewithal to stampede the entire GOP into a demographic box canyon.
Which would leave Hillary. Which is the plan.
REAL LIFE. REAL NEWS. REAL VOICES.
Help us tell more of the stories that matter from voices that too often remain unheard.
BEFORE YOU GO
PHOTO GALLERY
Hillary Clinton