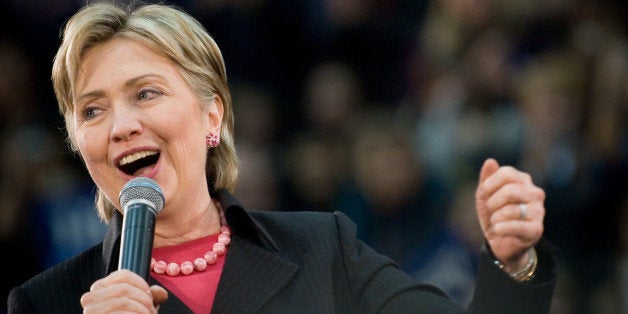 Hillary's announcement numbers were revolutionary. They literally redefined the standards for digital politics and came close to rock star status. She launched over YouTube and her campaign website, and then took to Twitter with "I'm running for president. Everyday Americans need a champion, and I want to be that champion. -H." According to The Huffington Post, this tweet "was seen over 3M times within the first hour" and "received over 100,000 retweets." Further "within half an hour of the announcement, Twitter mentions of Clinton reached a peak of 7,000 tweets per minute."
Well social media may have come of age particularly when a major presidential campaign is launched over its airwaves.
Holy mackerel, this woman was on fire on the digital social platforms which were strangers to her and her campaign way back in 2008 -- only a few years ago when so many of these were in their infancy or a glimmer in their inventor's eyes. Most interesting is the skillful way that these digital platforms were used by Clinton's gang to amplify her message. The video pivoted from one to the other to begin the rebuilding her brand with the message - I'm here, I'm ready and I understand everyday people aka the Middle Class. It was like watching carefully crafted choreography as Twitter bounced around and Facebooked echoed as a video platform called YouTube anchored the launch of her campaign. This was truly fascinating and it articulates a new kind of retail politics, or what is known as GOTV to us insiders -- the kind of politics that fully leverages the up-close, personal, individual experience. Well if you can't shake every hand or knock on every door across the country on day one, the candidate can show up in your pocket via an up close and personal video on your smart phone - brilliant!
You know we are at an inflection point with relatively inexpensive smart devices (everything is always relative), affordable and accessible broadband, applications that span the globe, and content. So politics is ripe for the picking and the Hillary folks just got out in front of it. According to ACI, "In 2013, nearly 4 billion hours of online video were watched each month. Even more interesting, people watched over 500 years of YouTube videos on Facebook every day and 1 billion YouTube videos on mobile devices every day." Need we say more? The numbers are truly revolutionary.
• Facebook users share nearly 2.5 million pieces of content.
• Twitter users tweet nearly 300,000 times.
• Instagram users post nearly 220,000 new photos.
• YouTube users upload 72 hours of new video content.
• Apple users download nearly 50,000 apps.
• Email users send over 200 million messages.
• Amazon generates over $80,000 in online sales.
Popular in the Community