Any condemnation of Republican presidential nominee Donald Trump from within his own party is helpful for the campaign of Democrat Hillary Clinton. Even better is when Republicans and independents come out to say they not only oppose him, but also support her ― and the Clinton campaign is launching a new effort to court them.
The campaign announced its new "Together for America" drive on Wednesday to reach out to Republicans and independents who oppose Trump.
A campaign aide said the effort will vary by person, but could include Republicans and independents joining Clinton at events, urging others to support her, speaking about her in the media, fundraising and contacting voters.
The "Together for America" campaign includes a website where Republicans and independents can enter their name and contact info. It asks them to "Tell us your story" about why they support Clinton and directs visitors to a list of her more prominent backers who aren't Democrats.
"Americans are looking to the next president to help bring us together to tackle the big challenges facing the country and Hillary Clinton's bipartisan support is the latest proof that she can work across the aisle to make us stronger together," Clinton campaign chairman John Podesta said in a statement.
The list of non-Democrats supporting Clinton is growing. The Clinton campaign also announced on Wednesday endorsements from former Reps. Chris Shays (R-Conn.) and Connie Morella (R-Md.); Carlos Gutierrez, a Commerce secretary under President George W. Bush; John Negroponte, a longtime diplomat and Bush's director of national intelligence; and Carla Hills, a Housing and Urban Development secretary under President Gerald Ford.
Separate from the campaign's announcement, former Sen. Joe Lieberman (Conn.), who labels himself an "independent Democrat" and runs the group No Labels to push for politicians to work across party lines, told Fox Business on Wednesday that he plans to vote for Clinton. No Labels labeled Trump a "problem solver" earlier this year and there was speculation as recently as Tuesday that Lieberman might back the Republican nominee.
"I'm an independent Democrat ― I never changed parties ― I'm going to vote for Hillary Clinton," he said.
"She's strong, she's smart, she understands national security and what I was most impressed about in the years in the Senate together, she reached across party lines to try to build coalitions to get something done," he said later, adding that his focus for the election will be No Labels.
Trump has had an especially disastrous few weeks since accepting the Republican presidential nomination in mid-July, including his remark Tuesday suggesting violence against Clinton: that "Second Amendment people" could do something about her if, as president, she nominated judges they disagreed with.
Many of the latest Clinton endorsements from Republicans and independents refer specifically to temperament.
"I think many Republicans know Donald Trump could cause great damage to our country and the world at large, and still plan to vote for him," Shays wrote in an op-ed on CNN that also praised Clinton. "But not me. He represents practically everything I was taught not to be, and everything my wife and I taught our daughter not to be."
Gutierrez said in a statement that he supports Clinton "because she has the steady temperament and the experience to serve as president."
Clinton's Republican endorsers had previously knocked Trump without explicitly endorsing Clinton. Gutierrez told NPR in June that the turning points for him were when Trump said a judge of Mexican descent was biased toward him and when he told a crowd to "look at my African-American."
Negroponte was among the 50 Republican intelligence officials who released an open letter on Monday saying Trump "would be a dangerous President and would put at risk our country's national security and well-being."
Support HuffPost
The Stakes Have Never Been Higher
Before You Go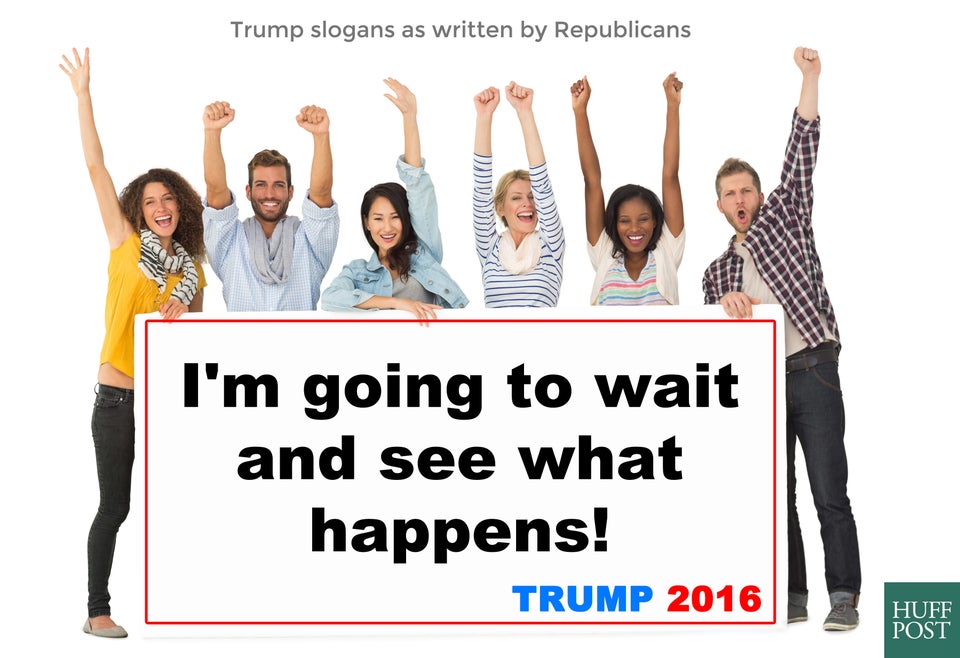 Here Are Enthusiastic Trump Campaign Slogans Using Real Republican Quotes
Popular in the Community