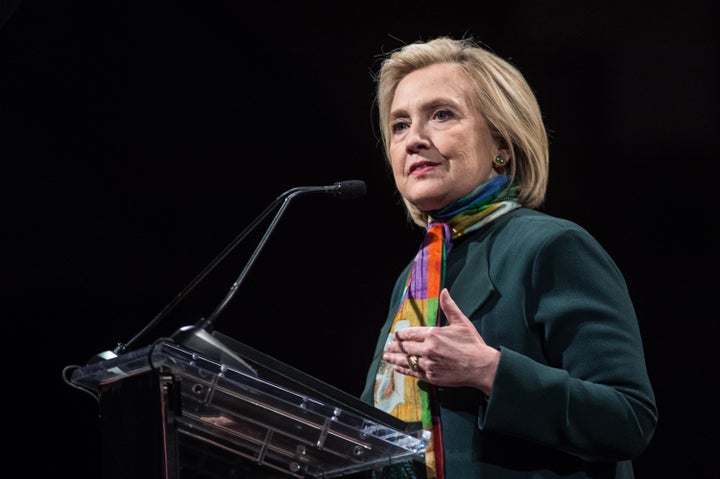 Several Democratic officials are asking Hillary Clinton to return the money that the Democratic National Committee paid her political group for her campaign email list and other resources.
In February 2017, the DNC agreed to pay Clinton's group Onward Together $1.65 million for her campaign email list, analytics, donor data and related items, The Intercept reported on Wednesday. The cache of material was worth more than $5 million; Clinton's campaign made an in-kind donation of resources worth $3.5 million, and the DNC paid for the rest.
Now a number of Democratic Party officials, including some state party chairs and DNC members, want Clinton to retroactively donate the campaign materials to the DNC and return the money that the party organ gave Onward Together.
"She should return the money for the 'love of the Democratic Party' to the DNC for its use," said Alabama Democratic Party chairwoman Nancy Worley, who supported Clinton during the 2016 primary.
Wisconsin Democratic Party chairwoman Martha Laning and Missouri Democratic National Committeeman Curtis Wylde likewise called on her to retroactively donate it and return the payment.
And Nebraska Democratic Party chairwoman Jane Kleeb, who supported Sen. Bernie Sanders (I-Vt.) in the 2016 primary, argued that Clinton could also contribute the equivalent money to state Democratic parties.
Other DNC officials, including at-large member Brian Wahby and Kansas Democratic National Committeeman Chris Reeves, welcomed an in-kind donation but stopped short of asking for it.
"It would be a Christian thing to do," Wahby said.
Sanders' office did not return a request for comment on whether the senator agrees.
It would be a Christian thing to do.

Brian Wahby, DNC at-large member
Nick Merrill, a Clinton spokesman, defended the price tag on Thursday on the grounds that the DNC has already reaped far more than it paid for the email list in fundraising so far.
"Paying a rental fee for use of an email list is common practice, and in this case the DNC has raised over $30 million with it, an 1,800 [percent] return on their investment," Merrill wrote in an email to Fox News. (The DNC purchased the email list to own, rather than renting its information.)
Merrill did not respond to a HuffPost request for comment on calls to retroactively make the resources an in-kind contribution and return the money already received.
Xochitl Hinojosa, a DNC spokeswoman, agreed that the DNC had gotten "a return on our investment and more since obtaining all of the lists and data."
Donna Brazile forged the agreement between the Clinton campaign and the DNC in February 2017, while she was serving as interim DNC chairwoman. Brazile, who has been critical of how the Clinton campaign treated the DNC, said she believed the deal would help her successor as DNC chair "inherit a party in good shape."
"I felt that it was a fair bargain at the time," she said.
The current DNC chairman, Tom Perez, has amended the payment schedule, but the core of the accord ― how much the DNC would pay and what it would get in return ― remains in place, according to Hinojosa.
The DNC paid Onward Together $300,000 in January and $135,000 in every subsequent month, according to Federal Election Commission filings and information provided by the DNC. Thus far, it has transferred $705,000 to Clinton's group; as of the end of this month, that sum will have increased to $840,000. 
The revelation of the sale of Clinton campaign resources to the DNC has struck a nerve with some Democratic officials because it exemplifies practices that they have criticized for years.
These Democrats lament the transactional relationship of Democratic standard-bearers with the DNC and state parties, which often have a harder time fundraising. Former President Barack Obama withheld his campaign email list entirely from the DNC during his first term, using it instead to build his political group, Organizing for America (later renamed Organizing for Action). After Obama's re-election in 2012, he initially allowed the DNC to use the list free of charge before formally donating it to the party body in 2015.
Officials from state parties who joined the Clinton campaign's joint fundraising agreement during the 2016 election also complained that the campaign left state parties little funding to maintain their operations.
Onward Together, which as a 501(c)(4) political nonprofit is not required to disclose its financial data, says it has distributed grants to 11 progressive groups, including Indivisible, Swing Left, Run for Something and Color of Change.
However, there are many forms of political organizing that state parties, unlike those groups, are uniquely equipped to do. For example, state parties have historically played important roles in recruiting candidates for state and local office; advising and funding those candidates; and registering and turning out voters in down-ballot races.
Another source of tension is what Sanders allies see as a double standard being applied to the Vermont senator's famously successful campaign email list. Although Sanders was not the Democratic presidential nominee, after the campaign, many Democrats called on Sanders to turn over his list to the DNC. (Sanders has declined to do so.)
"They weren't saying Bernie, 'Rent your list.' They wanted the list," said Jim Zogby, president of the Arab American Institute and a Sanders appointee to the DNC's Unity and Reform Commission. "They said, 'All candidates do this ― they turn it over to the party.' Well, now I find out that they don't."
He hopes that the latest revelation will increase support among the DNC's membership to approve the oversight committee and other financial transparency measures. The entire DNC membership is due to vote on the proposals in August.
"It is critical to the ultimate survival of the party as a viable institution," Zogby said.
Calling all HuffPost superfans!
Sign up for membership to become a founding member and help shape HuffPost's next chapter
BEFORE YOU GO
PHOTO GALLERY
2017 Scenes From Congress & Capitol Hill