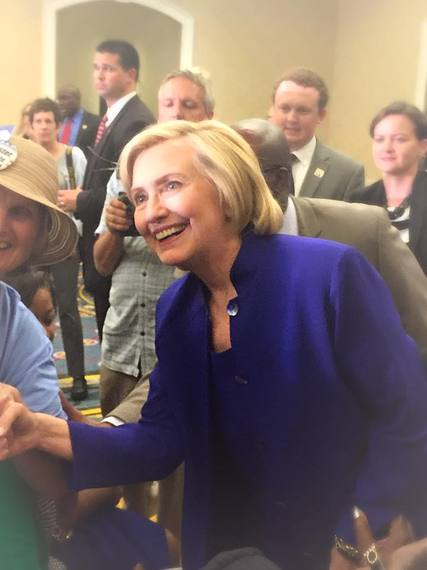 On Wednesday, Hillary Clinton visited South Carolina for the first time since her defeat in the 2008 election primaries. This time around, she didn't waste any time getting to the issues while addressing the South Carolina Democratic Women's Council at their third annual Day in Blue event. This was the biggest audience Clinton has addressed since announcing her candidacy a little over a month ago in the state that will host the democratic primaries.
State Rep. Gilda Cobb set the tone and energy for the day while introducing Clinton by saying:
All of us believe that a woman's place is in the House, and in the Senate and, in case there is any doubt, also at 1600 Pennsylvania Avenue.
When Clinton took over the mic, she indicated that she wasn't willing to lose this time around, saying with a grin that she was indeed "running to live again at 1600 Pennsylvania Avenue."
She quickly got to the topic of women's rights, rallying a crowd of about 200 women beginning with the problem of wage inequality. The cheers began when the candidate said, "I don't think I'm letting you in on a secret when I say too many women still earn less than men on the job."
She went on to say that this inequality will only build upon itself, becoming a family problem and an American economy problem. In perhaps her most direct response to the issue, she proposed specific ways to combat wage inequality citing her own Paycheck Fairness Act and encouraging education on the issue stating that: "You can't stand up for equal pay if you don't know whether you're paid equally."
She moved on to address her belief that middle America is falling behind assuring the crowd that she would be a champion for everyday Americans to turn this progress around. The now millionaire put on a very down-to-earth tone describing her own middle class beginnings as the daughter of a small business owner. Instead of dining at one of Columbia's finest restaurants, she chose to meet with local business owners over chicken and waffles. Interestingly enough, the audience heard a slight twang emerge in Clinton's voice as the speech went on.
Sticking to the down-home feel of the address, the grandmother expressed her own commitment to strengthening American families mentioning her own daughter and grandchild. She explained that while her family is fortunate to live close enough for her to lend a hand, not everyone has that luxury and advocated for things such as paid leave for mothers.
Of course, Clinton was the tough woman with sass we know her to be when addressing her qualifications in the race for the White House saying sarcastically that, "I do know how hard this job I am seeking is. I have seen it up close and personal."
However, she indicated that she didn't intend to do the job like everyone else that has occupied 1600 Pennsylvania Avenue and smiled when she said this about previous presidents:
By the time they leave, they're as white as the building they live in.

Now, let me tell you. I'm aware I may not be the youngest candidate in this race, but I have one big advantage. I've been coloring my hair for years. So you're not going to see me turn white in the White House.
The address was overall a great success for the candidate who had once lost all but two South Carolina counties to Obama in the previous election. She let some of her roots show while promising to be a champion for everyday Americans and, so far, it seems that the women of South Carolina believe her as almost every line of her carefully crafted speech was met with applause, cheers and even a few "Amens!"
Calling all HuffPost superfans!
Sign up for membership to become a founding member and help shape HuffPost's next chapter