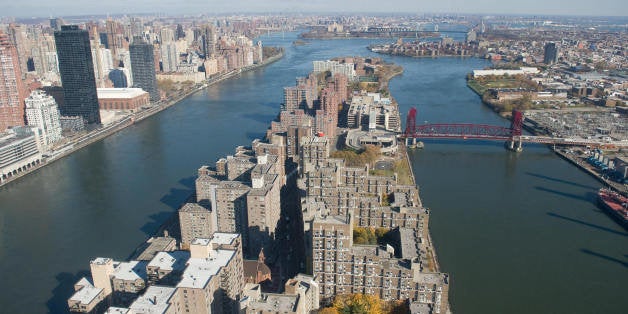 ROOSEVELT ISLAND, N.Y. -- It's easy to understand why Hillary Clinton is holding her first 2016 campaign rally at Franklin D. Roosevelt Four Freedoms Park on Saturday. The symbolism is about as subtle as a yellow-cab driver caught behind a slow-moving vehicle with the windows rolled down.
Her midday speech will take place in the city where her family's multibillion-dollar Clinton Foundation is based in the state she represented in the Senate for eight years and at a park that honors one of the most famous speeches delivered by America's most revered Democratic president.
"She has long been inspired by FDR's belief that America is stronger when we summon the work and talents of all Americans," said Clinton spokesperson Kristina Schake. "Her fight, like his, is to work to ensure that everyday Americans can achieve not just a sense of economic stability, but lasting prosperity."
Though the park's namesake will be a fundamental element of Clinton's speech, less central to her unofficial campaign kickoff is Roosevelt Island itself -- a quirky sanctuary of inner-city suburbia, which bisects the East River between Manhattan and Queens.
To the people who live here, though, that's not much of a surprise. This is a place that is used to getting overlooked.
A 2-mile by 800-foot sliver of land that is currently inhabited by about 14,000 people in a city of more than 8 million, Roosevelt Island remains a peaceful hamlet by New York City standards. It is perhaps best known for the aerial tramway that offers a mobile addition to the Upper East Side's skyline and was featured in a memorable fight scene in the 2002 "Spider-Man" film.
By and large, in a city famous for its islands, this particular needle-shaped landmass -- which falls under the jurisdiction of Manhattan -- has long been largely anonymous outside (and sometimes inside) the city.
"When I was growing up and through high school, you'd tell kids, 'I live on Roosevelt Island,' and it was like, 'Where?'" said Mike Babcock, whose family was one of the pioneering families to move to the island in 1975, when the first residential building opened. "And these were kids who lived in the city."
But that undistinguished image has been changing quickly.
Over the last couple of decades, Roosevelt Island has experienced a demographic evolution and construction explosion that has left it a more diverse and heavily urbanized place than it was decades ago -- a lot like the American electorate that the Clinton campaign believes will propel her to the White House.
"On the tram, you used to pretty much know everyone by sight," said Lillian Kirkman, who has lived on Roosevelt Island since 1982. "Now it's pretty much like riding the subway."
It's possible to traverse Roosevelt Island on foot in under a minute, but this is no longer a parochial place.
Take a stroll down Main Street, and it can feel like you're walking the halls of the United Nations just across the river, as more than 40 percent of the population here was born in a different country.
The modern incarnation of Roosevelt Island was founded as a place where small-town charm could be found within spitting distance of the most exciting city on earth, but its enduring legacy has long been that of a place in constant transition.
Back in the 19th century when it was known as Blackwell's Island, it was home to a prison, the nation's first hospital for treating smallpox sufferers, and the New York City Lunatic Asylum where investigative reporter Nelly Bly faked insanity and later reported in the New York World her groundbreaking investigation of the facility's wretched conditions.
After a long period of decline, the island was rechristened Roosevelt Island in 1973 in honor of the nation's 32nd president, and a dramatic revitalization effort began that turned it into a thriving community intended primarily to offer subsidized housing to young families with a wide range of income levels.
An increasingly Democratic slice of a heavily Democratic city, it's not just the Starbucks and Duane Reade, both of which opened a few years ago, that has signaled Roosevelt Island's absorption into the modern urban aesthetic that has taken hold from coast to coast since Clinton's husband's presidency.
The Octagon -- a relatively imposing structure presiding over the northern end of the island -- originally served as the asylum's main entrance. Now it is the entranceway for a pair of solar panel and fuel cell-equipped high-rise apartment buildings.
And in 2011, then-Mayor Michael Bloomberg announced that Roosevelt Island would be the site of a more than $2 billion science graduate school for Cornell University -- likely the single most transformational development in the island's recent history. The "Four Freedoms" Park, where Clinton will speak on Saturday, opened the year after that.
Still, unlike just about every other corner of New York, even as it has changed rapidly, Roosevelt Island has resisted some of the allures of its neighboring localities. Here, $16 cocktails and ironic handlebar mustaches remain as scarce as they are common to the Instagram-saturated streets not far from the Clinton campaign's Brooklyn Heights headquarters.
You will, however, find some of the same generally unimpressed attitudes that prevail in the hipper parts of town.
"We've had lots of local politicians -- senators and congressmen -- no one like Hillary," said Judy Berdy, president of the Roosevelt Island Historical Society and a lifelong resident. "But I just shrug. It's part of living in New York. You get used to it."
Just four days before the big rally, there were few signs that anything particularly special was on the horizon, as residents prepared for Saturday's Roosevelt Island Day -- an annual, family-friendly event that will take place concurrently with the Clinton rally.
At Piccolo Trattoria on Main Street on Tuesday, a sparse lunchtime crowd ordered pizza slices and deli sandwiches, as employees mopped the floor and took some run-of-the-mill verbal abuse from one woman, who wasn't especially impressed by the yellow sign that warned her to watch her step.
"Seriously, it's very slippery in here," she said. "If I fall, you're screwed!"
After Jesus Alvarez, 19, took the woman's order from behind the counter, a reporter approached to ask what he thought about Hillary Clinton coming to the neighborhood.
Alvarez, who has been working at Roosevelt Island's lone pizza slice joint for about a year, offered a perplexed look along with a reminder that for the vast majority of Americans, the 2016 election remains far from the forefront of their minds.
"There's a rally here?" he asked. "I hadn't heard about it."

Calling all HuffPost superfans!
Sign up for membership to become a founding member and help shape HuffPost's next chapter
BEFORE YOU GO
PHOTO GALLERY
Hillary Clinton