WASHINGTON -- Hillary Clinton was furious about a 2011 State Department decision to replace the words "mother" and "father" with gender-neutral terms on U.S. passport applications, warning of the wrath of Sarah Palin, according to newly released emails.
"Who made the decision that State will not use the terms 'mother and father' and instead substitute 'parent one and two'?" Clinton wrote in an email to staff on Jan. 8, 2011. The email was released Wednesday by the State Department as part of an ongoing dump of emails that Clinton sent from a personal account during her time as secretary of state.
"I'm not defending that decision, which I disagree w and knew nothing about, in front of this Congress. I could live w letting people in nontraditional families choose another descriptor so long as we retained the presumption of mother and father," she wrote. "We need to address this today or we will be facing a huge Fox-generated media storm led by [Sarah] Palin et al."
Cheryl Mills, Clinton's chief of staff at the time, responded, "Reaching out to folks to find out."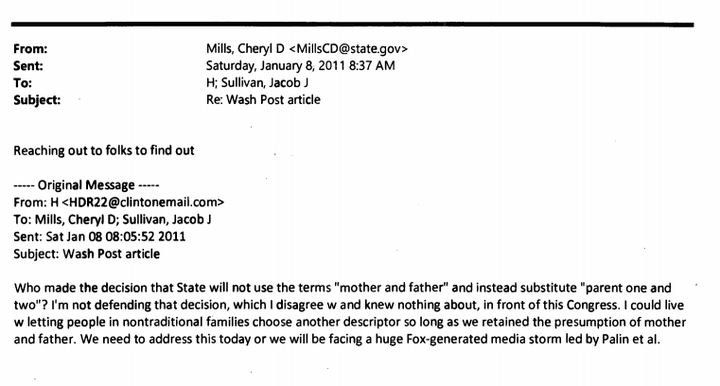 The State Department's proposed change was intended as a nod to people with same-sex parents. Clinton learned about it from a Washington Post story published the day before. The article featured a gay rights group praising government officials for acknowledging "that hundreds of thousands of kids in this country are being raised by same-sex parents." Conservatives grumbled that the change reflected "the topsy-turvy world of left-wing political correctness."
But the department ended up not making the change. The day after Clinton's email, Mills sent Clinton an Associated Press story with the headline "State Department steps back on gender-neutral parentage, won't replace terms 'mother,' 'father.'"
A spokesman for Clinton's presidential campaign did not respond to a request for comment Wednesday.
Clinton has had strong support from the gay and lesbian community in her presidential bid, but she's also hit some bumps along the way.
In June 2014, she tangled with NPR's Terry Gross (who tangles with Terry Gross?) over her evolution on same-sex marriage, and argued that marriage laws should be left up to individual states. Even at the time, Democrats had already abandoned that stance in favor of calling for constitutional protections.
And going back further, The Washington Free Beacon, a conservative news site, this week released audio recordings of Taylor Branch, a confidante of former President Bill Clinton, sharing conversations they'd had about Hillary's supposed discomfort with gay people during her 2000 Senate race.
According to Branch, Bill said at the time that Hillary's "conservative religious temperament" might make her uncomfortable with gay people "acting out or pushing her to the limit."
But Clinton did a lot for the LGBT community during her time as secretary of state. She announced that gay diplomats would receive benefits similar to those received by their heterosexual counterparts, something they'd previously been denied. She also, in December 2011, gave a historic speech in Switzerland in which she addressed human rights abuses against LGBT people. Gay rights advocates said this was a first.
"Like being a woman, like being a racial, religious, tribal, or ethnic minority, being LGBT does not make you less human," Clinton said in her 2011 speech. "And that is why gay rights are human rights, and human rights are gay rights."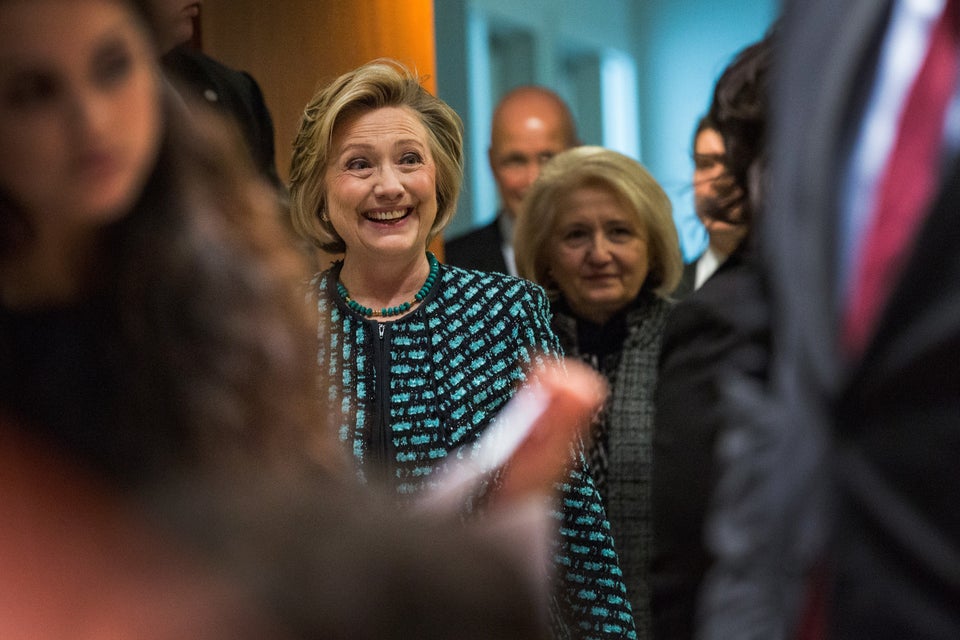 Hillary Clinton
Popular in the Community