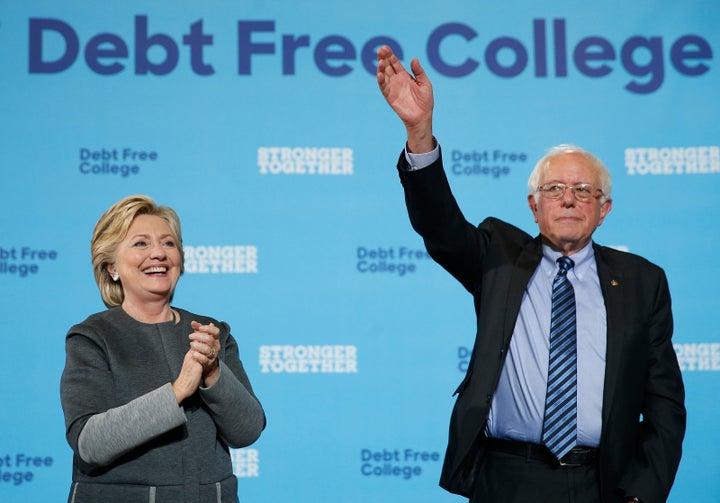 Hillary Clinton told donors at a February fundraiser that Sen. Bernie Sanders' (I-Vt.) "ideas are indefensible," claiming the middle-class tax increases they require would be both bad policy and a political loser.
The remarks, which are public thanks to audio of the fundraiser, which the conservative news and commentary outlet the Free Beacon obtained from a Clinton staffer's hacked e-mails, are largely just a blunter version of public comments Clinton made in the heat of the primary campaign.
But the recording may support a perception among Sanders supporters that, in the company of well-heeled donors, Clinton is more disdainful of the ambitious ideas of her primary challenger than she would ever dare to be in public.
"The amount of taxes that would be raised on middle-class families is quite significant," the former secretary of state says in the recording. "He talks a lot about, 'We need to be like Scandinavia.' And OK, Denmark, the tax rate for middle-class families [is] 55 percent with a 25 percent value-added tax on top of that."

The crowd responds with murmurs of astonishment at those figures.
Clinton goes on to speculate about the kind of fodder for political attack advertisements Sanders' proposals would give Republicans.
"By the time the Republicans get through rolling that down your TV screens about 30 times a day and talk a lot about socialism and come up with pictures of Bernie visiting Russia during the Cold War and all of that," she added. "It is not a pleasant sight ― or idea ― to behold."
As a result, Sanders' chances of winning in a general election are "really, really, really low," the Democratic presidential nominee says in the recording.
Sanders' only prospect of winning would be if Donald Trump secured the Republican nomination, she says.
"Now look, they could nominate Trump and then who knows what might happen," she says, eliciting guffaws from her audience. "I still think [his chances] would be really, really low."
Clinton's analysis contradicts Sanders' campaign, which noted that polling showed he led in general election match-ups against the various Republican candidates. She is not the first to posit, however, that his standing would not endure a sustained assault from Republicans.
Sanders freely admitted that, unlike Clinton, he would not limit tax increases to earners making $250,000 a year or more. But many of his most ambitious proposals, like ensuring that public colleges are tuition-free, rely on taxes that fall disproportionately on the wealthy, such as a financial transactions tax.
His plan for single-payer health care may have involved the most substantial tax increases of any proposal, but if successful, it would have saved households money elsewhere through greatly reduced out-of-pocket spending.
At other moments during her remarks to the donors and responses to their questions, Clinton argues that Sanders has such strong appeal among younger voters because many were hit hard by the Great Recession and are still "living in their parents' basement."
Clinton recounts a conversation with a group of young African Americans she had earlier that day. One of the young women told Clinton that "none of us feel like we have the job that we should have gotten out of college," Clinton recalls.
This sense of economic disappointment has inspired some young people to embrace Sanders' message, she suggests.
"If you're feeling like you're consigned to, you know, being a barista, or you know, some other job that doesn't pay a lot, and doesn't have some other ladder of opportunity attached to it, then the idea that maybe, just maybe, you could be part of a political revolution is pretty appealing," she says.
Although some have interpreted the remarks as condescending, others, including Mike Casca, who worked on Sanders' campaign, argued that they showcase Clinton's empathy. He took issue with Politico for initially describing the comments as "mocking" millennials.
Clinton expresses frustration that Sanders does not acknowledge that a "political revolution" would require winning a supermajority in the Senate and regaining control of the House, the latter of which would be nearly impossible before the next census allows redistricting.
It is difficult to pinpoint at various junctures whether Clinton wholeheartedly disagrees with Sanders' ideas or simply considers them unrealistic. 
"As a friend of mine said the other day, I am occupying from the center-left to the center-right," Clinton said. "And I don't have much company there."
The comments appear to suggest a genuine ideological difference, but, immediately after that, Clinton frames her dilemma in terms of pragmatic policymaking.
"I don't want to over-promise," Clinton says. "I don't want to tell people things that I know we cannot do."
Calling all HuffPost superfans!
Sign up for membership to become a founding member and help shape HuffPost's next chapter
BEFORE YOU GO