 Shape and sustain a peaceful, prosperous, just, and democratic world and foster conditions for stability and progress for the benefit of the American people and people everywhere.
This is the U.S. Department of State's mission statement. With such a bold mission you'd think employees at the agency have to focus on their jobs above all else, every second of the day.
Clearly their jobs are important but like every other workplace in America, employees at the State Department have lives beyond work, and many at the agency recognize employees can be more engaged in their mission if their personal and home life are working well. The leader at the State Department, Sec. Hillary Clinton, is a vocal long-term proponent of this cause.
Work-life "is not a women's issue, it is a human issue and a family issue," Clinton said Thursday at the agency's headquarters in Washington before introducing Families and Work Institute founder Ellen Galinsky, who was the featured speaker at State Department's the 2012 National Work-Life and Family Month Event.
Before Anne Marie Slaughter's now much talked about the Atlantic article on how women can't have it all, the State department -- Slaughter's former employer -- started an internal group focused on work-life issues.
In March 2011, "Balancing Act at State; Achieving Work-Life Balance" was approved by the agency as an official Employee Organization and now has hundreds of members, representing Foreign Service and Civil Service employees from entry-level to management.
"Helping the Department better attract, retain, and motivate a diverse talent pool by establishing policies that allow for better work-life balance (including childcare, eldercare, flexible work arrangements, teleworking, etc.) As an Employee Organization, we seek to represent the interests of employees by providing a venue for discussing work-life issues and advocating for more employee-friendly policies."
To that end, the Balancing Act group and the agency's Work-Life Division of HR invited Galinsky to speak at their key event to share her thoughts and the Institute's exhaustive data on all things work and family.
Some key data points included how the workforce is changing, including how the eager men are, as well as women, to spend more time with their children and how eager young women are to advance their careers.
"For the very first time, young women and young men don't differ in their desire for jobs with more responsibility," Galinsky pointed out.
Clearly, this is something many employees at the State Department strive for and the Balancing Act group is trying to help employees meet those goals while mitigating the impact on their home lives.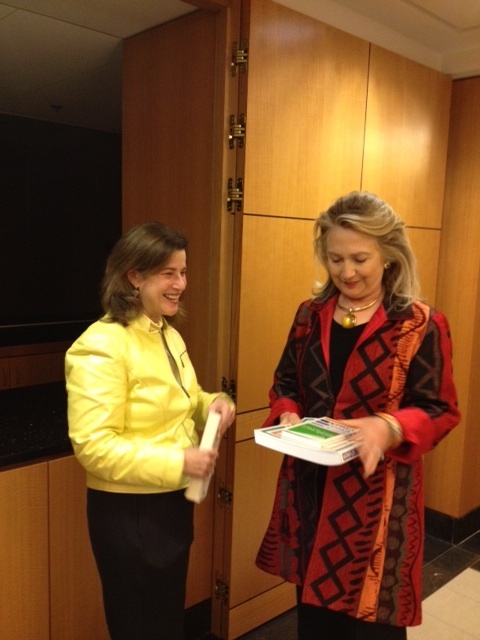 During the event, Clinton outlined how far we've come in promoting family friendly policies, but she maintained we have a long way to go.
"Even though we love our work, and that we as a nation, as a society, have to try to be more supportive of that," she explained.
"And someone who has been on the forefront of talking about and advocating for these kinds of changes for many years now is Ellen Galinsky. I first worked with Ellen on the White House Conference on Child Care. She truly is a pioneer in this area, having spent her entire career advocating for more flexible workplaces."
Indeed, Galinsky continues her fight and left the State Department gathering with some key takeaways when it comes to creating a flexible workplaces, based on her three decades working on this issue:
The solution has to fit the problem and has to work for the employee and the employers.
People have responsibility as well as the workplace, not just things people give to us, not an entitlement.
Create a culture of flexibility.
You need to be clear about efforts for success. If people implementing flexibility we have to know if it's working, and build that into programs at the start.
Top and middle managers have to be involved, and have skeptics on taskforces promoting flexibility.
Pilot. Pilot. Pilot. It's good to try something out and get kinks out of the system before you take it more broadly.
Develop checkpoints to assess results and then make adjust. This is an ongoing process.
You need to communicate. A lot of companies or organization create flexibility but no one knows it's there.
You need to recognize and reward managers who are using flexibility successfully.
Time to make a flexible workplace a reality for everyone.