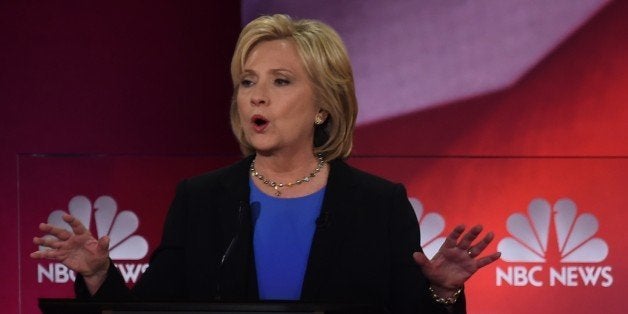 With Hillary Clinton's frontrunner status in question, she used Sunday night's debate to unleash a sharpened wave of attacks on Bernie Sanders. Clinton portrayed Sanders as a radical flip-flopper who thinks Barack Obama is weak and wants to dismantle the Affordable Care Act, which, in reality, Sanders voted for and helped write.
Clinton's aggressive debating style came as no surprise given her recent slump. Her inevitability as the Democratic nominee looks less and less certain, as Sanders storms into 2016 with a 5-point lead in Iowa and a 13-point lead in New Hampshire.
As Sanders' momentum builds, he poses a greater threat to Clinton than ever before. According to the most recent NBC News/Wall Street Journal/Marist poll, Sanders is actually better positioned than Clinton to defeat any of the GOP frontrunners in a general election. For example, he outperforms Clinton against leading Republicans by roughly 6-points in Iowa and an extraordinary 21-points in New Hampshire.
It's not only Trump who Sanders is on target to take out. While the NBC/Wall Street Journal/Marist poll has Clinton losing to Cruz in both Iowa and New Hampshire, Sanders beats Cruz in either state. Moreover, while Clinton trails Rubio at the moment, Rubio comes up short against Senator Sanders.
With Sanders rising and Clinton falling, and the Iowa caucuses just 15 days away, it makes sense that Mrs. Clinton would go on the attack. But what remains unclear is whether or not her increasingly antagonistic game plan will attract or repel the undecided voters that she needs to clinch the Democratic nomination.
Do you think Hillary Clinton's offensive strategy served her well tonight? Or do you think her hawklike debate performance will ultimately backfire and result in an outpouring of support and fundraising for the insurgent, Bernie Sanders?
Calling all HuffPost superfans!
Sign up for membership to become a founding member and help shape HuffPost's next chapter