SAN FRANCISCO -- Former Secretary of State Hillary Clinton is pressing Silicon Valley technology leaders to take a stand on income inequality and immigration reform, calling on companies to invest in training programs and look at public and private solutions to the area's growing wealth gap.
Clinton, on a swing of West Coast speaking engagements, spoke Tuesday at the Marketing Nation Summit, an annual conference hosted in downtown San Francisco by Marketo, a company that develops cloud-based marketing software.
Following a keynote address that covered topics that included the Ukraine crisis and the power of social media, Clinton sat down for a question and answer session with Marketo CEO Phil Fernandez. Fernandez, who lives in Palo Alto, noted the growing gap in his town: Newly-minted tech billionaires are thriving, while middle-class and working-class families are getting pushed out by skyrocketing housing prices and the elevated cost of living.
Clinton thanked Fernandez for raising the issue.
"It's really rare that anybody in your position says what you just said," Clinton said. "What are we going to do about all the people who actually keep the communities going? You make a contribution, and so do they."
She pointed to programs that subsidize home-buying for police officers, firefighters and teachers as examples of what can be developed with government and private cooperation.
"It does seem to me that again some like-minded, public-minded people could come together and say, 'How do we solve this problem?' Because it's not only in Palo Alto," Clinton said. "You've got people who are supposed to be keeping the trains literally running on time -- they can't live there."
She continued: "You're not talking about just people who are at the bottom of the income scale. And that leads to the bigger issue. Inequality of the kind that we are now experiencing is bad for individuals, bad for our economy, bad for our democracy."
Clinton and Fernandez also discussed immigration reform, an issue that has galvanized some members of the tech community. She said she found Congress' refusal to pass a comprehensive immigration reform bill "disappointing," but urged tech leaders to continue pressing lawmakers on allowing more high-skill foreign workers via H-1B visas. She suggested that Silicon Valley investors put money toward training programs for U.S. workers to help sway "the skeptics on the Hill."
"It's not just the right thing to do," Clinton said of immigration reform. "It is one of our advantages competitively around the world."
The former first lady touched on several other issues, including Russian President Vladimir Putin ("He's a tough guy with a thin skin," Clinton quipped) and gender equality in the workplace. Throughout her prepared remarks and the Q&A session, one topic loomed large -- whether Clinton will seek the Democratic nomination for president in 2016.
"I am thinking about it," she said when asked about her plans at the session's conclusion, as the audience erupted in cheers. "I'm not going to make a decision for awhile, because I'm actually enjoying my life."
Clinton, who began giving paid speeches last year, was set to speak in Portland, Ore., Tuesday night. She then is scheduled to head to Las Vegas to speak at another industry event, and will address a San Diego, Calif., crowd via satellite on Friday. According to The New York Times, the former senator earns about $200,000 per speaking engagement.
Before You Go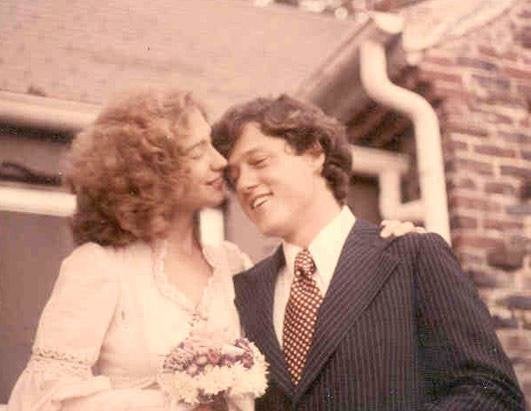 Hillary And Bill Through The Years
Popular in the Community