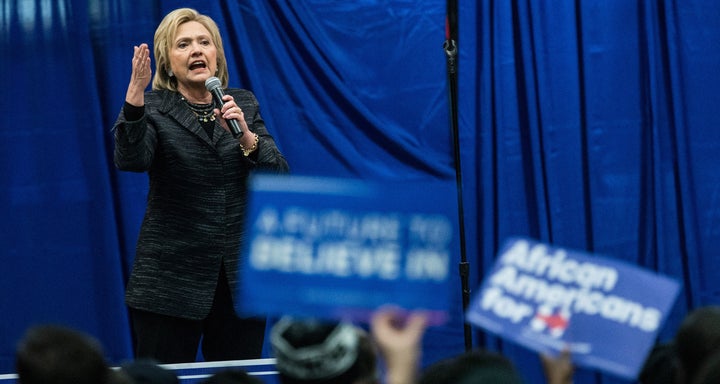 CHARLESTON, S.C. -- On the eve of the last Democratic primary debate before voters caucus in Iowa and head to the polls in New Hampshire, Hillary Clinton's campaign chairman, John Podesta, sent out an ominous fundraising email to her supporters.
"We always knew this race would get tight, and that's what's happening now," Podesta wrote. "Public polling shows we have a real race on our hands in Iowa and New Hampshire -- and make no mistake, we could lose one or both of these contests."
It's true -- Clinton's main rival for the nomination, Sen. Bernie Sanders (I-Vt.), is close to tying it up in Iowa, which holds its caucus Feb. 1, and leading in New Hampshire, which holds its primary eight days later. Winning one or both of those matchups would generate momentum for Sanders heading into South Carolina, which holds the South's first primary on Feb. 27.
That's why shoring up the Palmetto State is so crucial for Clinton. She has a huge lead in the polls, with significantly more support than her opponents among African-Americans, who constitute a majority of Democratic primary voters here. Then again, that was also the case in 2008, before President Barack Obama surged to victory.
"South Carolina, you don't need me to tell you how important you are in this election. You are the first in the South. That is a serious responsibility. And this year, you are one of our first lines of defense," Clinton told Democrats on Saturday at a Charleston dinner for the presidential candidates, which was packed with state party leaders and legislators.
The debate Sunday is at a venue just a block away from the historic Emanuel AME Church, where nine church members were murdered last summer. Anticipating that his record on gun control would come under attack again, Sanders' campaign announced Saturday evening that he now supports a bill that would rescind portions of a controversial law he voted for in 2005. He had previously refused to call his support for the law -- which gave gun manufacturers and dealers legal immunity from lawsuits -- a mistake.
Clinton, who has suggested that Sanders has sided with the gun lobby, now has another opportunity to point out that she was for repealing the immunity law well before he was. Her campaign team immediately cast Sanders' new position on the immunity law as a convenient pre-debate change in attitude, but his team insisted that it wasn't a flip-flop, according to CNN.
The debate is also likely to feature a confrontation between Clinton and Sanders on health care. Clinton's campaign has initiated a multi-pronged attack in the last week on the senator's support for a single-payer health care system. Clinton has pointed out that Sanders still hasn't released his plan for how he'd pay for single-payer, though he promised he'd do so before the Iowa causes. She and her surrogates have argued that moving to a single-payer system would "dismantle Obamacare" and amount to an unacceptable tax increase on middle-class families. Sanders has fought back by pointing to statements Clinton has made praising the goal of universal health care in the past.
These clashes on guns and on health care were foreshadowed Saturday evening. Clinton said that "we need a president who will do everything in her power to protect President Obama's actions on gun violence and will go even further," and said that Democrats need to defend the Affordable Care Act from attempts to repeal it or replace it.
During his speech, Sanders argued that the United States shouldn't be one of the only developed nations in the world where health care is a privilege, rather than a right. He noted that he voted for the Affordable Care Act, but that it still doesn't mean everyone in the United States who needs coverage gets it.
"We should be very proud of those accomplishments, but what we must also recognize is that despite the gains of the Affordable Care Act ... we still have a long way to go in terms of health care," he said.
Clinton, Sanders and former Maryland Gov. Martin O'Malley (D) got their biggest applause lines when they praised Obama, in front of an audience that strongly supports the president.
"I have noticed very often that my name is linked to the president," Clinton said. "Now I personally find that a great compliment."
The state's Democrats loved it when Clinton criticized Republicans for how they talk about Obama's supporters. 
"Too often we hear Republicans talking in coded racial language about 'free stuff,' 'takers' and 'losers,'" she said to applause from a predominantly African-American room. "That has absolutely no place in our democracy and in our politics."
Sanders told the audience about his participation in the 1963 March on Washington as a University of Chicago student, calling it a "defining moment" of his life. And he spent a significant chunk of his speech describing his plans for criminal justice reform. He referred to the settlement Goldman Sachs just negotiated that allows it to resolve state and federal investigations into its handling of mortgage-backed securities in the years leading up to the financial crisis -- without admitting any liability. 
"If a kid today gets caught with some marijuana, that kid will get a police record," Sanders said. "But when the heads of one of the largest financial institutions in this country, whose greed and recklessness destroyed the lives of millions of people, they can agree to a $5 billion settlement but no police records for any of them."
PHOTO GALLERY
Scenes From Democratic Debate No. 2
REAL LIFE. REAL NEWS. REAL VOICES.
Help us tell more of the stories that matter from voices that too often remain unheard.