COLUMBIA, S.C. -- Hillary Clinton won the Palmetto State's Democratic presidential contest on Saturday, defeating Sen. Bernie Sanders (I-Vt.) thanks to the strong support of African-American voters, who comprised over 60 percent of the primary electorate in the state.
With 99 percent of precincts reporting, Clinton led Sanders 73.5 percent to 26 percent. Her huge victory was especially sweet since she had suffered a brutal defeat to then-Sen. Barack Obama of Illinois in the Democratic primary here eight years ago. Multiple networks immediately called the race for Clinton when the polls closed at 7 p.m.
"Together, we can break down all the barriers holding our families and our country back," Clinton said at her victory party in Columbia. "We can build ladders of opportunity and empowerment so every single American can live up to his or her God-given potential. Then, and only then, can America live up to it's potential, too."
Clinton, who is heading to Tennessee and Arkansas, said her campaign "goes national" Sunday.
"We are going to compete for every vote in every state," she said. "We are not taking anything, and we're not taking anyone, for granted."
Rep. Jim Clyburn, the highest-ranking Democrat in South Carolina, warmed up the crowd before Clinton spoke by saying that South Carolina's voters "have started Hillary Clinton on the way to the White House."
"After hearing and comparing, the Democratic voters of South Carolina have rendered a significant verdict," Clyburn said.
After Sanders nearly tied Clinton in Iowa, won a blowout victory in New Hampshire and performed well with Latinos in Nevada, some had speculated that he could narrow the gap in South Carolina, where Clinton has consistently led by double digits in polls. But that prospect never came to fruition, and as the primary neared, Sanders' own staff began to admit that he would lose.
"I wouldn't focus on the margin because it's not going to be that close," Sanders pollster Ben Tulchin told The State earlier this week. "If we had three more months, we could close the gap more." It was a much more somber message than the one the candidate had been projecting a month ago, when he said he thought he could win the state.
Expectations aside, Sanders' campaign had more paid staff in South Carolina than it had in Iowa and spent nearly $1 million on ads here. But in the week leading up to the primary, Sanders triangulated by racing between states holding primaries and caucuses next month -- Minnesota, Texas, Oklahoma, Illinois, Missouri and Ohio -- rather than getting as much face time with voters here as possible. He was on a plane to Minnesota Saturday night when the result was called.
"In politics, on a given night, sometimes you win, sometimes you lose," Sanders told reporters when he touched down in Rochester. "Tonight we lost."
In contrast, the Clintons -- Hillary, Chelsea and Bill -- criss-crossed the state, appearing at over 20 town halls, forums and rallies over the last four days to run up the score as much as possible. Clinton's team had learned from her 2008 loss and sent her and her allies to the state to connect with voters and make the case that she's the best candidate to build upon the progress President Barack Obama has made.
Obama is extremely popular among African-Americans, and black voters here told HuffPost that they resented that Sanders said a Democrat challenging the president in his 2012 re-election would be a good thing for the party and for democracy.
In 2008, black voters made up 55 percent of primary voters in the state, and of those voters, nearly 80 percent supported Barack Obama. This year, exit polls showed black voters made up 61 percent of the electorate in the state. Clinton won 84 percent of the African-American vote, meaning she won this demographic by a larger margin than Obama did in 2008.
Clinton also won 54 percent of white voters, which should be heartening to her campaign since Sanders has beaten her among white voters in previous contests. But Sanders continued to demonstrate his popularity among younger voters, beating Clinton among voters aged 17-29.
To advance the link between Clinton and Obama, Clinton's campaign and a super PAC backing her called Priorities USA both ran ads here featuring Eric Holder, Obama's former attorney general. It was an obvious irony that Clinton's strategy here was to frequently connect herself to the politician who stymied her presidential chances in 2008.
Sandra Edwards, a 53-year-old woman from Charleston who canvassed for Clinton in 2008, said that election's "final result went with Obama because people thought it was time for a black president. Now it's time for a woman president."
Clinton frequently emphasized racial justice in her campaign, calling for gun safety reforms after the shooting at a church in Charleston killed nine last June. She called for police to wear body cameras after a white officer shot and killed the unarmed black man Walter Scott in North Charleston in April. Earlier this week, she held a forum with mothers of unarmed young African-Americans who have been killed in high-profile acts of brutality, including Trayvon Martin's mother, Sybrina Fulton, and Sandra Bland's mother, Geneva Reed-Veal.
At a packed town hall Thursday night in North Charleston, Clinton said it was important to be "honest about systemic racism" and said she wanted her white supporters to "start thinking about what life is like for others." Her message of empathy was a huge hit with the predominantly black audience.
"It's important for white people to understand our experience is not the same experience as African-Americans or the experience of Latinos," she said. "It's time we did much more than we have to put ourselves in the minds and the hearts and the shoes of people like Trayvon Martin or like his mother, Sybrina Fulton. … How would you feel if every time your son went out with his friends, you worried that he might not come home? How would you feel if when you went to apply for a mortgage and had the same financial ability as someone else, you were turned down?"
Clinton also got local in her comments before South Carolina voters, mentioning that their governor, Republican Nikki Haley, had rejected expanding Medicaid with funds from the Affordable Care Act and that the state's Supreme Court ruled in 2014 that the rural schools were underfunded.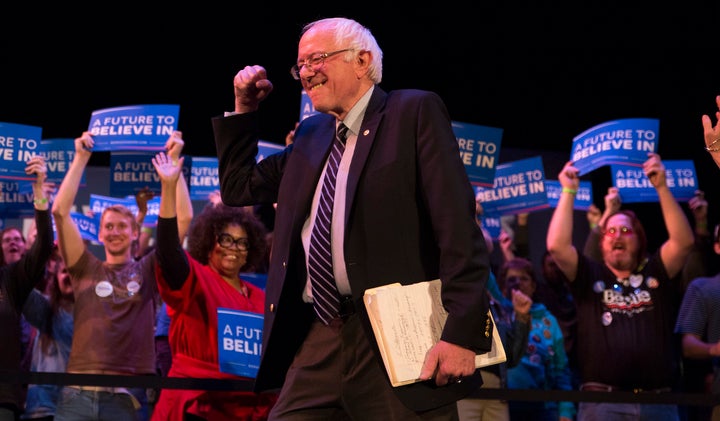 Sanders' campaign also stepped up its emphasis on racial justice leading up to the primary. His supporters frequently mentioned Clinton's backing of the 1994 crime bill and welfare reform as reasons for why they were supporting the senator. Erica Garner, Eric Garner's daughter, testified to Sanders' commitment to reform in a powerful ad that ran here. And the filmmaker Spike Lee taped a radio ad saying that Sanders isn't "on the take," an implicit critique of Clinton and the donations and speaking fees she's received from Wall Street.
At a rally for Sanders Friday where the senator was introduced by the rapper Killer Mike and Ohio Democrat Nina Turner, supporters told HuffPost that his advocacy for universal health care, criminal justice reform and free college resonated with them. But they said they thought he would lose to Clinton because of Bill Clinton's popularity among African-Americans.
The race between the two candidates now turns to "Super Tuesday" on March 1, where the candidates will compete in more than a dozen primaries and caucuses. Sanders' campaign hopes that he can beat Clinton in Massachusetts, Vermont, Minnesota and Colorado and come close to her in delegate-rich states like Texas. He has to, if he is to have any shot at the nomination. Clinton's win in South Carolina is sure to give her more confidence heading into March, where she hopes to build up an insurmountable lead among delegates.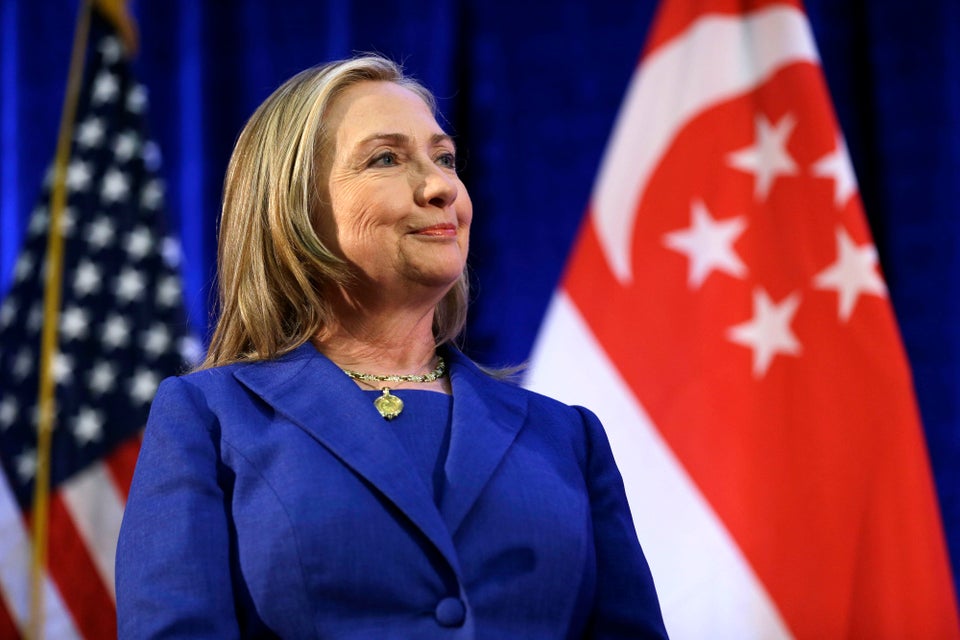 Hillary Clinton
Popular in the Community