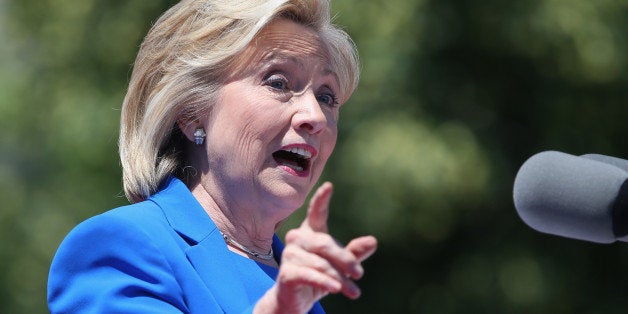 "I'm not running for some Americans," Hillary Rodham Clinton said Saturday in her first major campaign rally, "I'm running for all Americans." Her speech was populist in tone as she promised that if elected president she would close the income gap between rich and poor.
Several thousand enthusiastic supporters gathered on a picture perfect day to hear the Democratic frontrunner speak on New York City's Roosevelt Island, located between Manhattan and Queens in the East River. But this speech would have better timed had it been scheduled two months ago when she officially announced she was a candidate for president.
Instead, she went on a closely guarded listening tour of voters and dodged press questions about controversies swirling around her campaign. In that time she was subject to Republican attacks related to her private email server, her role in the Clinton Foundation and potential conflicts of interest while serving as secretary of state. As a consequence, polling around her likability and trustworthiness has gone negative.
While Republicans have been attacking Clinton, populist Democratic candidates have been critical of her campaign as well. Senator Bernie Sanders, a distant second to Clinton in the polls, has been particularly aggressive. "I don't have a super PAC. I'm not going to be getting huge sums of money from millionaires and billionaires," Sanders told MSNBC last week when asked to explain how he is different than Clinton. "So, working families all over this country are saying, Bernie, we want to stand with you, take on this billionaire class who are dominating our economics and our politics," he concluded.
In her speech Sunday, Clinton reached out to the party base by quoting Democratic President Franklin Roosevelt. "He said there's no mystery about what it takes to build a strong and prosperous America: 'Equality of opportunity... Jobs for those who can work... Security for those who need it... The ending of special privilege for the few... The preservation of civil liberties for all...a wider and constantly rising standard of living.'" She then added, with a smile, "That sounds good to me."
Clinton did offer policies she would pursue as president, including universal prekindergarten, paid family leave, equal pay for women, college affordability and incentives for companies that provide profit sharing to employees. She also said she would change the tax code "so it rewards hard work at home" rather than corporations "stashing profits overseas." To achieve her goals she said, "Our next President must work with Congress and every other willing partner across our entire country. And I will do just that to turn the tide so these currents start working for us more than against us."
In a response to charges that she is out of touch with Middle America, she cited her humble upbringing and promised, "I've spent my life fighting for children, families, and our country. And I'm not stopping now." For those who have expressed concern about her age, she said, "I may not be the youngest candidate in this race, but I will be the youngest woman president in the history of the United States."
Clinton has been a polarizing figure throughout her career, and she will continue to be the target of political attacks from all sides throughout the campaign. In her speech, she portrayed herself as a fighter -- "I've been called many things by many people, quitter is not one of them.'' But, ultimately, Clinton will have to be more publicly accountable for some of the legitimate questions that have been raised around her candidacy because they are not going away.
Calling all HuffPost superfans!
Sign up for membership to become a founding member and help shape HuffPost's next chapter